The Glutes Can Take a Beating
By Chad Waterbury
Bret and I recently had an insightful, hour-long discussion about training more frequently. It's no surprise that the topic of glute development came up. Bret, as you already know, can pontificate about the glutes more than anyone else.
Sometimes I even hesitate to bring up the subject with him because I know that the next 10 minutes will consist of him outlining the research and experience he's accumulated, and I won't get a word in edgewise.
Of course, that's not a bad thing – unless you have to take a piss. Luckily for me, I was dehydrated that day.
So The Glute Guy and I talked and talked about our experiences with glute training. I honestly wish we would've had someone audiotape our exchange, but V. Stiviano wasn't available. So I'm here to divulge some of what we covered, and discuss how that information can make you add size to any muscle group.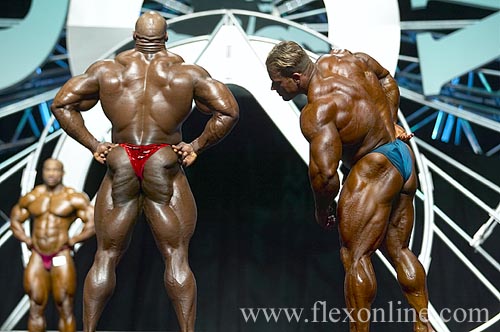 First off, the glutes can take a tremendous beating. If there's any muscle that will grow from high training frequency, the glutes are it. The problem, however, is the way people typically train them.
Take the glute bridge, for example. As the name implies, it's intended to strengthen and develop the glutes. However, last fall I spent five months under the tutelage of Chris Powers, Ph.D, at this Movement Performance Institute in Los Angeles. For those of you who haven't heard of Prof. Powers, he's a guy who's done more research on the relationship between glute strength and knee pain than just about anyone in the world.
What has his research shown? With certain individuals, training the glutes in the sagittal plane (e.g., glute bridge, deadlift, etc.) works the hamstrings harder than the glutes. The reasons for this phenomenon are speculative, but it bears discussion.
My position is this: the hamstrings are easy for the nervous system to recruit. Maybe it's because they're such a large muscle group? The glutes, on the other hand, take up very little real estate in the brain's motor cortex. This is why it's often difficult for people to really feel their glutes firing.
Regardless, the hamstrings are stiff in most people because those people often have a spinal disc problem, or a weak low back, or glutes that aren't strong enough. Indeed, the nervous system stiffens the hamstrings to protect the low back or take over when the glutes aren't strong enough.
The real problem is that the nervous system doesn't do what the body actually needs: make the glutes fire harder to take stress off the low back and hamstrings.
The glutes perform four hip functions: extension, abduction, external rotation and posterior pelvic tilt. Their role as hip extensors are constantly worked with the deadlift, squat, lunge, hip thrust and many other sagittal plane movements. The missing links, according to Prof. Power's research, are primarily in the frontal and transverse planes: hip abduction and external rotation, respectively.
So, what does this have to do with building more muscle in your biceps or chest?
The key to building any muscle group, whether we're talking about adding mass or enhancing the neural input, hinges on training more frequently. Take a pair of twins and have one guy practice the guitar for 30 minutes per day compared to the other twin that practices 10 hours a day. At the end of three months you'll see a drastic difference in each guy's ability.
The same is true with training. More frequent training will develop any muscle group faster, if you train that muscle the way it's designed to work while sparing the joints.
If you strive to build your glutes to J-Lo status, pulling multiple sets of a heavy deadlifts each day will be a lesson in futility. Not only will you wreak havoc on your discs from constant spinal compression, but it's also likely you'll build the hamstrings more than the glutes.
So to get your glutes to start growing, the best approach I've found is to challenge them with abduction and external rotation for a higher frequency. To avoid excessive neural fatigue, you must spare the joints and spinal discs. That's why an iso-squeeze works so well – it hits the glutes without beating up your spine and joints.
Here's one technique I use with clients that works perfectly for High Frequency Training (HFT):
This is just a sample of how I approach more frequent training. You must maximally stimulate a muscle group while sparing the joints. In HFT2, you'll be doing other glute exercises such as kb swings, hip thrusts, goblet squats, front squats, single leg squats, deadlifts, reverse lunges, Bulgarian split squats, single leg deadlifts, and step ups.
However, the glute iso-squeeze is performed frequently to hit more fibers and add more time under tension without compromising recovery. The techniques for achieving this with every major muscle group are covered in my latest muscle-building system, HFT2.
Click HERE to Access HFT