I've actually received numerous emails from ladies who saw very good results from The 30 Day Glute Challenge which I posted last month. Although better results can be realized with heavy weights, the reality is that many women prefer to train out of their homes, and many of these women currently do not have access to weights.
Actually, let me stop right there so I can provide a case in point. I receive emails and Facebook messages like the one below surprisingly often: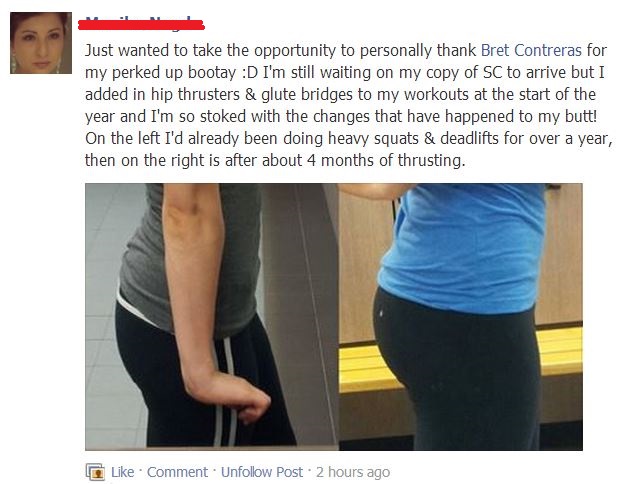 This radical transformation was achieved through heavy hip thrusting, not through aerobics, wimpy training, or other inferior methods. I'm pretty sure that I have more pictures like this than any other trainer/coach in the industry, so the proof is in the glutes! For this reason, I feel that Strong Curves and Get Glutes are the two best systems out there for glute development.
However, as I mentioned before, many women don't have a gym membership yet, or they desire to build up some momentum by training out of their homes before they join a gym, or their schedules are such that they only allow for quick training sessions from home, or they haven't yet made the leap in investing in some weights or strength training equipment. For these ladies, these challenges are ideal. Moreover, they're stepping stones to even better programming.
Very good results can still be achieved for the glutes through bodyweight training, especially if the best exercises are employed, if mechanics are sound, and if there is plenty of volume and progression. I've heard of other coaches telling women that their lower bodies should only be trained once per week for maximal results. However, their results are lackluster at best. I'm telling women that they can train the glutes frequently as long as work capacity is gradually increased. This program has you training the glutes six days per week (I usually recommend 3-5 days if heavy weights are utilized, but in the case of bodyweight training, frequency can be even higher). I encourage you to look around and not just listen to the first coach around, especially if they don't have the before/after pictures to support their systems.
So feel free to train the glutes frequently, just do so wisely! Olympic lifters, sprinters, gymnasts, volleyball players, and powerlifters train their glutes nearly every session and they do just fine in the glute department. When bodybuilders want to bring up their glutes, they increase their gluteal training frequency. I'm telling you, the glutes can handle it, as long as it's done correctly. Furthermore, start investing in equipment for your home so your training sessions can be even more productive. Just build up your arsenal little by little – you will thank me later.
This next challenge (The 30-Day Ultimate Better Butt Challenge) is for ladies (and men) who already completed the 30-Day Glute Challenge. If you're a beginner, don't go jumping into this program as it's quite advanced. For this challenge, you'll need a band and a bench or couch. Below is an explanation of the exercises:
Please watch the video before starting the program. Here is the challenge: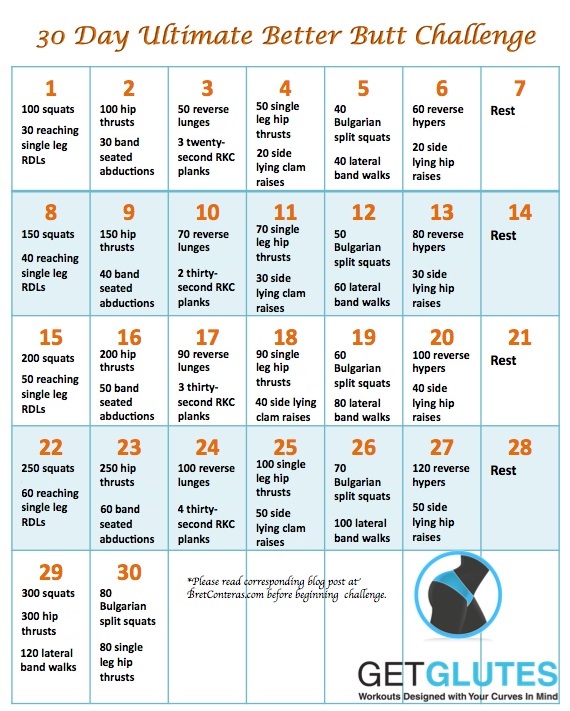 You can download a pdf right here if you'd like: 30-Day Ultimate Better Butt Challenge.
One last thing – listen to your body when you do these challenges. Don't be stubborn and ignore warning signs. If your knees or low back are experiencing issues, take a day off, modify the program, or stop it altogether. You need to have great form in order to withstand high volume and high frequency programs, so make sure you're performing the exercises properly. Best of luck on the new challenge!