Before I get started, I have a favor to ask. For those of you who like the podcast, please click on THIS LINK, go to iTunes, click on "ratings and reviews," and give the podcast a rating or a review (or both). I'm trying to get the podcast more popular so more folks benefit from the service. Thanks!

Also, HERE is a link to what Jon was joking around about in the beginning of the podcast – a list of the Top 100 Most Influential People in Health and Fitness in 2012 by Greatist.com. This is a huge honor for me as there are some really important folks on the list. In fact, my mom now thinks I've "made it" since I'm on a list with the people she admires like Dr. Oz, Wayne Dyer, and Deepak Chopra. I'm number 70, hopefully next year I'll continue to make progress and move up on the list!
Welcome to our first "Special Analysis" episode, where Bret and Jonathan take a detailed look at new and specific research making waves in health & fitness! Unlike a regular episode, the "Special Analysis" breaks down a single paper to give you an "inside look" at how research methodologies and design can impact the quality and usefulness of a paper. On this first episode, the guys take a critical look at "Effects of aerobic and/or resistance training on body mass and fat mass in overweight or obese adults," and break down the strengths, weaknesses and overall impact of this new and exciting paper! Along with Bret and Jon, friends of the show Alan Aragon and Brad Schoenfeld also give their impressions in a special correspondence! This one is not to be missed.
Click Here to Download or Just to Listen
Click Here to Download on iTunes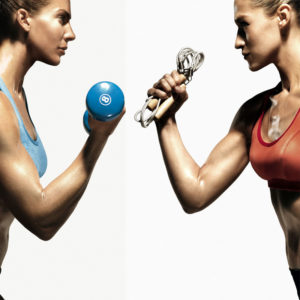 Here are some show notes, if you can understand them:
* Prior studies inconclusive
66 RT, 73 AT, 57 A+RT
18-70 years old, sedentary, overweight or moderately obese, males and females
8 months long
RT – 3X/wk, 3 sets/day, 8-12 reps/set
AT – around 12 miles/wk @ 65-80% peak VO2Max (treadmill, elliptical, cycling)
A+RT – Both
Ramped up
RT – 1 set weeks 1-2, 2 sets weeks 3-4, 3 sets week 5, targeted all major muscle groups, weights increased 5 lbs when 12 reps with proper form on all 3 sets was reached during 2 consecutive sessions, 2.53 sessions/week
AT – 2.99 sessions/week
Both – 2.46 RT sessions/week, 2.88 AT sessions/week
2010 calories/day all 3 groups
Results – See Table