I haven't posted a random thoughts post in a while. I like these because I can post links to recent articles that I've written, embed cool videos that I've recently watched, and mention any other relevant or important information. I've actually written four good pieces for you and filmed a very good instructional video, which you'll see below in #1-4. Here are 12 random things:
1. TNation Articles (Contreras Files Practical Editions)
Whenever I'm lifting or training clients, I jot down things that pop into my head on a sheet of paper. I recently assembled them into two different articles. Past Contreras Files editions on TNation focused mostly on the literature. These two focus more on practical advice for coaches and lifters. These were well-received and I received some good questions in the comments sections:
2. TNation Article: Gutting the Glute Ham Raise
I just got THIS article published yesterday on TNation. Check it out and read the comments section…got some good questions.
Cliff Notes: The GHR is great for the hammies, but not very good for the glutes.
3. Important Video on Lumbopelvic Biomechanics During Squats, Deadlifts, Hip Thrusts, and Back Extensions
This video was embedded into one of the TNation articles and got a very good response, so I felt it important to embed it here on my blog as well. Watch it and chances are the whole lumbar, pelvis, and hip thing will "click" regarding hip extension exercise.
4. Guest Blog on Tony Gentilcore's Site: Critiquing an Uncritical Coach
HERE is an important article for you to read. From speaking at various seminars, reading various blogposts, and perusing various forums, I've realized that "experts" can say just about anything these days and it goes unchecked. This is very frustrating, as I spend a large proportion of my life sifting through the literature, checking my facts, and researching to try to ensure that the information I dole out is legitimate. While some of my colleagues go to great lengths to check their work and take pride in their credibility, others seem to spew nonsense and just make stuff up. The uncritical reader will believe anything, and due to these types of "experts," it makes my life more difficult in educating people as I have to spend time correcting misconceptions.
The piece on Tony Gentilcore's website represents the epitome of a meathead strength coach who seems empowered by his ability to utter b.s. I try to equip my readers with the tools necessary to spot these kinds of experts and notice red flags. Give it a read, I think you'll like it. I tried my best to remain professional this time around.
5. Relative Hip Thrust Strength Record for Males
Simon might be the strongest pound-for-pound hip thruster. He's working his way toward a 4X bodyweight hip thrust!  Right now he's at 3.5X. Incredible!
6. Chinese Weightlifter Back Squats 200kg x 13 Reps at 17 Years of Age
Talk about good leverages for squatting!!! This 17-year old is repping out with more than my max!
7. Koklyaev Totals 2,221lbs/1,007.5kgs Raw
A raw 1,000 pound total! Looks like he had a lot more in him too!
8. The Glute Squad
A couple of my girls competed a while back and had these pants made without me knowing. Hilarious!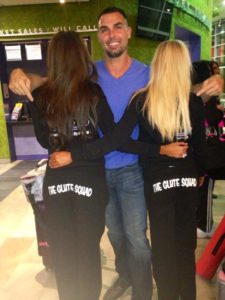 9. A Very Fit 17-Year Old Girl
Here's another 17 year old doing some amazing things!
https://www.youtube.com/watch?feature=player_embedded&v=lquFXhFjEWM
10. Get Your Hips Through on Speed Deads (Dynamic Effort Deadlifts)
Watch Andy Bolton doing speed deads (with almost 500 pounds haha). Notice how he pushes his hips forward up top? Don't arch the back to finish off extension; push the glutes forward.
11. Speed is King!
Speed is king when it comes to ground-based sports. Don't believe it? Check this video out!
12. Top 7 Fitness & Nutrition Experts
I was recently named one of the top 7 fitness and nutrition experts HERE. What an honor! It's good to be noticed every once in a while.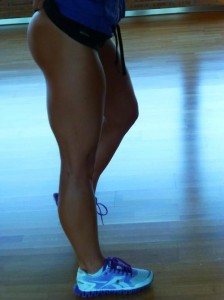 That wraps it up. I hope you have a Happy Holidays!