Okay folks, there are just several days left in the challenge so get your scores and vids posted.
So far Jen Sinkler is in the lead for females and Jaime Rodriguez is in the lead for males. Only time will tell if they have Queen and King Sexy locked in.
Nine people have currently achieved over 100 reps in the challenge (Dead Sexy Award).
Only two males have achieved 15+ reps on each exercise and only 2 females have achieved 10+ reps on each exercise (Sexy All Over Award).
21 out of 30 (which is almost 70%) contestants have beat my 75 rep total (Sexier than BC Award). So it turns out that being sexier than me doesn't mean much these days!
121 is the current female record (Queen Sexy Award).
146 is the current male record (King Sexy Award).
Out of the contestants who submitted Youtube videos:
22 is the current front squat record (Quadzilla Award).
61 is the current RDL record (Dr. Deadlift Award).
41 is the current hip thrust record (Gluteus Magnificus Award).
21 is the current incline press record (Chisel Chest Award).
22 is the current chin up record (King Cobra Award).
A couple of these were exceeded by folks who didn't yet submit vids so if those come in then I'll update the chart.
If you plan on competing in the challenge make sure you post your results in the next few days.
I'll announce awards on Sunday. Thanks to all who have competed thus far!
Here is a chart showing the current status: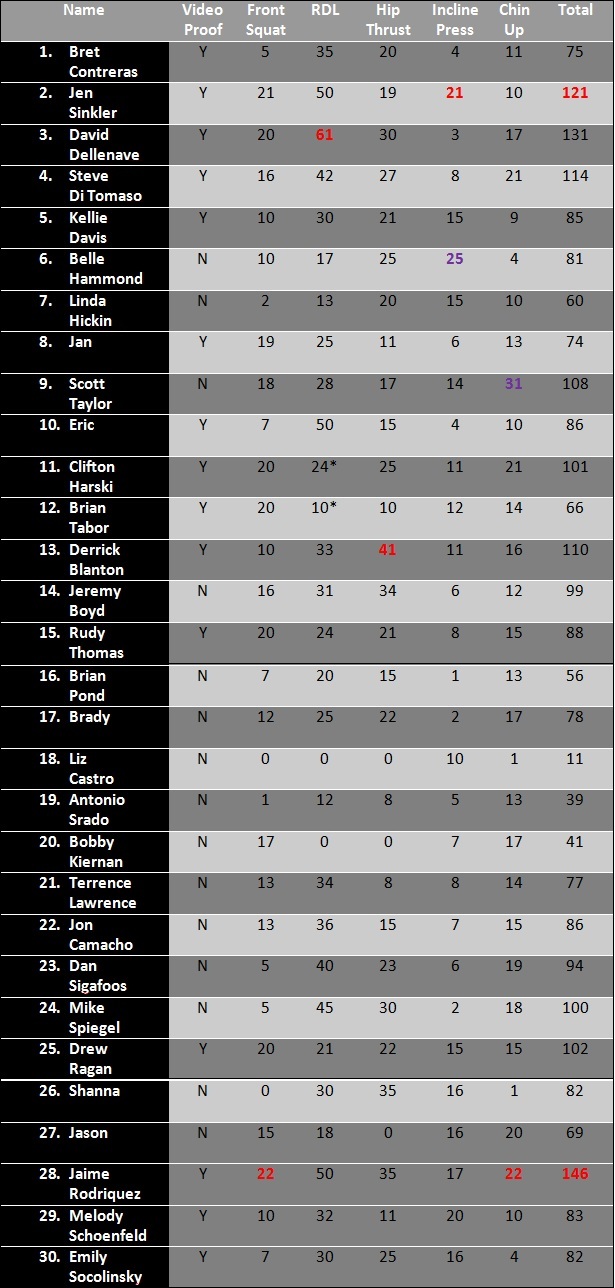 Here are the videos of the current male and female leaders.
Jaime Rodriguez
Jen Sinkler
Gotta love their post-hip thrust faces haha!