Rehabilitation vs. Athletic Performance Enhancement Training: Are we Asking Questions that are Already Answered?
Robert A. Panariello MS, PT, ATC, CSCS
Professional Physical Therapy
Professional Athletic Performance Center
New York, New York
Throughout my career as a Physical Therapist (PT), Certified Athletic Trainer (ATC), and Strength and Conditioning (S&C) Coach I have been witness to many trends that have transpired upon these related professions. The evolution of the internet has been a significant venue for the conveyance of these trends with much of this information comprising assorted material of pertinent substance, some without; nonetheless the internet has offered many professionals their own claim of "notoriety" and in some instances financial gain. I am personally not opposed to capitalism as I am in private business myself. Like many others I also acknowledge various practitioners who evolve as "experts" in their professional field of choice and have mentors whom I very much respect. Presently there is an abundant amount of information and products available to the practicing professional where as the boundaries for the specific application of some of this information is often clouded if not altogether disregarded.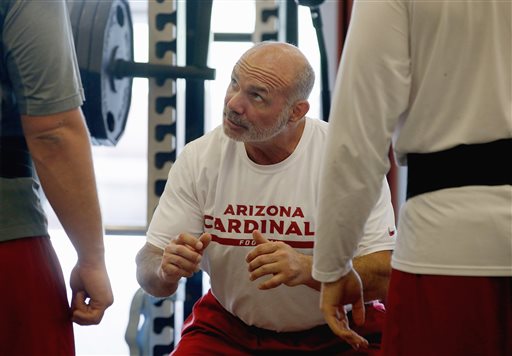 Performance Enhancement Training Trends
One current training trend appears to be the application of the principles of Sports Rehabilitation (SR) into the S&C setting. Certainly there is an "overlap" so to speak with regard to these two professions, however, it should be noted that these are two distinctly different professions. The application of various SR principles as related to the practice of S&C although practicable at times is becoming alarmingly close to providing a disservice to the training athlete.
Rehabilitation concerns often articulated include the "dreaded" type III acromion, upper trap dominance, the deep squat, disregarding bi-lateral leg exercises, the reluctance to utilize heavy weight intensities, and the list goes on and on. When pathology, anatomical abnormality or medical concerns are present; wouldn't communication between the rehabilitation and S&C professionals take place to design a training program with all pertinent modifications? When these concerns are NOT present why is there still the intention to train the athlete as if they do exist? Is this due to the rehabilitation principles publicized for the training environment? In the S&C environment is optimal athletic performance as well as the prevention of athletic injuries best achieved with the application of rehabilitation principles or by optimally enhancing the physical qualities required for the sport of participation?
As an example the concern of the previously mentioned type III acromion appears to be commonly communicated. Is the expectation to x-ray every athlete training to confirm if the type III acromion morphology exists? Type III acromion morphology is substantiated to be present in the minority when compared to the type I and II. This evidence is often overlooked thus is the intent to have the minority manipulate the majority and prohibit overhead exercise performance? During my recent trip to the University of North Carolina at Chapel Hill to visit with my good friend Head Basketball S&C Coach Jonas Sahratian, some of his players demonstrated split jerking 100 – 100+ Kg of weight intensity overhead. These players had no complaint of shoulder, back, hip or knee pain, and demonstrated no limitations in range of motion (ROM), strength, neuro-muscular timing, or any other often stated clinical rehabilitation concerns. These basketball athletes lifted weights overhead for enhanced athletic/basketball performance as well as to survive the physical confrontations that occur under the boards during repetitive practice days and game day competition. Is there as much publically stated concern for the weaker athlete situated against a stronger opponent in the confined area under the boards? Isn't it possible that these dominated weaker athletes are placed at risk of injury?
Why is it necessary to perform an abundant number of rotator cuff exercises when this muscle group is confirmed to be strong, neuro-muscular timing is appropriate and research attests this small muscle group has an active role during the execution of many upper body exercises? Why is there failure to mention the documented consequences due to excessive rotator cuff fatigue that transpires due to unwarranted exercise performance? When no deficiency in muscle activity nor neuro-muscular timing is noted during a pain-free technically proficient exercise execution, why is it necessary to "activate the muscles" prior to the actual exercise performance? Isn't the most precise muscle "activation" for a specific activity an appropriately executed progression of the actual activity? This is not to imply that a warm-up isn't warranted, however, if an athlete desires to become a better baseball pitcher wouldn't they practice pitching? To become an improved golfer wouldn't they golf? Therefore to become a better back squatter wouldn't they actually have to back squat? Doesn't form follow function? If this were not true why is practice necessary? Why not workout and just play the game?
The deep squat results in various joint(s) stresses that all professionals should be aware as isn't this knowledge (science) required for prudent training? Investigations have established the deeper knee bend positions demonstrate the greatest lower extremity muscle activity, thus without the presence of a contra-indication why would an athlete not assume the most beneficial position during the exercise performance? If the deep knee bend position is so detrimental to the athlete why are there no noted medical community demands for the abolishment of the catcher's position in the game of baseball?
Why is there such concern with appropriately programmed heavy weight intensities? Is it because these weight intensities exceed those utilized in the rehabilitation setting? It is documented that game day competition and practice days are the environments where the highest incidence of athletic injuries occur as weight room injuries have been noted to occur at a rate of less than 1%. There are circumstances where specific exercises and heavy weight intensities may be appropriately prohibited from the athlete's training program design. However there are also instances at the time rehabilitation is completed and all contra-indications are resolved, yet an apprehension continues to exist with regard to these same exercises and weight intensities. Isn't this suitable programming necessary to prepare the athlete for the stresses of repetitive team practice, game day competition and the physical confrontation of an opponent? Why on occasion does there appear to be less concern with returning the athlete to the field of competition, the initial cause of the athlete's problem? When appropriate exercises and weight intensities are deemed prohibitive isn't it fair to inquire if they are truly contra-indicated or are the principles of rehabilitation for a pathology which no longer exists continually being applied?
Most professionals would agree that not every exercise, principle, and application of heavy weight intensity is appropriate for every individual. However, isn't the athlete's exercise selection and training programming part of the "art" of both SR and S&C? Why is the "art and science" of coaching often ignored by the reader of an article or the attendee of a conference at the time the rehabilitation based questions of "what about this, what about that" arise? Is this due to the clinical rehabilitation information that is delivered via various public forums? If abnormalities and medical conditions are acknowledged why is it assumed they will not be properly addressed during training?
They are Different Professions
Ask yourself why do the majority if not all Professional Sport Teams, Colleges, and Universities have both an Athletic Training Medical Staff and an S&C Staff? Why are there two distinct departments? In most circumstances would the Athletic Training Staff be designated to Athletic Performance Enhancement Train an individual or team for a Championship? Would the S&C Staff be appointed to rehabilitate a post-operative World Class athlete or any athlete from day one? Why not just employ ONE of these professional staffs to both rehabilitate and train all athletes? Imagine all the money saved by eliminating an entire professional staff/department. This does not occur because these are two distinctly different and respected professions. This statement is not intended to be disparaging as I respect and practice both in my vocation. Many of the concerns and principles deemed appropriate and utilized in one profession may not be a concern or appropriate for utilization in another. There are certainly professionals qualified to practice both, however this is the exception and not the rule. In our 44 Orthopedic and Sports Physical Therapy clinics as well as our 20,000 square foot Athletic Performance Training Center we accept more than 180 physical therapy, physical therapy assistant, athletic training, and S&C student interns annually. In review of the curriculums of these student interns it is substantiated that they are quite different in both educational content and clinical requirements.
My good friend Hall of Fame NFL S&C Coach Johnny Parker told me a story about a former NFL Assistant and Head Coach whom I am familiar named Al Groh. Coach Groh was an assistant on Head Coach Bill Parcells coaching staff with the NFL New York Giants, New England Patriots, and New York Jets. These teams were persistently in the playoffs winning Super Bowls and Championship games. These three organizations had one thing in common; they were all not very successful prior to the arrival of Coach Parcell's and his staff. This coaching staff was not elaborate and avoided the trends and hearsay of the "outsiders". They just applied the fundamentals specific to the game of football and worked very hard. On one occasion Coach Groh turned to Coach Parker and stated, "You know JP I think I have this thing figured out. Get the team organized, get them disciplined, get the team in condition, have a plan, follow that plan and let the losers eliminate themselves". During my 10 years as the Head S&C Coach at St. John's University Hall of Fame Basketball Coach Lou Carnesecca had the same "no outside nonsense" and work hard philosophy. Coach Carnesecca won 640 basketball games during his coaching career.
Rehabilitation and S&C Coaches are well respected professionals that are vital to the athlete's and team's success. Although there is overlap between these two professions, these are two distinctly unique vocations requiring very different knowledge and skill sets. Every athlete in training should be treated as an individual and the S&C Professional has a choice to incorporate an S&C philosophy or a rehabilitation philosophy. The performance training road paved will eventually be one of success or one of consequences as with athleticism and skill being similar it is the stronger and more powerful athlete that will usually prevail. The terms "Rehabilitation" and "Strength and Conditioning" are not interchangeable and are as different as the principles and skill sets utilized in each respective profession. If this were not true why aren't these professional staffs/departments interchangeable?