How's it going, fitness peeps? It's time for another round of Random Thoughts from yours truly. Here are several items that I hope you find as interesting as I do:
1.  Upcoming Glute Lab Seminar: 3/19/2016
I feel like a complete idiot. I've been so busy with the launch of  my new online training program Strong by Bret and my recent speaking engagements that I forgot to promote my next seminar on my blog. The next seminar is in 9-days on March 19th in Phoenix and I have 3 spots left. The cost to attend is $399. If you would like to reserve a seat, please email my assistant at maleah@bretcontreras.com.
2. The Thrust is a Must Shirts
This one I am especially excited about. My logo guy did a bang up job on the design and I think these might be the softest shirts in the world. We have tank tops for ladies and regular shirts for men. Cost is $20 plus shipping. Please send an email to maleah@bretcontreras.com if you would like to order a shirt. Please note the ladies' shirts run a 1/2 size large and we have limited stock at the moment (just 20 of each size).  If you miss out this time, we'll have more in stock soon.
3. Glute Lab Seminar Review by Chris Hitchko
Santa Monica trainer Chris Hitchko attended my very first Glute Lab Seminar and had THIS to say about the experience. If you are interested in attending a future seminar, please see HERE for upcoming dates and email my assistant at maleah@bretcontreras.com for more information and to secure a spot.
4. 405-lbs is the New 225-lb Hip Thrust Club
Emily Steezy, is going to be upset at me for posting this, but the bar continues to rise for hip thrusts. She nails it with excellent form and some of my other Strong by Bret ladies are calling 405 lbs the new 225 lb club. Another great example of dedication and hard work.
5. Kate Upton Pumps Some Serious Iron with Ben Bruno
Some of you may be aware that my buddy Ben Bruno is kicking butt in Hollywood. For starters, you may be interested in watching his client Kate Upton knocking out some heavy hip thrusts with nice form as well as nailing her landmine deadlifts featured HERE in the always entertaining Yahoo Celebrity The Insider. Ben has been killing it lately! Check out his Facebook page to see more examples of how he trains his badass clientele.
6. Cirque du Soleil's Core Training
Below is an engaging look at some of the core training methods employed by the performers in Cirque du Soleil. I thought up many of these exercises years ago and featured some of them on YouTube and my blog…good to see that great minds think alike.
Part 1
Part 2
7. Greg Lehman Revisits the Spinal Flexion Debate
To flex? Or not to flex? That is the debate. Greg Lehman revisits this important subject HERE, and while there is still no solid consensus, more research has emerged and I think this is a worthwhile read that you will enjoy.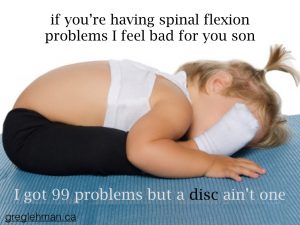 8.  Becoming a Better Human Seminar
I recently presented at the Trench Fitness Becoming a Better Human Seminar in Regina, SK with a few of my homeboys in fitness Alan Aragon and Eric Helms. The facility is amazing and I immensely enjoyed the experience. If you're in Regina, Canada, you should be training at Trench.
9. NAF Physio Podcast with Adam Meakins: Greg Lehman Episode
Friends, particularly the physical therapists among you, I recommend you take a listen to THIS podcast. Adam Meakins does an amazing job interviewing astute scientist Greg Lehman (see above) and methinks you'll enjoy this non-stuffy and enlightening podcast. I listened to it while I was on a walk and it made me realize how awesome podcasts are for multi-tasking. I need to get my own podcast back up and running.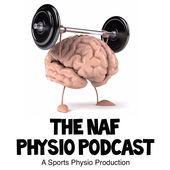 10.  The Personal Trainer Podcast
On April 23rd – 24th, I will be presenting at the Personal Trainer Collective Conference at the University of Bath. I recently Skyped in for an interview on the Personal Trainer Podcast.  You can listen to this podcast HERE and take advantage of early bird ticket pricing on the website listed above.
11.  

The Reverse Diet Debate
Check out this thorough debate on the topic of reverse dieting, featuring an impressive panel of my colleagues, Eric Helms, Menno Henselmans, Layne Norton, and Peter Fitschen, who do a great job of hashing out their highly educated opinions on the matter. This is how men handle business; they don't back down from debate challenges.
12.  Dan John: Gluteal Amnesia Syndrome – And How to Fix It 
Got a case of GAS? I hope not, but if you or anyone you know suffers from Gluteal Amnesia Syndrome, I recommend you take a look at THIS blog post on the matter by Dan John, who does a fine job of explaining this condition with some interesting analogies and offers for tips for correcting this all too common issue.
13.  New EMG Encyclopedia Page
An EMG (Electromyography) encyclopedia page is a new addition to the consistently informative strengthandconditioning.com site. Delve deeper into the topic and learn why this particular tool is so valuable to the field strength and conditioning research HERE.
14.  PTQ Volume 3 Issue 1
I serve as Editor-in-Chief of Personal Training Quarterly and our latest publication is now available. If you are an NSCA member, click on the link to learn more about various topics ranging from managing musculoskeletal injuries to increasing traffic to a fitness related business.  Read more HERE.
15. Rugby Strength Coach Podcast: Bret Contreras Episode
I was recently featured on the Rugby Strength Coach podcast. We discussed PhD findings, transfer of training, Internet feuds, and more. You can check out the podcast HERE.

Well, folks, that's wraps up this edition of Random Thoughts. I hope you enjoyed the links and I look forward to sharing more of the same very soon.
BC