Hi Fitness Friends!!! I've got some great content for you today!
Article of the Year
Biosignature Reviewed – Are Hormones the Key to Weight Loss? 
I've been wanting someone to review the literature pertaining to this topic for a very long time. In THIS article, Menno Henslemans reviews the literature and science pertaining to hormones and weightloss. It's a great read. Kudos to Menno for taking the time to write this!
Other Good Articles
Is Postexercise Soreness a Valid Indicator of Muscular Adaptations?  
The NSCA made Brad Schoenfeld and my recent article free! Click HERE to access the free pdf!
13 Questions for The Glute Guy 
Michael Zweifel asked me some excellent questions in THIS interview.
How journals like Nature, Cell and Science are damaging science
Click HERE to read an awesome article by a scientist who chooses to no longer write for Nature, Cell, and Science because he feels that they're impeding scientific progress.
Video of Dan Gable's Home Gym
Click HERE to see a video of Dan Gable's home gym (the one he trained in as a wrestler throughout his career)
Significant progression of load on the musculoskeletal system with extremely high loads, with rapid weekly weight gains, using the Anatoly Gravitational System, in a 10-week training period 
I don't mean to be a hater, but this is one of the silliest training programs I've ever seen. Sure lifters doubled their strength because of the short range movements. Click HERE for open access.
Deepak Chopra Responds to Pseudoscience Allegations. Jerry Coyne Fires Back 
I enjoyed THIS dialogue. I'm not a fan of pseudoscience.
Motivations (Science-Based Medicine)
I also enjoyed THIS dialogue. I'm not a fan of alternative or complimentary medicine.
3 Bodyweight Exercises You Should Try For Glutes, Shoulders, And Legs
Nia Shanks gives some great advice in THIS article.
SHR # 1320 :: The Effects of Protein Timing On Strength And Hypertrophy PLUS Burn The Fat, Feed The Muscle
Click HERE to listen to an excellent podcast with Brad Schoenfeld (and also Tom Venuto)
RA041 | Dr. Greg Lehman The Body Mechanic: Injuries, Posture and Treatments 
Click HERE to listen to an excellent podcast with Greg Lehman
The Art and Science of Dealing with Pain
Click HERE to listen to an excellent podcast with Jonathan Fass
What Is Strong? Real World Strength Standards For Raw, Natural Lifters 
Click HERE to see strength standards for raw, natural lifters
Lifter Profile: Bob Peoples
Click HERE to see how Bob Peoples trained; the first dude to ever deadlift 700 lbs
Good Videos
Dan Gable's Home Gym
How to Perform Band Hip Thrusts Without a Hip Thruster
In Klokov We Trust!
Orlando Green Pulls 843 
The Glutes Talk – Mothers, Have You Had the Talk With Your Son Yet? 
People Are Awesome! 2013 (this is amazing stuff!)
https://www.youtube.com/watch?v=a-YQfkqXg8o#t=448
Placebo/Nocebo Effect 
Glute Training Feedback
Greetings Bret, I'm an amateur (semi pro) kickboxer and this is my testimonial to you. Feel free to use it on your website. I felt obligated to thank you for the all the research and the material you've published on hip strengthening and glute development, since I've personally benefited so much from it.
About a year ago I reached a point where my legs, particularly quads, were well developed to such a degree that my overall speed hindered. Throwing my giant legs around would also take a heavy toll on my endurance, which is crucial in kickboxing.
A female friend of mine who was on a quest to make her ass bigger introduced me to your material. I didn't share her enthusiasm for a big behind, but what I've read got me thinking about my overall hip strength, which I thought was being taken care of with deadlifts, lunges, and all the kicking I've been doing.
Skip 6 months later (with hip thrusting twice a week), I couldn't be happier with myself. Why? You of all people know that a punch/kick begins at the hips. Quick hip 'thrust' (if you will) carries the rest of the movement. Today, right before I launch a kick, my hip moves almost with a snapping motion, which does wonders for my leg speed. I feel powerful man! 
I'll never stop doing the hip-thrust…even if it makes my ass noticeably bigger (huge understatement!). Though I see many woman find it attractive.
Best, Alex
Hi Bret! Just wanted to let you know about the hip thrust competition last Saturday. I won in the over female 60kg category which was great (although I was only up against one person haha) but I have to say the hip thruster is amazing, it was so comfortable to use. Having to go back to using my bench at the gym is going to suck – Lola
Hello Bret, Yesterday, I purchased your book Strong Curves, and finished it in one day. I could not put it down.  I have been searching for something that would help me with gaining lower body mass and I think I have found it in your book.  Before purchasing your book, I tried hip thrusts for the first time on December 14th (last Wednesday); I was able to complete 3 sets of 6 at 135 pounds.  On December 16th, I completed 3 sets of 8 at 135 pounds.  On December 18th, I completed 4 sets of 6 at 150 pounds; and, today, I completed 3 sets of 6 at 175 pounds.  I have never completed any lift that I could feel in my glutes the way I do now.  When I measured myself on December 19th. I found I had gained .5 inches in my hips! I thought it was a fluke so I measured again today and it remains.  I am so excited to begin the Gluteal Goddess Program for Advanced Lifters. – Jessica
Just wanted to say Thank you for all you do!!! I am a believer and I am obsessed and I love my changes!!!!!!! And I will never go back to the way I used to work out!!
Sincerely, Lauren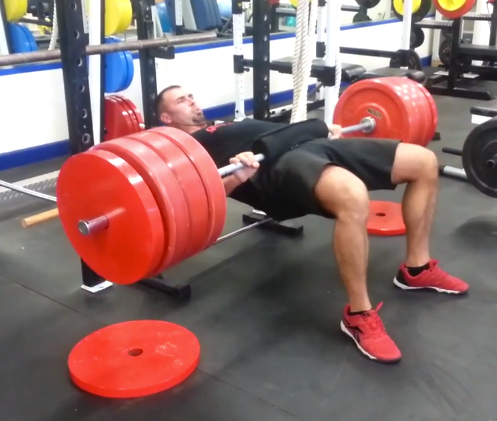 On month 13 now, and just wanted to say that I am *seriously* enjoying this weight-lifting journey.  Every month I love the workouts and the variation each month. Now that I am no longer focusing on having such a restrictive diet I am much more focused on the workouts and life is just so much better. No more cheating and shaming as my on-plan meals are now enjoyable while still supporting my training/fat loss. My arse has put on another half inch in the past month and just generally feels enormous – nearly 39 inches now WAHOO!   
Thank you for this amazing program and these muscles!!!! Going to post more progress pics in a couple of months – excited to show you guys my progress! – Kristen