Hi Fitness Peeps!
Here is this week's random thoughts post.
Good Articles and Videos
Physique Frontier – Strong Sexy Glutes With Bret Contreras
Click HERE to hear Scott Tousignant interview me about sports science research, glutes, foam rolling and stretching, female training, the joy of competing, squatting, ankle mobility, and biofeedback.
Does research support the use of bands and chains?
Chris Beardsley rocked the house with THIS comprehensive article on accommodating resistance in strength & conditioning. Freakin' awesome article!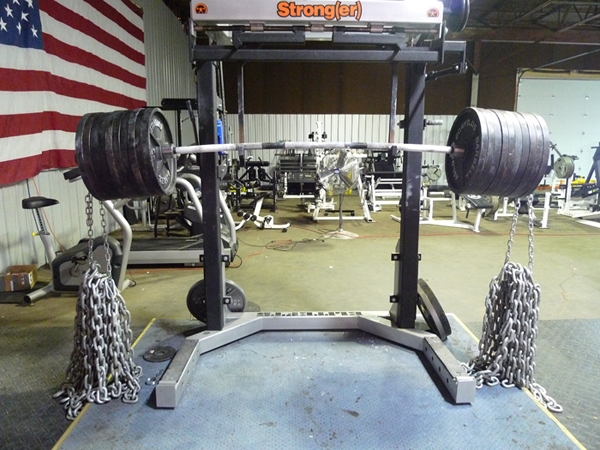 Why Your Upper Body Training Might Need to Change
HERE is a nice video from Eric Cressey, who will be posting new vids all week and launching a new product next week. Check it out if you're seeking a new training program.
Identical Twins With Significant Weight Differences Shed Light On the Phenomenon of Metabolically Healthy Obesity
THIS was an intriguing article on "metabolically healthy obesity."
The "Missing Tile Syndrome"
My friend Charles Staley sent me this video and I absolutely loved it!
https://www.youtube.com/watch?v=kgI69Naw5a0
The Truth About Aspartame
Charles also sent me this video, which I loved as well, especially given the fact that I slam diet soda like it's going out of style!
Facebook Dribble
Here are two messages I posted on my Facebook page over the past week:
No exercise is worth doing if it consistently causes pain/injury. Make sure you educate yourself about proper form and correctives, but not every body was built for every lift. Don't be afraid to drop an exercise if it's not right for you.
Joint stability is direction-specific. In sports, you need all of the muscles surrounding the shoulders, spine, and hips to be strong and well-coordinated in order to stabilize the body in the various force vectors. Power is also direction-specific. In sports, you need all of the muscles surrounding the joints to be strong and explosive in order to propel the body in the various force vectors. As you can see, weights, plyos/ballistics, towing, and sprints should be performed in different directions in order to maximize performance.
Glute Training Feedback
I keep thinking that the glute training feedback will subside, but it never does. Each week more and more people get in touch with me and tell me their stories. I love it!
After months of trying to improve on my glutes I finally found Bret's book strong curves and I'm so glad I did. Performing regular squats and lunges just didn't do it for me and after reading Bret's book I realized there are so many other great exercises I needed to add to my daily routine. The book is extremely well researched and is very interesting to read. Only after a few weeks of doing the strong curves program I noticed a big change in my physique and others did as well. I have put on inches on my glutes and they keep growing and also I'm in love with the new shape. I have learnt so many new things thanks to Bret and his revolutionary way of thinking. I cannot recommend this book highly enough, not only for those looking to improve on their glutes but for anyone who wish to sculpt a beautiful body and improve on their physique and strength." – Tindra (Tindra's Instagram)
Got the BEST compliment today thanks to Bret Contreras' butt-working magic! A girl at the gym stopped me and asked for advice on glute training because "obviously something is working for you." My booty has never been something to write home about so this was amazing. And OF COURSE, I wrote two things down on paper for her: "Bret Contreras" "Strong Curves" – Megan
Below are links to my 150 days of Get Glutes and Carb Nite (my nutrition plan). I've lost 14.8 lbs, but I'm more impressed with the changes in my physique. I don't even recognize my before physique. I love the way my body is changing. I'm excited to see the changes I'll make in the next 150 days. Thanks Marianne Kane, Kellie Davis and Bret Contreras for creating an awesome program! – Mary
BTW- I find myself squeezing my butt all the time during activity now- Like climbing the stairs- I am like " are you using those muscles??" LOL- Wake up sleepy glutes! – Cherie
I just ordered Strong Curves. It is because of YOU that I perform hip thrusts, which helped me change my posture and alleviate low-back pain. Thank you very much, I'm a big fan. – Jeffrey
I just turned 40 in August and am in the best shape of my life.  I found BC during my Venus Index transformation.  I lost 25 lbs in early 2013 and lost most of my glutes too.  I added Strong Curves to my routine and have loved my results.  I jumped on GG as soon as I found you guys.  I'm doing glutes daily now and man are the changes coming fast!  Look forward to reading and doing more! – Jenny
I had a MAJOR hip thrust breakthrough tonight! It has been 4.5 months but I think I finally figured out how to use my Glutes! Better late than never. So here's what I did differently, per all of your suggestions:
1. I used a step with 5 risers. Lower, so I don't need to hoist myself up, and more comphy.
2. I kept the tension in my core and my spine straight rather than arching my back
3. I widened my stance and flared my feet out (I was inspired to tinker with this by Bret's "Art of Glute Building" post)
And something clicked and I was able to do 205 x 8, 225 x 10, 225 x 9, 245 x 5, 245 x 4. Major PR! Then I walked home with some lovely glute pump. Thanks to all of you for helping me put the pieces together. It is really rewarding when it all finally clicks! – Emily
* This next one is my favorite! Stephen originally sent me the first message, and I asked him to ask the woman if I could post her picture on my blog. The woman (Marcy) actually emailed me (see second message) herself with an excellent story along with it. *
Brett! So our newest member here at Metroflex… the first exercise she does is glute bridges with 405! I had to ask where she picked that up… Bret Contreras Strong Curves! I knew it was you! – Stephen
Hello Bret, I changed gyms recently. In part due to you encouraging me to check into powerlifting.  This gym is for bodybuilders and powerlifters.  One of the trainers is a fan of yours.  He took a picture and video of me hip thrusting 405.  Tonight he said you wanted to use it on your site.  Yes, that would be ok.   
I actually think I can do 5 plates.  I'm on week 7 of the Advanced Program (started with Beginner back in May).  I did 12 reps last time with 405, and I could have done more.  I'm trying to take it easy since my physical therapist (broke my foot in Feb) asked me to not go all out.  The 12 reps was my 3rd or 4th set and that was  after working an hour and a half of ab and jog/walk intervals with the physical therapist.
Thank you so much for your encouragement.  I can't really explain how much of a difference it made when you said you were proud of me for not being diabetic anymore and losing all that weight.  Really meant a lot.  Thanks so much! – Marcy