Hello my fitness friends! Let's start the week off with a random thoughts post.
Great Articles
1. Foam Rolling Research
Click HERE to see an up-to-date review of foam rolling research by Chris Beardsley. He did an incredible job with this article!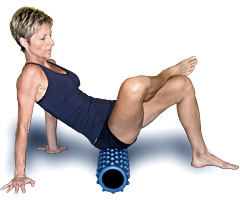 2. Is Soreness "All-That" When it Comes to Training?
Brad Schoenfeld and I recently published THIS article in the SCJ and it's been receiving a lot of attention. If you're an NSCA member, log onto the site and pull it up!
Great Videos
1. Footage from USPA Olympia Pro Powerlifting – Deadlift Clips
Here is some footage that I took from the Olympia Pro Powerlifting Competition in Las Vegas two weekends ago. Watch Brittany Pryor set a world record, Jamie Lewis psyching up, Jamie Lewis tear his biceps mid-pull, Oleksii Omelchenko attempt a mammoth pull, Brent Willis achieve a personal best, and Shawn Doyle attempt 900+ lbs. HERE are the results of that contest in case you're interested.
I was handling two cameras at once so I apologize for any poor footage!
2. George Leeman Pulls 906 lbs for His Father
Check out George with this mammoth deadlift! Incredible.
3. Fred Peterson Pulls 607 lbs at Age 75!
Here's Fred bustin' out 600+ lbs like it ain't no thang!
Random News
1. Serbia's "Glute Guy" – Milan Jovanovic
This cracks me up! Milan Jovanovic is a former Serbian powerlifter and strongman champion who moved to the states and became a bodyguard for celebrities such as Mickey Rourke and Kimbo Slice. Lately we've been conversing over Twitter and it turns out he's quite the "Serbian Glute Guy." He even made his own Skorcher device! Now, it's quite natural that a powerlifter/strongman would have an affinity to glute training, but Milan has been having incredible results employing these methods with his female clientele in terms of physique improvements. There are many countries out there who are doing a great job with glute training – but two in particular – Norway and Serbia – deserve honorable mentions!
2. The Best Damn Compliment I've Ever Received, From Mark Fisher (another "Glute Guy" from NYC and owner of Mark Fisher Fitness)
No need to reply, I know you're super busy winning at life. I'm honestly compelled just to write you and thank you.
For being so legit.  For being so obsessed and passionate about exercise science that you'll work on it and learn about it 24 7.  For pushing the whole field forward.
20 months ago, MFF didn't even have a space.  Now we have 20 team members and 600 clients/Ninjas, we've expanded twice already, and we're currently looking for a new location.
I don't share this to say we're fucking awesome.  I share this to say YOU are fucking awesome.
I don't have as much time as I once did to read 4-6 hours a day about training.  But I still read a few and I still keep up with everyone.
And there is no one putting out the amount and quality and consistency of work you are.  From your nearly twice a day blogs, to Strong Curves (which was GREAT), to the research review, to your podcasts, it's the epitome to me of someone following their bliss and being rewarded with epic success.
The single thing I am MOST impressed by is your ability to stay opinionated but totally open minded.  You balance the trenches and the research, and I really believe you have the rare personal integrity that if we found out conclusively that hip thrusts don't work (unlikely lol), you would totally be the first person to say walk away from it.  We both know that is rare in the biz and in life, and I respect it more than any other trait.
I confess, I am insane.  Not just in the way I live my life, but the obsessive hours I keep.  I don't WANT to work less than 15 hours a day.  I love fitness and I love my business and I love my life.   But you set a bar for relentless work and passion that to my mind is singular in the field.
Anyway, so fucking random, but I've meaning to write for a while.  I know my success is in no small part standing on the shoulders of some very bright folks, and you are certainly one of the most influential people in my training.  Thank you for being obsessive and thank you also for being so intellectually honest and open minded and open hearted.   Keep fucking nailing it.  And come visit us if you're ever in NYC! Mark  (Bret's note: you're damn right I'll come visit next time I'm in NYC, thanks for the incredible compliment!)

Glute Training Feedback
For real I'm amazed at my ass from these hip thrusts. I want to post a pic in Instagram that says booty by hip thrusts with that pic but don't want to offend any of my conservative friends out here!! I just measured my butt and I measured at 40 inches!!!! Holy cow!!!! I'm not gonna fit into my jeans!!!! – Alli (Bret's note: speechless)
Just want to say a massive HUGE thank you to Bret Contreras, Marianne Kane and Kellie Davis. When I looked in the mirror in my dress I literally could not believe the curvaceous lady staring back was ME! I was so full of confidence and felt absolutely beautiful. Prior to lifting heavy I can't say I ever felt that way before, I just really did not like my body. Now I LOVE IT and people would show me pictures they took throughout the evening, and literally I had to question if those were actually MY arms and MY waist and MY ass. I have made so much progress with this program (full steam ahead lately as I have my workouts in check and keeping a cal deficit!) so I wanted to thank you guys for making such an amazing program with such a great online community. It has instilled in me so much confidence and I felt like a total beauty with a bangin' body on my wedding day. THANK YOU!  – Kristen (Bret's note: I'm so f'ing proud of you Kristen, you look incredible!)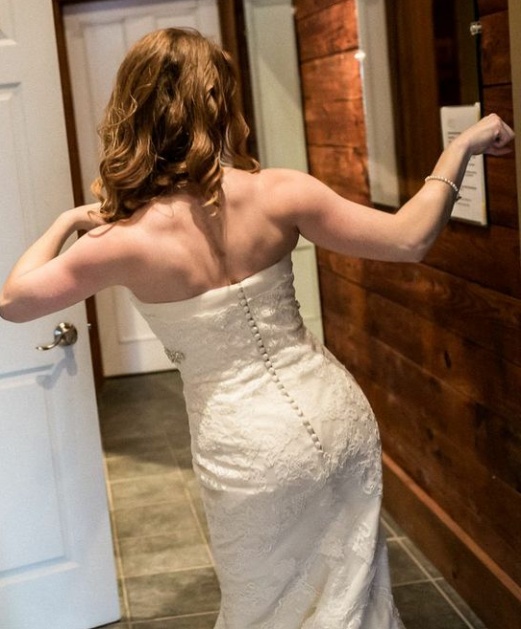 Because of your advice, I finally feel safe during my squats. Having the "Celtic hip" that you described, I injured my back after a popular trainer told me that I have to do ass-to-grass full squats in order to see results. Now I just go to parallel and everything is fine. After reading your articles I also came to the understanding that in order for my glutes to work properly when I lift weights, I actually have to use them and consciously focus on activating them properly! I'm seeing much better results after implementing your advice. Thank you Bret, you've been of tremendous help to me. Sol, 21, Norway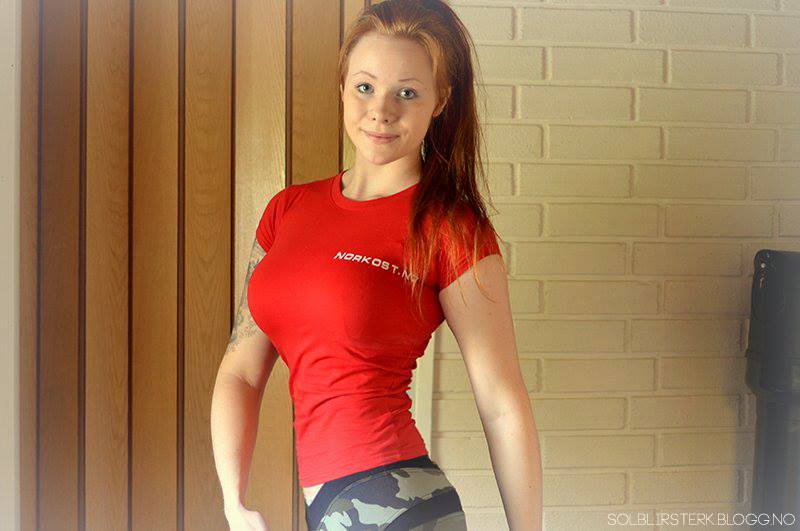 Every time I do hip thrusts, I think you should be blessed for making them popularThat is the best glute exercise ever. I especially love the single leg variation. Nothing make my glutes burn like this. And since I've been doing them, I feel so much stronger. Actually I do not do the conventional deadlifts as often as I used to, but I am still getting stronger. Besides that, since I am doing the hip thrusts, I notice that my pistol squats are getting stronger and easier. SO you have a huge thank you from the other end of the world – Ines A lady saw me doing single leg iso hold HTs at the gym today and asked me "are those for your glutes?", I said, YES! and gave her your website address…  I've gained 2 inches in my glutes over the past 4 months! – Allison P.
Small victory!! I am 5 months postpartum tomorrow, and was thinking about going shopping for new pants until my body goes back. On a whim I decided to try on my pre prego pants, and most of them fit!! Some are tight in legs/ass but that's a good thing!!! :)My ass looks better than ever. Love this program. Still have a ways to go w the belly, but that's always the last to go. Feeling so good about myself. Thanks Bret Contreras and all u ladies for letting me share my happiness:):) happy day indeed.. – Rebecca
I'm finishing week 12 of the beginner program this week! I didn't take a before photo but I did measure. I gained 2 inches around my hips and 1.5 in my thighs. I'm very happy with these results and can't wait to see what the advanced program has to offer! Oh, also, my hip thrust went from zero to 165#, I can now deadlift 135#, and I can do 5 pull ups with the assistance of a band. I know many of you ladies are much stronger, but I never imagined I would be doing these things in 12 weeks! – Austelle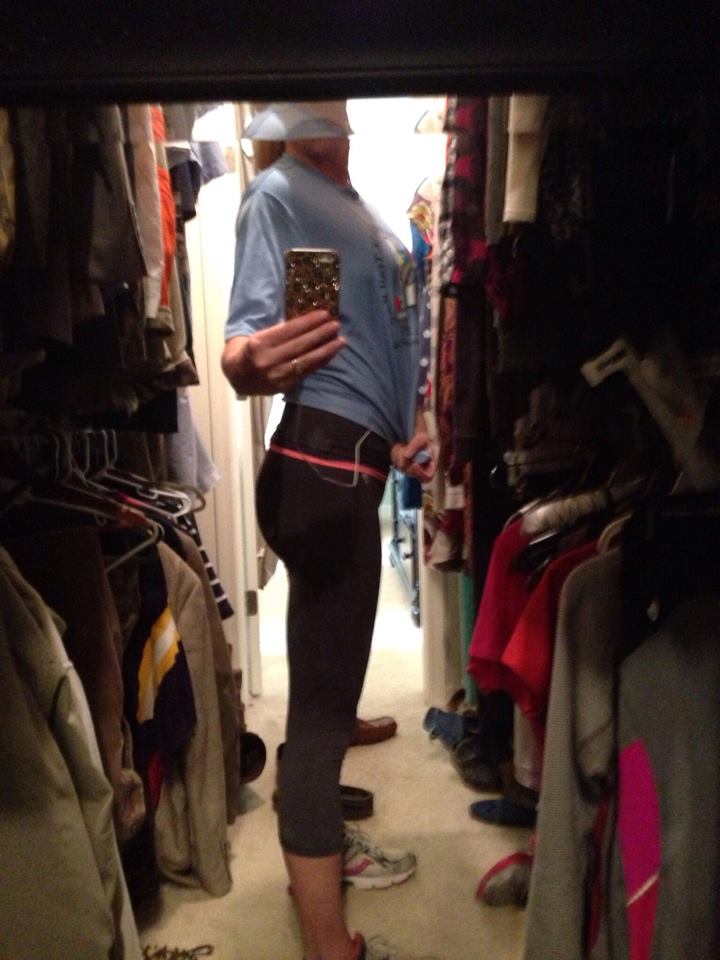 I will continue to lift/exercise regardless of my results. It's become a part of my daily life now. I have been able to learn so much from you Bret these past few months. I'm just getting started! My health is very important to me. I will push myself each and every day b/c I know that my lil frame is capable of being REAL FIT. I need to lean up a lil and tightened my abs! Just know I'm feeling awesome with my progress and it motivates me to keep hip thrusting! Lol! – Edith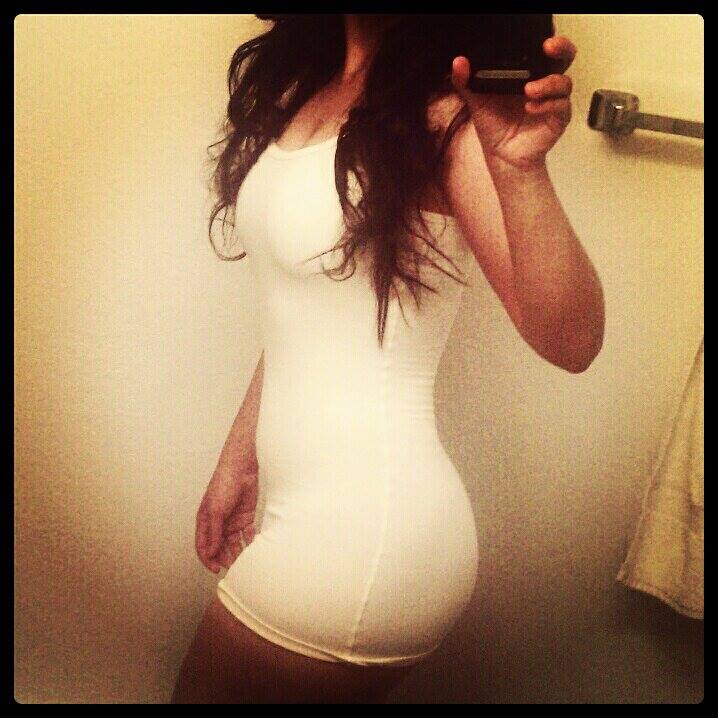 Thought you'd appreciate this! Got all the way up to 150lbs for 3 sets of 12-15reps. Definitely helping my deadlift lockout. Finally pulled 500 for 2 singles for a new PR(@ 180lbs)! Changing the stereo type on men's physique! Lol – Stephen
I did an extra set of BW bridges yesterday because I just wasn't feeling the pump and needed to walk out of the gym feeling like I had a huge backside!  LOL  It's the funniest feeling, still not used to it!!!  Feel like my butt isn't going to fit through the doorway!  Hahaha – Robyn
Hey Bret, got your Strong Curves book about 4 months ago. I followed the glutes only plan, then moved on to the gluteal goddess plan. I started off with BW hip thrusts and hit a PR today of 245x5x2! My glutes are the strongest part of my body now and finally starting to see the changes! I love being the only chick at the gym picking up that much weight next to the guys! Thank you! – Kelly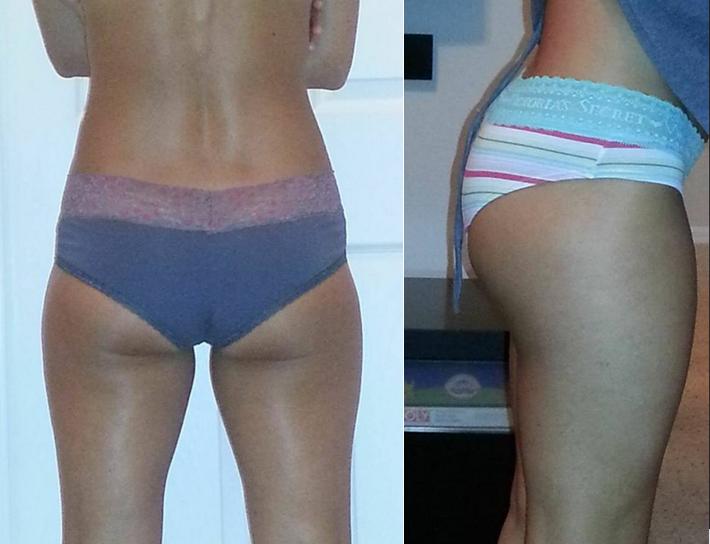 Before/After Glute Pics from Around the Web
Homework from Facebook 
I posted this on Facebook last week:
Your homework for tomorrow (or next training session involving hip thrusts) – pick one of two options:
1. Pyramid your sets and go heavier than you're used to. Often people who do this realize that they're capable of using much heavier weight. One female was used to using only 135 lbs and ended up being able to do 225 lbs for 10 reps.
2. Lighten the load that you're used to using by around 30% and do the same # of reps, but this time be more rhythmic and try to really feel the glutes doing the job. I did this today and couldn't walk properly due to the massive glute pump.
Exciting Scientific Research
Remembering those 'lazy' days – imprinting memory in our satellite cells
Below is a quote from THIS article:
Cellular memory or environmental imprinting is visible across numerous cell types in a variety of conditions. Specifically the ex vivo behaviour of isolated cells often replicates aspects of their in vivo environment.
In other words, if the cells were exposed to a pathological condition in vivo they often will  continue to present aspects of this condition in vitro. Cellular memory is now commonly termed imprinting or, more broadly, epigenetics, in which effects from the environment are transiently marked on the genome and impact the overall phenotype of the cell.
From an experimental perspective, investigators have taken advantage of cellular memory for years, without necessarily understanding that the mechanism was likely to be some form of epigenetics. The epigenetic phenomenon is an extremely powerful effect that allows researchers studying humans to utilize mechanistic and/or reductionist based approaches.
An often-overlooked consideration is that isolating satellite cells from a muscle biopsy allows the investigator to take a small sample (∼100μg) that often yields only a few measures and expand the satellite cells in culture to allow for numerous different measures. However, the critical caveat that is necessary for this expansion-based approach is that the satellite cells resemble theirin vivo phenotype when differentiated into myotubes. Dr. Joe Houmard and colleagues have elegantly shown that by isolating satellite cells from muscle biopsies it is possible to assess the inherent metabolic programme of cells from lean and severely obese patients (Boyle et al. 2012; Houmard et al. 2012).
Specifically, they have demonstrated that myotubes from severely (BMI>50) obese individuals exhibit insulin resistance and reduced fatty acid oxidation compared to myotubes from lean subjects, regardless of which muscle was biopsied (Houmard et al. 2012). Most importantly this recapitulates what this group found in vivo. Collectively, the data derived from this approach demonstrates a powerful way to  address metabolic aspects of skeletal muscle, independent of neural or endocrine influence, from a wide array of subjects.