Fitness Friends, here are 14 random things for you this week, on the topics of arm-wrestling, grocery bag farmer's walks, lunges, push-ups, high-rep hip thrust faces, barbell single leg hip thrusts, t-handle swings, and Bondarchuk.
1. Arm Wrestling
When I taught high school Math many years ago, the senior wrestlers and football players were always challenging me to arm wrestling contests. The next day my elbow would be all jacked up – and sometimes the pain would persist for several days. I finally came to the conclusion that it wasn't worth it since it interfered with my lifting progress. These days I have no problem forfeiting an arm-wrestling challenge or other challenges in order to preserve my training status.
I say, "It's okay dude, your shoulder internal rotation strength is probably stronger than mine. Want to challenge me in hip extension strength?" Don't get me wrong, arm-wrestling is manly and badass, and there's a ton of technique and grip strength involved in the sport. But at 36 years old you can't get away with what you could when you were a teenager, so you have to be wiser about the activities you engage in.
2. Carrying Grocery Bags Inside
Sometimes I'll stock up on groceries, and I will never make two trips to carry them to my condo. I've had times where I'll rig 16 bags in each arm and proceed to farmer's walk the bags to the elevator, hold them isometrically while inside the elevator, and then walk them to my condo kitchen before crashing down in agony. It's a guy thing I suppose – sort of like asking for directions. I will NOT make two trips to bring the groceries inside no matter how many bags I have.
3. High-Rep Hip Thrust Face
I posted a video in a blog the other day showing me doing a set of high-rep hip thrusts. High rep hip thrusts to failure are funny; it looks like you can keep going but all of a sudden you hit a wall and can't do another repetition to save your life. What's more – they cause you to make really funny faces at the end of a set due to the excruciating booty burn. I pulled up Jen Sinkler's high-rep hip thrust face from The Sexy Challenge. Whose is better – Jen's or mine?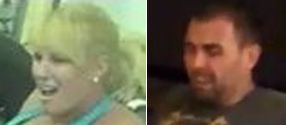 4. Important Biomechanical Study on Lunges
HERE Chris Beardsley is at it again, cranking out the best summaries in Sports Science. I say this every time Chris posts a new blog, but this is a very important study for strength coaches, so check out out.
5. The Biomechanics of the Push-Up: Implications for Resistance Training
HERE is a brand-new study I (along with my fitness friends) got published in the SCJ on the push-up exercise. If you have access to NSCA's  journals, I recommend that you pull it up. I especially like the charts.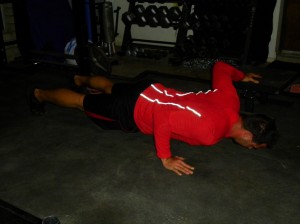 6. Lamar Gant's Jacked Spine
If you don't know who Lamar Gant is, you should. He was the first man to deadlift 5X bodyweight. His freakishly long arms gave him a huge advantage in the deadlift, but did you know that he had severe scoliosis too? Whether this is an advantage or disadvantage is up for debate – read THIS 1984 Sports Illustrated article for more info on that topic. Anyway, check out his spinal curvature below.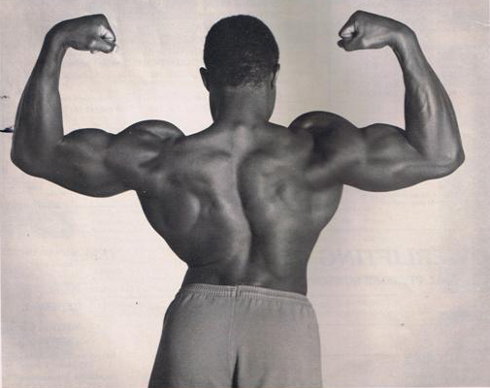 Would you have imagined that this man could have built up to a 5X bodyweight deadlift? Here is a video:
7. Kettlebell Swing Form and Magic Happy Drinking Bird Dipping Toy
Someone posted on my Youtube video of Marianne's swing form that she looked like one of these:
This would actually be a good teaching tool to show folks how to hinge at the hips!
8. Making Meaningful Inferences About Magnitudes
A blog reader posted THIS link after he listed to the last Strength of Evidence Podcast. For those interested in Statistics as it pertains to Sports Science, this is a must read.
9. Ben Bruno's Youtube Channel
If you haven't subscribed to Ben's Youtube Channel, you're missing out. There are hundreds of videos at your disposal, and he consistently comes out with some of the best exercise variations in the field. Many of the exercises are incredibly misleading – upon watching Ben do them you'd mistakenly assume that they're easy. But this is not the case; most of Ben's exercise variations are highly advanced and are ideal for lifters seeking to maximize muscle activation while minimizing joint stress.
10. Barbell Single Leg Hip Thrusts
HERE is quarterback Tim Tebow busting out 135 pound single leg hip thrusts. There used to be a video but it looks like it was taken down. If I recall correctly, he was performing sets of 10 or so with that weight. Below is Ben Bruno doing them.
I just wanted to mention that some folks tend to be more "natural" at these than others. Kellie Davis and I struggle with 65-95 pounds, and to us they've always felt a bit "off." However, Ben (and I presume Tim Tebow) feels these tremendously in his glutes and feels like he still gets all of his gluteal power into the exercise. I feel like much of my gluteal power is left on the plate when I do these, but I'm sure if I stuck with them they'd eventually start feeling more natural.
11. What is the Max Weight that Can be Swung from a Homemade T-Handle?
On my last TNation article on heavy swings, a reader asked what the max weight I've swung using the homemade t-handle. Here is a video of me using 200 pounds:
12. Simplifying Bondarchuk
HERE is a cool pdf that you can download on Anatoli Bondarchuk's thoughts on training.
13. Interview with Aragon, Helms, and Norton
HERE is an interview with 3 dudes that I highly recommend that you follow (especially if you're interested in physique development, hypertrophy, fat-loss, etc.).
Not only are all 3 of these guys incredibly brilliant and evidence-based, but they're also extremely genuine with their time and knowledge that they share.
14. Training Partner Charles Staley
Some people don't know that Charles Staley also lives in the Phoenix area. We've been training together for the past few months and it's been very nice having a consistent lifting partner. We have some seriously thought-provoking conversations. Sometimes we'll even bust out the markerboard and markers and draw graphs or stick figures of lifts to break down the biomechanics of various exercises. Charles is competing in a powerlifting event in a couple of weeks and I'm excited to see how he does!
That's all folks! Have a great week. – BC