Hi Fitness Friends! I have 12 updates and random thoughts for you today. Here you go, in no particular order of importance:
1. Richard Feynman – The Pleasure of Finding Things Out
Tim Ferriss posted this video a while back. For those of you who don't know who Richard Feynman is, click HERE. He's one of the greatest scientists of all-time and someone who I absolutely admire. I want my readers to play the video below and watch from 42:53 – 44:45.  In fact, WATCH IT TWICE!
https://www.youtube.com/watch?v=Bgaw9qe7DEE
Some of my friends wonder why I get worked up from time to time and why I don't just turn a blind-eye to things. I'm certain that most folks will never, ever understand what it's like to love their field (in my case sports science) and wish the field was more credible and adhered to better standards. But I prefer to speak my mind at stand up for what I believe in rather than live in regret.
2. Non-uniform changes in MRI measurements of the thigh muscles following two hamstring strengthening exercises
How's that for a journal article title? For the record, I wanted to dumb the title down a bit! My colleague Jurdan Mendiguchia requested my help getting THIS study published and it was recently accepted in the JSCR. Cliff-notes: hamstring exercises don't work the hammies evenly over the entire length of the muscle, and some target different hamstring muscles and parts of muscles. To adequately strengthen the entire hamstrings, we should probably be doing several different types of exercises such as RDLs, glute ham raises, back extensions, leg curls, lunges, etc.
3. The Big Rocks of Personal Training
I wrote THIS article for The PDTC for all the trainers who have been emailing me lately feeling overwhelmed by science. Have confidence in yourselves…if you're reading this blog you're on the right track! 🙂
4. Where Good Ideas Come From
I got this nifty video from Mike Young's blog and thought my peeps would find it interesting:
5. Is Diet Soda Poison?
Since people are aware of my Diet Cherry Dr. Pepper habit, I'm constantly being warned that I'm ingesting poison. You be the judge. HERE is a review paper from 2007 that stated the following:
Critical review of all carcinogenicity studies conducted on aspartame found no credible evidence that aspartame is carcinogenic. The data from the extensive investigations into the possibility of neurotoxic effects of aspartame, in general, do not support the hypothesis that aspartame in the human diet will affect nervous system function, learning or behavior. Epidemiological studies on aspartame include several case-control studies and one well-conducted prospective epidemiological study with a large cohort, in which the consumption of aspartame was measured. The studies provide no evidence to support an association between aspartame and cancer in any tissue. The weight of existing evidence is that aspartame is safe at current levels of consumption as a nonnutritive sweetener.
According to Wikipedia:
A 12 US fluid ounce (355 ml) can of diet soda contains 180 milligrams (0.0063 oz) of aspartame, and for a 75 kg (165 lb) adult, it takes approximately 21 cans of diet soda daily to consume the 3,750 milligrams (0.132 oz) of aspartame that would surpass the FDA's 50 milligrams per kilogram of body weight ADI of aspartame from diet soda alone.
HERE's a monster review article from 2002 if anyone wants to tackle it – I don't care to read it! But to me, this quote is the nail in the coffin:
Aspartame is a simple molecule, which is hydrolyzed entirely to its constituent amino acids, aspartate andphenylalanine, and methanol which are then absorbed. The constituents of aspartame are also derived in muchlarger amounts from common foods.
So I will continue drinking my diet soda. I will not judge you if you choose not to drink diet soda.
6. Critiquing the Joint by Joint (JBJ) Approach
My colleague Greg Lehman and I recently pointed out exceptions and limitations of the JBJ model in THIS article. The model is brilliant, but it needs some fine-tuning. I train mostly women and their hip mobility is usually fine, whereas their hip stability is usually not. With men it's often the opposite. The point is that the body breaks down via losses in hip stability just as often as it does with hip mobility. Furthermore, the pelvic joints were left out of the model. So with some fine-tuning I feel it could be improved upon, but then it wouldn't have an elegant, alternating pattern. Greg didn't agree with some of my thoughts, which is perfectly fine. What's important is that we keep asking questions and scrutinizing in the name of scientific advancement.
7. Recent Article Submissions
Last week I submitted a journal article to the SCJ which I feel is my best work to date. I really hope it gets accepted as I believe it will advance our knowledge of hip biomechanics as it pertains to resistance exercise and lead to future research in the areas of transfer of training and hypertrophy as it relates to hip extension exercise. I also just submitted a deadlifting article to TNation that I spent a ton of time researching for, and hopefully this will be posted soon.
8. Annoyed Coaches Stuck "In the Trenches"
Lately I'm seeing an increasing number of blogposts from coaches who are bitter about "internet experts." They complain that the "internet experts" aren't training anyone. Guys, I can totally relate. Several years ago I was training folks all day long at my studio Lifts. I had no time to research or write. I wanted to become a successful writer in S&C and I knew that I had to start writing (and that my writing needed to be interesting and scientifically legit). So, I figured out a way to free up time so I could read and write more. That's just all there is to it. If you're a coach who wants to break into writing but is training folks all day long, you have three choices:
You can accept your fate and know that you'll probably never be a popular writer

You can figure out a way to train less often so you have more time to research, blog, network, and write

You can do both (train folks all day, research/blog/network/write all night), but you won't have a social life and you won't get your 8 hrs of sleep
Think about it. Most of the best writers and authors in our industry aren't training folks 40 hours/week. Writing interesting shit week in and week out isn't easy and takes time…don't underestimate that.
9. I'm Pretty Sure Elvis Could Have Deadlifted 315 lbs
I just heard this song the other day (Suspicious Minds) and it reminded me of the video which I posted on my blog many, many months ago. Check out the athleticism Elvis displays – he kicks it into high gear at around 4:00 into the video.
https://www.youtube.com/watch?v=-v2ZduaiJjM
You'll see him busting out Cassock squats, plie squat isoholds, and gyrating hip thrusts. An incredible combination of hip mobility, glute activation, fast-twitch fibers, intramuscular coordination, and rapid nerve conduction velocity!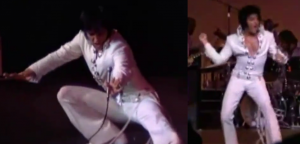 10. Evidence-Based Strength & Conditioning
Chris Beardsley and I are going to try to post a blog a month on our Strength & Conditioning Research Review website. Click HERE to read a blog we posted a couple of weeks ago on evidence-based S&C. This is a review of a recent journal article published on the topic in the JSCR.
11. Ode to Mel Siff
Mel Siff, like Richard Feynman, is a damn legend in my book. I never got to meet Mel, but many of my colleagues did. Mel wrote Supertraining, operated the Supertraining forums, grilled gurus (much more professionally and thoroughly than me), and insisted that his fans come stay at his house when they passed through Denver. They'd spend the night at his house in his basement (which contained his library with initial Supertraining manuscripts laying around) and spend the entire day talking sports science, lifting weights, and reviewing proper biomechanics. Mel lived and breathed sports science and was in it for the right reasons.
12. High Rep Hip Thrusts with an Isohold at the End
Here I am training some figure and bikini competitors out of my condo. The video started late, but each girl is performing around 30 reps with a 10 second isohold at the end. This was their 3rd set which was a burn-out.
That's all folks! Have a great week! I'll leave you with some great glutes. – BC