Fitness friends, I can't stress to you enough how important it is to create training programs that are sustainable in the long run. I struggled with this for many years, as 1) I love exercises and can justify cramming every movement ever created into my weekly regimen, and 2) I used to like to mimic my bodybuilding and powerlifting idols who were able to perform such massive amounts of volume in their training.
After two decades of screwing up in my own training, learning from my personal training clients, and extensively studying biomechanics, I was forced to realize how important it is to tailor the training to the individual. If you can learn this at a younger training age than me, it will save you from numerous instances of frustration and set backs.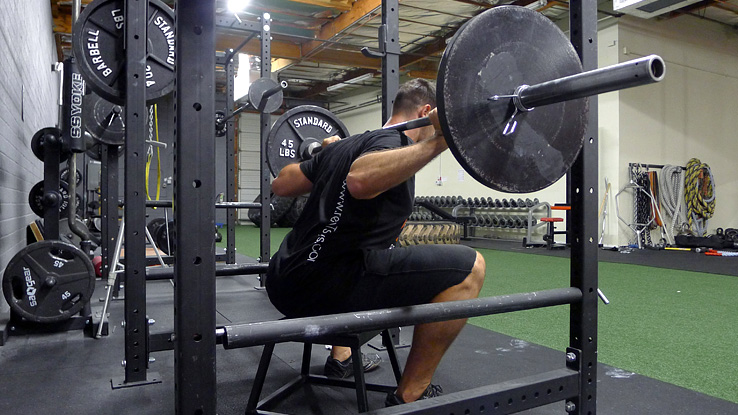 Primer on Training Volume
If you want to maximize your neuromuscular gains, then you want to optimize your training volume. The first set of an exercise is by far the most important. Probably 70-80% of your gains come from the first set, with each subsequent set providing decreasing additional anabolic stimuli. The law of diminishing returns definitely applies to training volume, as there's a point where more volume will make you weaker by preventing recovery – or worse, causing pain or injury. Volume is indeed an important factor related to strength and hypertrophic improvements, but increasing volume won't help you with any of your goals if it causes you to spin your wheels due to joint irritation and pain.
Experts aren't in agreement with optimal volume recommendations, and even if they were, interindividual variation would require you to tinker and experiment to figure out what works best for you. Some advise to perform the minimum effective dose possible that elicits a training effect and leads to increased performance, while others advise to perform the maximum volume that still allows the individual to stay psychologically motivated, pain/injury-free, and able to recover. Volume can and should fluctuate over time according to planned periodization or unplanned autoregulation based on biofeedback. The optimal volume for you depends on numerous factors, including (but not limited to): total program volume, total volume per muscle group and per movement pattern, skeletal anatomy, mobility, genetic soft-tissue strength, exercise technique, exercise variation, added conditioning/cardio, nutrition, supplementation, sleep, stress, age, training age, and strength levels.
Individual Squat Differences
Let's just consider the squat. If you have limited ankle dorsiflexion mobility, you're going to lean forward to a greater degree, thereby placing more stress on the low back (unless you wear weightlifting shoes). Similarly, if you have relatively long femurs, you're going to lean forward to a greater degree, thereby placing more stress on the low back. If you have relatively big quads, especially if coupled with good ankle mobility and/or relatively short femurs, you will use them to a proportionately greater degree, and this places more stress on the knee joints. If you have limited hip flexion mobility, you will excessively buttwink (posteriorly tilt the pelvis, which is often accompanied by lumbar flexion) if attempting a deep squat, and this places increased stress on the low back. Limited hip flexion mobility also places greater stress on the hip joints. If you have poor shoulder external rotation mobility, performing low bar squats will likely irritate your shoulder joints.
If you are lucky enough to have a robust spine and set of knees/hips, then you will be able to tolerate much greater forces and loads. However, if the interaction between your uniquely shaped skeleton and uniquely strengthed soft-tissue structures under movement and load causes your bones, intervertebral discs, knee menisci, hip labrums, or various ligaments, tendons, and muscles to excessively rub, compress, stretch/strain, bend, or shear, then you're inevitably going to experience problems over time if you don't manage your volume.
While it's true that much of these issues can be mitigated by using good technique, sound mechanics doesn't always safeguard the individual from injury and pain/discomfort. For example, muscular contractions produce joint force, and if you're compression intolerant at a particular joint, there's no way around producing compressive forces when performing exercises that stress the particular muscle group that causes the joint discomfort. In addition to technique and volume, anatomy and genetic soft-tissue strength also play large roles in determining your tolerance capacity to an exercise. We only discussed the squat above, but the same principles hold true for deadlifts, hip thrusts, bench presses, chins, dips, military presses, and more.

Modifying Your Program
Many of you have coaches or stick to popular training programs. While your current program might be very effective for one individual, it may be far from ideal for you. However, you can usually modify the program to suit you perfectly and allow you to make consistent gains over time, but it requires experimentation.
I'm going to provide you with some personal anecdotes. Of course, you are anatomically and physiologically different than me, so you need to figure out your optimal training protocol. But let me tell you what I've discovered over time just to get the wheels turning in your mind and spark some thought as it pertains to your programming.
Squats
Surprisingly, squats rarely, if ever, hurt my back. Actually, I can recall hurting my back 18 years ago with squats but that's it. I wish I could squat 5 times per week with massive volume, but this aggravates my knees. A couple of times throughout my training career, squats induced hip pain when I went overboard on the frequency, and come to think of it, frequent low bar squatting irritates my arms more than anything (which sabotages my bench press).
Squatting one day per week doesn't allow me to gain much strength, therefore, when I'm feeling healthy, I squat 3 times per week with 3 working sets per session for a total of 9 weekly sets. I have some clients who can handle 16 hard sets per week, others who can only well-tolerate 4 sets per week, and I've trained a few people who I decided were better off omitting heavy squats altogether (but they still did goblet squats), as every time they started reaching new levels of strength, they'd injure themselves even when using seemingly good form.
Deadlifts
I wish I could deadlift with massive volume too, but my back gets stiff and all of my lower body training goes south when this happens. I seem to do best pulling heavy for 1-2 all-out sets once per week and including a lighter day for 3-4 sets (on the lighter day I don't rep to failure; I just go light and focus on form). I used to be able to handle 2 heavy deadlift sessions per week, but not anymore.
Lately I've been doing heavy good mornings in place of lighter deadlifts and this seems to be panning out very well (1 good morning session per week and 1 deadlift session per week). Just as in the case of the squat, I've seen a large variance with what people can handle in the deadlift. I've trained some people who could pull heavy with 8 sets per week, some who were like me and did best with around 5 sets per week, and others who couldn't deadlift heavy at all since they'd inevitably end up hurting themselves when they started reaching new levels of strength (but they still did swings and speed banded deadlifts).
Bench Presses
I seem to build my bench press best by benching 2-3 times per week. I've tried benching 5 days per week and it always results in stagnation due to arm and shoulder pain. Right now, 2 flat bench and 1 incline press session seem to be ideal, with 3-4 sets per session. I'm able to sprinkle in some military press as well with no problem as long as I don't bench press every day. I've trained clients who could tolerate 18 hard sets of bench press per week, others like me who did best with 6-12 sets per week, and some who simply couldn't bench long-term without experiencing issues.
Hip Thrusts
When I was weaker at hip thrusts (using 405-495 lbs for my sets), they never bothered my knees, but now that I can thrust 585+ lbs for reps, they irritate my knees if I do them frequently. Specifically, they cause my quadriceps tendons to act up. Therefore, I do them heavy one day per week and light (either band hip thrusts, double band hip thrusts with a band around the knees and a band around the hips, or with light barbell load for high reps and constant tension) another day per week.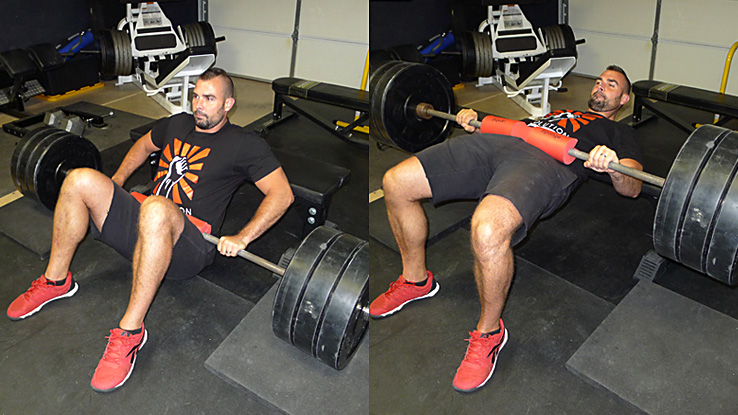 Weighted Chins and Dips
Weighted chins and dips were always favorites of mine, but I had to exclude them from my programming for 2 years because they became problematic and caused injuries and pain. I've recently reintroduced both of them into my training and can handle them just fine as long as I just hit them just once per week with 2 working sets. I know if I got greedy and started hitting them 2-3 times per week with 3-4 sets, I'd backtrack and start developing arm pain and teres minor issues from the chins and anterior shoulder pain from the dips. I'm even careful with bodyweight chins and dips as they still pack a punch when you weigh 225+ lbs like me. I've found that underhand grip lat pulldowns and plate-loaded dips transfer to my chin and dip strength without stressing my body as severely.
Lateral Raises
I wanted to mention a single joint exercise here as I feel it's an important anecdote. Lateral raises used to irritate my elbows and arms if I did them too often or for too many sets. However, I used to work my way up to 50 lbs. Upon learning more about biomechanics, I realized that I was bending my arms when I went heavier, thereby reducing the lever arm length. Since torque on the joint is equal to the load multiplied by the lever arm distance, I realized that I could go lighter but keep my arms straighter and still achieve a similar training effect. If I used just 25 lb dumbbells and paused at the top and then lowered the load slowly (I don't think I ever controlled the eccentric phase of a lateral raise in my entire lifting career before this realization), I could pack a hypertrophic stimulating punch without irritating my arms or elbows. This infers that technique and cadence can be altered to augment loads and stresses on the body.
Variations
Along similar lines, here's why it's important to possess a large toolbox of exercises. Many individuals find that a certain exercise variation is problematic for them, but they can perform another variation just fine. For example, some do well with conventional deadlifts versus sumo deadlifts or vice versa. Or block pulls or trap bar deadlifts. Some people do well with front squats versus back squats or vice versa. Or high box squats. Some do better with barbell glute bridges compared to hip thrusts. Some do better with close grip bench or floor press as opposed to bench press. Experiment to figure out the best variations for you.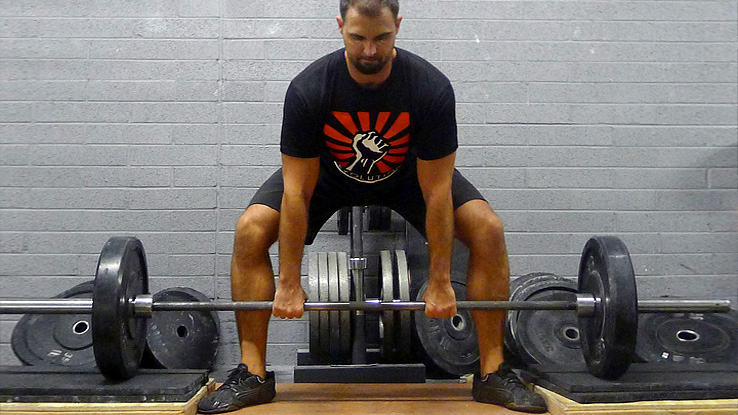 Well-Tolerated Exercises and "Penalty-Free Volume"
There are indeed exercises that I seem to able to perform with unlimited volume. These movements simply agree well with my body. I freakin' love these exercises, as they provide what I call "penalty-free volume." I can bust out back extensions, frog pumps, lateral band walks, push ups, inverted rows, chest supported rows, seated rows, rear delt raises, hammer curls, band tricep extensions, and leg curls frequently with higher volume without experiencing any issues.
I always make sure to perform plenty of sets of these throughout the week as they positively impact hypertrophy without impairing my ability to gain strength on squats, deadlifts, bench press, and more. In this manner, they're synergistic as hypertrophy is good for strength (but the relationship is far from linear).
I've always felt that this was a wise strategy as I don't believe that lifters should try to tease out all of their hypertrophic gains with just one exercise for a particular bodypart. For example, squats are great for vastis (quad) development, but they don't maximize rectus femoris hypertrophy (leg extensions are better for this), and there's only so much volume one can handle with squats due to their loading on the low back. Supplementing with lunges, leg extensions, or another quad exercise is a great idea whether the goal is physique or strength related. Moreover, many compound exercises fail to optimally stimulate all the regions of a muscle. For example, squats don't adequately target the upper gluteus maximus fibers, so hip thrusts and lateral hip abduction movements are useful in maximizing glute development. In short, variety is good!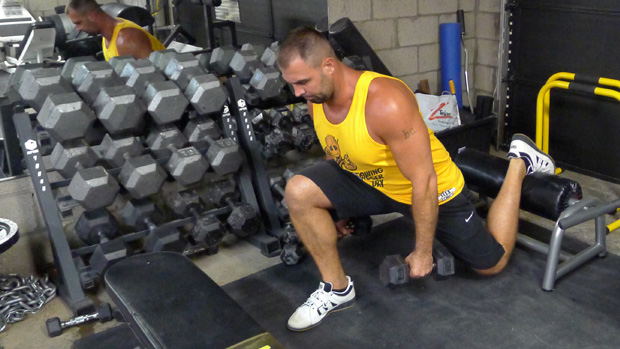 Submaximal Volume
It is indeed true that people can do much higher volume if they use submaximal loads and avoid going close to failure – and this is certainly a possibility with your training. However, if you're like me, then you grew up thinking that only the last couple of reps mattered (this isn't accurate) and that training to failure was necessary (it's not). If this is the case, it's likely hard for you to just perform moderate effort work while still feeling productive.
Chances are, you're probably a little bit like me and you don't feel productive unless you push a majority of your sets to failure or close to failure during the training session. If so, I recommend relaxing your stance on this and performing many sets per week in the moderate range in terms of effort by leaving a few reps on the table. To reiterate, you should not go to failure on all of your sets throughout the week. Depending on your program design, maybe 25-50% of your sets should be carried out close to failure, with 50-75% staying far away from it. You can compensate for the reduced effort by using more strict form.
Your Turn 
Now that I've informed you about my training discoveries related to volume and exercise performance, it's your turn to figure out what works best for you. Start paying closer attention to your program design and make sure you're selecting the best exercises for your goals and performing the ideal amount of volume for your body. Don't just stick to a cookie-cutter routine if it doesn't feel right. Modify sets and reps, exercise technique, and exercise variation according to your individual tolerance capacity. As I've said many times before:
No exercise is worth doing if it repeatedly causes pain or injury.
My training morphs over time, and so will yours. There will be times when you can hammer it out for weeks on end, and there will be times where you have to back off and avoid certain movements. This comes with the territory, so learn how to train around issues and still be productive.
Conclusion
I hope this article has given you some food for thought. Perhaps your skeletal structure and soft-tissue strength allow you to do whatever you want, whenever you want, however you want. But chances are, especially as you get stronger, you're going to have to learn how to modify your training by reducing volume on potentially problematic exercises, increasing volume on well-tolerated exercises, selecting the best exercises for the job, and possibly omitting exercises that don't agree with your body.