Low back pain is a bitch! Previous literature suggests that up to 30% of incidences of low back pain could in fact stem from the sacroiliac (SI) joint. I wrote about the SI joint a year and a half ago in a blogpost titled, The Sacroiliac Joint Takes a Beating. If you haven't read this yet, I recommend you do!
Nevertheless, a recent paper has emerged that sheds more light on the critical role that the gluteus maximus plays in stabilizing the SI joint. The article was published in the Clinical Journal of Biomechanics and is titled, "Anatomy and biomechanics of gluteus maximus and the thoracolumbar fascia at the sacroiliac joint." Click HERE for the Pubmed link, but I'll paste the abstract below:
Abstract
Biomechanical models predict that recruitment of gluteus maximus (GMax) will exert a compressive force across the sacroiliac joint (SIJ), yet this muscle requires morphologic assessment. The aims of this study were to document GMax's proximal attachments and assess their capacity to generate forces including compressive force at the SIJ. In 11 embalmed cadaver limbs, attachments of GMax crossing the SIJ were dissected and their fascicle orientation, length and attachment volume documented. The physiological cross-sectional area (PCSA) of each attachment was calculated along with its estimated maximum force at the SIJ and lumbar spine. GMax fascicles originated from the gluteus medius fascia, ilium, thoracolumbar fascia, erector spinae aponeurosis, sacrum, coccyx, dorsal sacroiliac and sacrotuberous ligaments in all specimens. Their mean fascicle orientation ranged from 32 to 45° below horizontal and mean length from 11 to 18 cm. The mean total PCSA of GMax was 26 cm2 (range 16-36), of which 70% crossed the SIJ. The average maximum force predicted to be generated by GMax's total attachments crossing each SIJ was 891 N (range 572-1,215), of which 70% (702 N: range 450-1,009) could act perpendicular to the plane of the SIJ. The capacity of GMax to generate an extensor moment at lower lumbar segments was estimated at 4 Nm (range 2-9.5). GMax may generate compressive forces at the SIJ through its bony and fibrous attachments. These may assist effective load transfer between lower limbs and trunk. 
WTF Does This Mean?
When muscles contract, they create compressive force, which also creates joint force. This joint force increases stability, which is especially important in the SI joint. If we convert Newtons to pounds (HERE is an online calculator that'll do it for you), we see that 702 N equates to 158 lbs of force. Actually, the glute max produced 200 lbs of force, but you have to take the angle of the fibers relative to the SI joint into consideration and use geometry to calculate the effective force acting on the SI joint, but I digress. This 158 lbs of force clamps down on the SI joint and keeps it in place during movement. It also acts to increase the transfer of force between the upper and lower limbs, so its practical applications extend to performance and not just injury and pain prevention.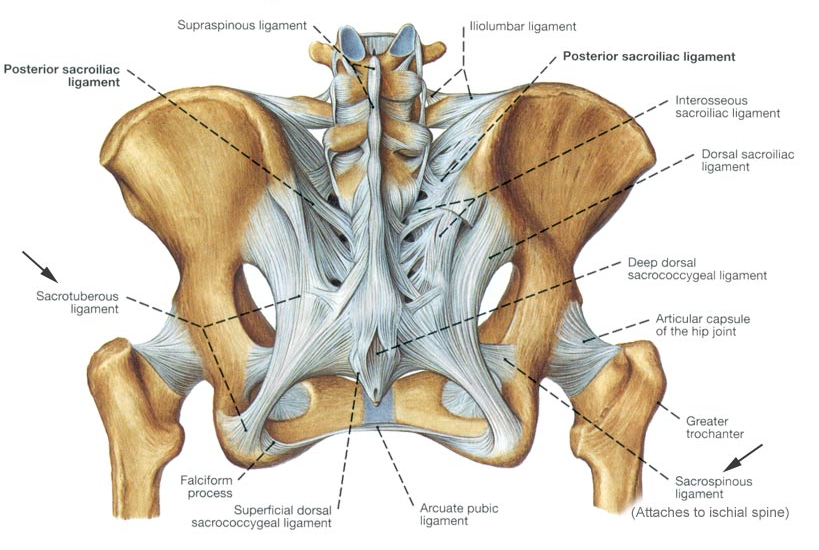 80-Year Old Glutes Don't Cut it!
However, the study examined 6 elderly cadavers (average age of 80-years old). The average gluteus maximus volume was 389 mL. You may recall an article I wrote 6 months ago on Glute Genetics where one subject possessed a set of glutei maximi with a volume of 958 mL. That's nearly 2.5 times the volume of the elderly cadavers!
In THIS Russian article (I possess an English version), physically-active 21-year old subjects possessed an average of 907 mL of gluteus maximus volume. What's very cool is that following 8 weeks of leg press exercise, this volume increased to 1,064 mL, which is an increase of around 17%! Leg presses don't get you near as much glute activation as hip thrusts, so I'd expect hip thrusts to lead to much greater increases in glute volume. I'm fairly certain that some of my clients have increased their glute volume by over 100% in six months of training. I'm sure that there are various bodybuilders, powerlifters, Olympic weightlifters, strongmen, and NFL lineman with gluteus maximus volumes of 1,500-2,000 mL.
If elderly glutes can produce 200 lbs of muscle force and they're around a fourth the size of a powerlifter's, not to mention they don't activate as well, one could surmise that athletes with incredibly muscular and powerful glutes could produce around 500-600 lbs of force, most of which transfers directly from the gluteus maximus to the stabilization of the SI joint. This stabilization helps prevent injury and pain, in addition to improving force transfer between the upper and lower halves of the body and increasing power production.
Conclusion
If you want to minimize the risk of low back pain and injury, in addition to maximizing performance, make sure you train the glutes hard so they can effectively stabilize the SI joint and prevent aberrant motion from occurring during forceful and explosive movements.
References
Barker PJ, Hapuarachchi KS, Ross JA, Sambaiew E, Ranger TA, Briggs CA. Anatomy and biomechanics of gluteus maximus and the thoracolumbar fascia at the sacroiliac joint. Clin Anat. 2013; Aug 20 [Epub ahead of print]

Popov DV, Tsvirkun DV, Netreba AI, Tarasova OS, Prostova AB, Larina IM, Borovik AS, Vinogradova OL. Hormonal adaptation determines the increase in muscle mass and strength during low-intensity strength training without relaxation. Fiziol Cheloveka. 2006; 32(5):121-7.

Preininger B, Schmorl K, von Roth P, Winkler T, Matziolis G, Perka C, Tohtz S. The sex specificity of hip-joint muscles offers an explanation for better results in men after total hip arthroplasty. Int Orthop. 2012;36(6):1143-8.