Today's guest-post is an excellent article from Rob Panariello, a regular guest contributor to my blog. Enjoy!
"Never Forget the Plain Old Vanilla"
Robert A. Panariello MS, PT, ATC, CSCS
Professional Orthopedic and Sports Physical Therapy
Professional Athletic Performance Center
New York, New York

As I was recently reading the book Treat Your Customers by Bob Miglani, an easy read with lessons in customer service realized during his younger years while working at his parent's Dairy Queen ice cream store, I was especially intrigued with a chapter entitled "Never Forget the Plain Old Vanilla".  Mr. Miglani, now a fortune 500 executive, recalls an experience that took place in the 1990's as at that particular time many new and innovative flavors of ice cream and frozen yogurt took the ice cream market by storm. One particular hot summer weekend his parent's ice cream store had so much of an inventory of these new market products that he and his staff simply forgot to order the usual supply of plain old vanilla ice cream. As fate would have it, vanilla was the most in-demand flavor of the weekend and the ice cream store was out of it.
Mr. Miglani goes on to state that no one "talks about those crazy flavors" any longer and no matter how "hot" a new flavor may be most people just want plain old vanilla. He also states how throughout all of the decades that he has worked in the ice cream industry, vanilla ice cream has never been out of the top 5 flavors served at the Dairy Queen National Ice Cream Company chain. Mr. Miglani's recommendation, "you should never lose sight of the product or service that is at the heart of your business".
The Physical Qualities of Athletic Performance Enhancement Training
Throughout my career I have had mentors and valued associates in my two professional fields of occupation, Orthopedic and Sports Rehabilitation and the Strength and Conditioning of Athletes. These individuals have been invaluable resources for me and have certainly contributed to the successes that I have achieved. In specific regard to the Strength and Conditioning (S&C) profession, these S&C professionals have been great resources, some for more than 25 years, and have achieved unique levels of their own success as competitive weightlifters contending at the Olympic Games and eventually emerging as Olympic Weightlifting Coaches, World Champion Powerlifters, Olympic Track and Field Coaches (jumps and sprints), and Professional Team S&C Coaches who have won World Championships, including two good friends who have achieved multiple World Championships in their particular team sport of athletic competition. The achievements of all of these individuals are exceptional and certainly not attained by many (i.e. four of my close friends were elected to the USA S&C Coaches Hall of Fame).  Why do I comprise all of this information for those reading this article? Well if we may reflect for a moment, if a person was required to have open heart surgery, or was to be placed on trial for a serious crime, would this particular individual desire a cardiac surgeon or criminal attorney who is in their first year of practice, or would they prefer a highly experienced and successful surgeon or attorney with an outstanding and proven "track record"? When striving to achieve wisdom, knowledge, and instruction specifically in regard to the S&C profession and the enhancement training of athletes, why would the resource(s) ever be any different?
One common component of the numerous lessons I have learned from the experiences and successes of many of these outstanding S&C professionals, is that it is not only necessary for the athlete to develop the various physical qualities necessary for the enhancement of athletic performance, but the order of emphasis for the development of these physical qualities is as important as well. This ascending order of physical development, including the essential athlete evaluation and work capacity (athlete preparation) periods are demonstrated in Hall of Fame Coach Al Vermeil's Hierarchy of Athletic Development displayed in Figure 1.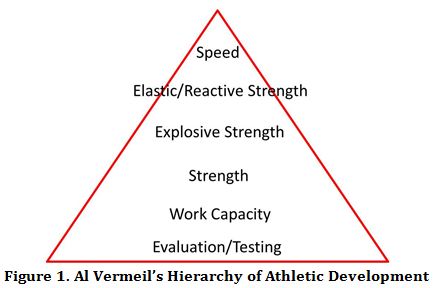 Once the athlete is evaluated and prepared for the work at hand (participation in the athletic enhancement training program), the next four ascending levels of this pyramid display the physical qualities of Strength, Explosive Strength, Elastic/Reactive Strength, and Speed. Target levels of all of these physical qualities are attained via a training progression where the optimal enhancement of a specific physical quality is contingent upon the meticulous development of the prior physical quality.
There may be some degree of exception and consideration with regard to the specific sport of participation, as well as the specific position played of the particular sport of participation; nevertheless it is speed that is ultimately the most important physical quality in competitive athletic participation. My point of view is based on the instruction received and experiences throughout my 30 plus year career in Sports Rehabilitation and Strength and Conditioning, as well as an abundant number of hours of observation. If a trained athlete possesses the physical quality of speed, more often than not they will also possess the three other physical qualities that are necessary for the development of optimal speed capabilities. This may not be true of other physical qualities, as for instance; a very strong individual may not possess great elastic/reactive strength capacities or the ability to run at very high velocities. The S&C Professional should always note the importance of the relationship and optimal development of the physical qualities of both strength and explosive strength and their role as prerequisites for the athlete's optimal speed capabilities to transpire.
The "Plain Old Vanilla" Exercises of Athletic Performance Enhancement Training
Ever since the commencement and evolution of the Internet, as well as the vast "explosion" of interest in the fitness community and industry, including those professionals who are involved in the physical enhancement training of athletes and/or the general public, numerous Internet sites, publications, and conferences are continuing to disclose new exercises to be performed by both athletes and clients on what appears to be a daily basis.  One should be cognizant to avoid the possible recurrence of the incident that once transpired to Mr. Miglani while working at his parent's ice cream store, as the evolvement and presentation of  "new flavors" (i.e. new exercises) become the "hot" craze of the industry, and "Plain Old Vanilla" is often forgotten to be ordered. What are the exercises in the S&C industry that constitute "Plain Old Vanilla"? Well according to Mr. Miglani's lesson, "Plain Old Vanilla" was a "top 5 seller" for decades and continues to be to this present day. He could depend upon this flavor for (financial) success. What exercises have been dependable for utilization, when appropriate, by various athletes of numerous sports of athletic participation for decades? The fundamental exercises of the squat, deadlift, Olympic lifts (clean and jerk, snatch), overhead press and bench press, as some of these primary exercises have also been utilized both safely and successfully by athletes participating in various sports of athletic competition for more than a century.
When appropriate for utilization and incorporation into an athlete's training program, these exercises assist in laying the foundation of Coach Vermeil's Pyramid of Athletic Development. These "Plain Old Vanilla" exercises aren't sexy, they aren't romantic, but they have consistently induced training success and thus, have survived the rigorous test of time simply because they work! These exercises are effective because S&C Coaches are required to take the time to learn the proper exercise technique and exercise instruction, as well as the fact that these exercises simply require (a) hard work and (b) load (intensity). The bottom line is the proper execution of these exercises isn't easy, and like everything else worthwhile in life, requires both effort and hard work.
I certainly am not insinuating that additional exercises should not be incorporated, when appropriate, into an athlete's training program. Nor am I stating that the evolvement and presentation of other various types of innovative exercises aren't valuable in the training of an athlete or client as well. Unquestionably the athletic performance enhancement industry, like any other industry, has evolved and will continue to evolve for years to come. However, what I am conveying is the possible oversight that may take place during the consideration of the incorporation (addition) of all of the new "hot"/all the rage exercises during the establishment of an athlete's training program, which is the error to ignore the lessons (exercises) of the past that have been proven to be so effective.
With regard to the performance enhancement training of athletes, the S&C Professional should also keep in mind the following advise provided by legendary coaches Charlie Francis and Al Vermeil:
Just because the exercise exists doesn't mean you have to utilize it.
Just because the exercise is difficult to perform doesn't mean it has any value in improving athletic performance.
The criteria for selecting an athletic performance enhancing exercise includes:

Reducing the possibility of athletic injuries
Prepares the body for the intensity (stress) of both the sport of participation as well as the athletic performance enhancement training program
Improves the efficiency of force application and control into the playing surface (ground surface area)
When the new exercise(s) and "hot trends" of the future arrive, contemplate to investigate them, however, also recollect the successes of the past. Don't forget that "Plain Old Vanilla" is sold at every ice cream store for a worthy reason and a valuable lesson is learned from Mr. Miglani.