Unless you live in a cave, you've heard about Miley Cyrus's butt over the past couple of days. According to the YouTube video below, Miley wants to work on her booty. In this letter, I'm going to assume that TMZ is right; that Miley does in fact want more junk in the trunk. If I'm wrong, then Miley can disregard this letter. For the record, I think Miley is absolutely beautiful and should be very proud of her rockin' body. But if glutes are what she wants, then I'm the man with the plan.
Interestingly, I was tagged or referenced in no less than twenty posts on Facebook and Twitter in the 24 hours following Miley's performance at the VMA's. People were saying that Miley needs Bret Contreras. I disagree. More like Bret Contreras needs Miley Cyrus.
Allow me to Introduce Myself
I'm writing this post in hopes that it reaches Miley and/or Miley's people. My name is Bret Contreras, and as you can see, I'm known as The Glute Guy. In the past four years, I've written or co-written four books on the glutes (HERE, HERE, HERE, and HERE). I've trained a ton of women and probably have the most impressive before/after butt transformation pictures out there (HERE), I co-own a business that caters to building women's glutes (HERE), I've written tons of blogs on glute training (HERE), I've conducted numerous glute EMG experiments (HERE and HERE), and I've even managed to transform my own glutes (HERE) which is important as a trainer should walk the walk if he's gonna talk the talk. I firmly believe that I'm the best in the world at what I do.
Don't Worry, I Know What You're Thinking
Right now, you're probably thinking that I'm just some meathead personal trainer who doesn't understand how to train women. I'll have you know that although I love strength training, I'm actually a science-geek who is studying for his PhD in sports science/biomechanics. I also have a CSCS certification from the NSCA. You're probably thinking that you'd work with me and get overly bulky and ruin your physique. Don't worry, I understand your fears. I've written about tailoring strength training for different types of goals and physiques (HERE, HERE and HERE). But you don't need to worry Miley, you've got the perfect type of physique right now in terms of readiness for transformation. You're flexible, you're lean, and your dancing has kept your muscles active. You have an excellent foundation and your body is eager to adapt if you simply train properly.
Give Me 12 Weeks!
I don't live in L.A. or N.Y.C, nor do I train celebrities. I live in Phoenix, Arizona and am very happy here. However, I would gladly train you for free if given the chance to prove my skills as a trainer. I'd even travel with you and accommodate your busy schedule.
I need 12 weeks to make a huge difference. Miley, if you can commit to training with me four times per week for 40-60 minutes for 3 months, I guarantee that I will dramatically improve your glutes. After the 3 months are over, I bet that you would be the talk of every magazine, newspaper, website, entertainment news program, and tabloid.
Once you build the glutes, they're easy to maintain. After our time is up, you won't need me anymore, as you'll easily be able to continue to improve upon your glutes for months to come by just continuing to do what I teach you. I can guarantee that I will positively impact your career for decades to come, but of greater importance is that the methods that I've developed, the methods that have taken me decades to hone, will finally reach the masses once your transformation is made public. The greater good will be served and women around the world will realize that they too can shape their backsides and utilize strategic strength training to better their physiques.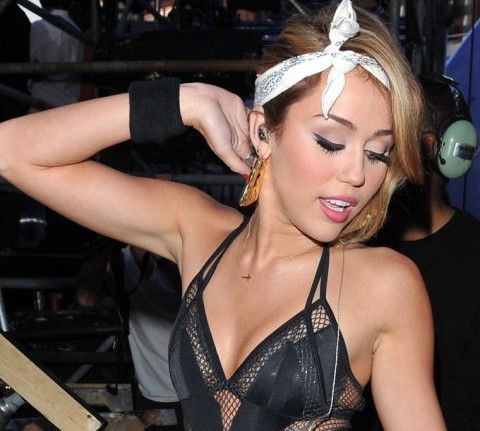 All you gotta do is get in touch with me. Some women spend tens of thousands of dollars and endure horrific pain on cosmetic surgery to enhance their shape. But you don't have to spend a dime. All you have to is put in around 70 hours of hard work and effort over a 3 month period. What's more is that the results are au naturel; a testament to your dedication, not your wallet. What do you say Miley? Let's do this!
If not, I urge you to buy Strong Curves and/or subscribe to Get Glutes as that's the next best thing. You can get on board and start spreading the glute gospel. However, when I train people in real life, they get even better results as it helps to have a CSCS/Biomechanist who has seen a million reps of hip thrusts in his lifetime to ensure that you're training properly and optimally.
Best wishes,
Bret Contreras