Disclaimer – I'm probably wrong about some of this. Yoga peeps – please feel free to correct or add to what I've written in the comments section.
Last Thursday, my girlfriend dragged me to a yoga session against my will. Of course, this now makes me an expert on all things yoga, being that I've now attended a session. I kid, I kid. I did, however, pay very close attention to the instructor and the session. While I don't know the names of most of the poses, I made quite a few observations. Here they are, in no order of importance:
I was lucky to have attended a class with an advanced instructor, which makes a big difference in my opinion. To my surprise, the instructor actually had a great knowledge of biomechanics, and her cues were fantastic.

One of the primary purposes of yoga is to relax, yet many beginners fail to relax. Perhaps they're self-conscious of their flexibility levels, or they're overly-competitive, and so they overdo it. This defeats the purpose. Twelve years ago, Pavel Tstsouline wrote an excellent book titled,

Relax into Stretch

.

It focused on the need to relax while stretching in order to reap maximal benefits in flexibility. Good instructors are aware of this – they'll quickly 

notice overexertion and modify poses to suit the individual.

All poses can easily be modified for novices. 

Yoga sessions spend a significant percentage of time in the top push-up position. This builds excellent scapular stability (serratus anterior, trapezuis, etc.), which provides an important foundation for strength training. We need this stability for upper body pressing and pulling movements.

Some of the transitions in yoga move the practitioner into a narrow-width push-up position, which is very challenging for the triceps, pecs, and anterior delts. See the biomechanical information on push-ups in the chart below (this is from an

 

SCJ article

 

published last year by Contreras et al):
 

Yoga sessions involve a considerable amount of poses that stretch and activate the hip musculature at long muscle lengths. From hip flexors, to hammies, to adductors, to hip rotators, yoga will keep hip flexibility solid, which is another excellent foundational feature for weight training.

Yoga sessions also involve plenty of stretches for the shoulder musculature – shoulder flexion, extension, and internal rotation specifically, which are great for resistance training.

Yoga provides a decent core stability challenge to the abdominals, obliques, and glutes. Of course, the muscles won't get activated like they do during ab wheel rollouts or heavy hip thrusts, but various poses will keep the core muscles activated, which will prevent age-related atrophy.

Yoga poses keep the spine flexible. From spinal flexion, to extension, to lateral flexion, to rotation, you'll get all of it in yoga. It's important to know that increases in spinal flexibility doesn't prevent low back pain. However, it will prevent age-related losses in flexibility which I feel is important, as long as core strength accompanies it.

For many individuals, these spinal stretches are therapeutic. However, certain individuals may find some poses to be problematic. For example, the flexion intolerant person might not find the child's pose to be very fun, and the extension intolerant person might not find the cobra pose to be very fun. Again, these poses can be modified and/or omitted depending on the individual.
If done right, some of the poses are incredible thoracic-spine mobility drills. This is key for optimal shoulder health. But you have to understand how to open up the chest and not hinge solely at the lumbar spine.

Many meatheads like me will find many of the poses to be incredibly challenging. Our thick muscles produce a lot of passive stiffness, and we're not used to going into various ROMs (or holding those ROMs isometrically for that matter). Meatheads need to be okay with sitting some poses out or modifying them to suit our fitness levels – the sessions need to be relaxing!

Poses that require considerable hamstring flexibility can be modified by bending the knees. This is important as it allows individuals to anteriorly tilt the pelvis and keep the proper lumbar arch, which prevents them from going into lumbar flexion. You see a lot of low back rounding during poses such as downward facing dog, so the bent knee position is a much better strategy for the person who hasn't yet built up sufficient hamstring flexibility. You still get a great hamstring stretch, but you also build good core stability mechanics.

Yoga is very relaxing if done properly, which can lead to a variety of health benefits including decreased anxiety, stress, and depression.

My class contained a deep breathing component at the end which was fantastic. This can help restore balance between the sympathetic and parasympathetic nervous system.

The instructor would walk around the room and place her hands on the practitioners from time to time – just a gentle touch or push in a certain place to increase the stretch or correct the form. She also had a very soothing voice. These attributes also have therapeutic effects and add to the restorative capacity of yoga in my opinion.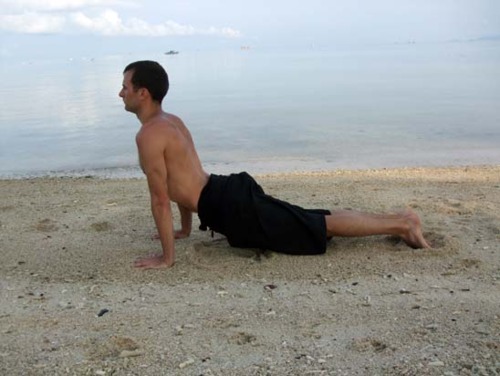 Summary of How Yoga Benefits Weight Training
Yoga promotes flexibility and mobility, which provide an important base in weight training. In S&C, usually we have to prescribe mobility drills for the hips and t-spine with clients – yoga takes care of this over time, which leaves more time to focus on skill-work in the weight room. Yoga also promotes decent levels of stability in the shoulders and hips (not nearly as much as you seen with weight training, but decent nevertheless). Yoga is incredible for mental health, relaxation, and stress-relief.
In these regards, yoga complements weight training. Theoretically, yoga could increase recuperative ability, but only if the intensity of the session is kept under control. Too many challenging poses could do the opposite.
Transitioning from Yoga to Weight Training
I've trained a handful of experienced yoga practitioners who were new to strength training. The first thing they need to learn is how to speed up their tempo. Yoga is very controlled and slow. In weight training, you want to train a bit more explosively as this increases muscle activation.
The typical yoga practitioner will be competent at various bridging, push-up, and core stability exercises. They will not be limited by flexibility/mobility in pretty much any exercise, which is a huge plus. However, their motor control will be a bit off. For example, they'll likely be inclined to hyperextend the spine during bridging and deadlifting movements. It is imperative that they learn how to stabilize the spine and move through the hips.
They'll have strong shoulders and triceps compared to sedentary individuals, they'll be in much better physical condition than a sedentary beginner, and they'll have the raw materials to learn every single functional movement pattern properly. However, as previously mentioned, they'll need to reprogram their movement patterns by learning them how to stabilize various joints while moving through other joints.
Yoga will not shape the glutes like weight training (or any other muscles for that matter), yoga won't provide the metabolic kick that weight training does, and yoga won't maximize strength, power, speed, hypertrophy, or endurance. Yoga can be advanced through more challenging progressions, but not like in weight training where heavy weights and progressive overload can be employed. However, yoga is still a highly valuable form of physical fitness with a myriad of benefits, and it's loved and enjoyed by millions worldwide.
Personal trainers, strength coaches, and physical therapists need not fear their athletes and clients performing yoga as long as it's conducted properly.