This weekend, I visited my girlfriend Diana in Nogales – a tiny border town in Arizona. She's in school right now doing her rotations, and I intended on training at an actual gym. However, the town's only gym was already closed for the day, so the only option was to train at her home. We didn't have any free weights or resistance bands, or even any chin/dip bars for that matter, so we had to either go with bodyweight exercises, or use each other for resistance. In my Bodyweight Strength Training Anatomy book, I provide what I believe to be the best bodyweight exercises in existence.
However, I believe that all lifters, personal trainers, and strength coaches should have a firm grasp of training with every type of loading. Partner resisted training is highly effective, and it is very useful when traveling.
The particular workout featured in this article is best suited for stronger males with smaller partners. The Zercher koala bear and piggy back reverse lunge hammer the glutes and quads, the straddle single leg hip thrust hammers the glutes and hammies. The weighted push up hits the pecs, front delts, and tri's. The straddle one arm row hits the upper back and bi's. And the weighted RKC plank annihilates the abs. Don't underestimate the effectiveness of these exercises – they work incredibly well.
I will film another workout down the road that strong women can do with their partners; the exercises are different but the workout is equally as effective.
Piggy Back Reverse Lunge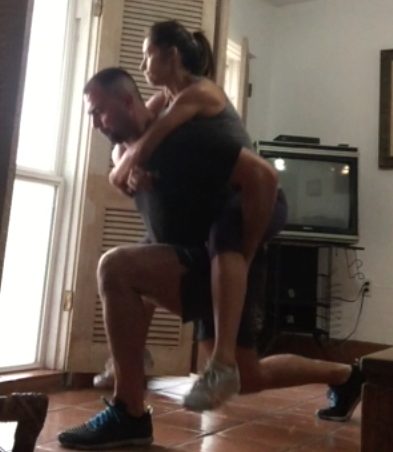 Set up like you're going to give your partner a piggy back ride. Lean forward slightly (this increases glute activation by the way), step significantly far back into a deep lunge, then propel your body back into position. You can alternate legs, or hit all the reps with one leg before switching to the other leg.
Zercher Koala Bear Squat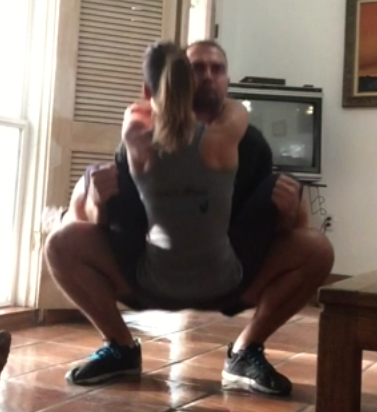 I know, I know, this looks highly sexual. If this offends you, get over it and quit being such a prude. It's actually one of my favorite squat variations for the glutes. She's going to hug you like a koala bear, and you're going to hold onto her legs as if you were doing a Zercher squat.
By the way, when I tested glute activation with all different types of standing squat variations, the Zercher variation ranked the highest. Some of my clients get higher glute activation from moderately-heavy goblet squats than heavy barbell squats. The Zercher koala bear squat feels like a combination between a goblet squat and a Zercher squat, and you feel tension on your glutes through most of the movement (unlike traditional barbell squats) if you do it right. Squat down deep, keeping the knees out, and as you rise upward, sort of thrust the hips forward as if doing a hip thrust.
Straddle Single Leg Hip Thrust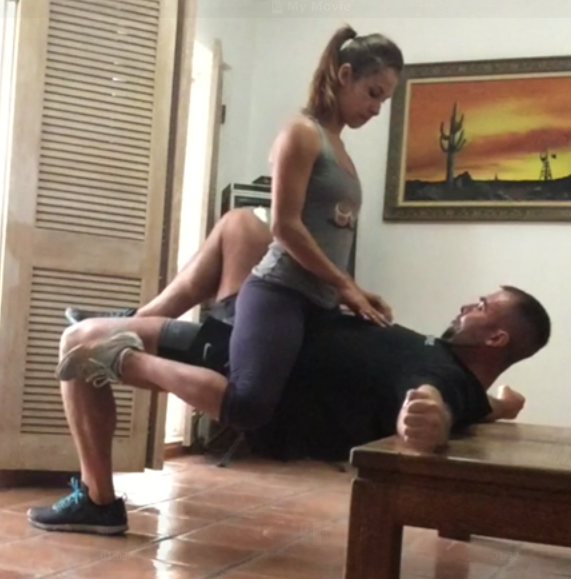 Yes, this appears highly sexual in nature as well, I get it. If it gets you and your partner all riled up, then great – maybe you can follow the resistance training session off with some "cardio." But really it's not that big of a deal…in Brazilian Jiu Jitsu (BJJ) we were constantly in this position with other dudes, so again, no need for prudes getting offended.
Have your partner straddle you. She needs to keep her feet off the ground so that you're lifting her entire bodyweight. Make sure you keep your torso level and avoid hyperextending the spine. Tuck the chin slightly as this encourages posterior pelvic tilting, which equates to more glutes and less erectors. You can alternate legs, or hit all the reps with one leg before switching to the other leg.
If the single leg version is too hard, you can do double leg hip thrusts with a controlled tempo; this works well too (I included a few reps in the video of these done bilaterally). 
Weighted Push Up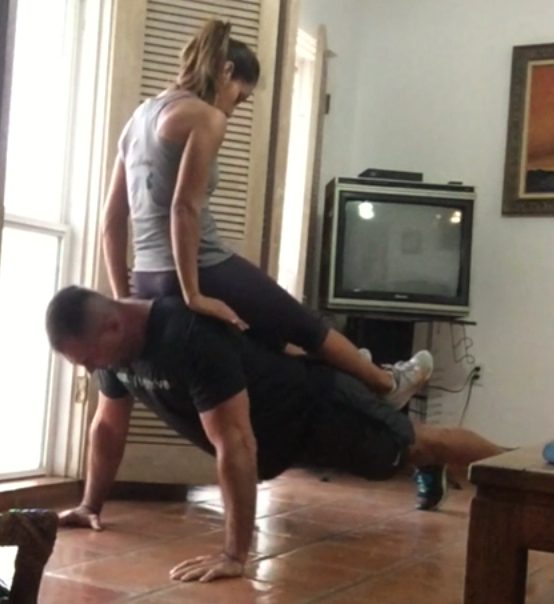 With the weighted push up, she needs to sit high up on your upper back so that the resistance is pushing straight down on the shoulders. Try to avoid hyperextending the lumbar spine or raising the shoulders faster than the hips, make sure you use a fairly full range of motion, and keep the arms at roughly a 45 degree angle relative to the torso (if looking from an aerial view from above).
Straddle One Arm Row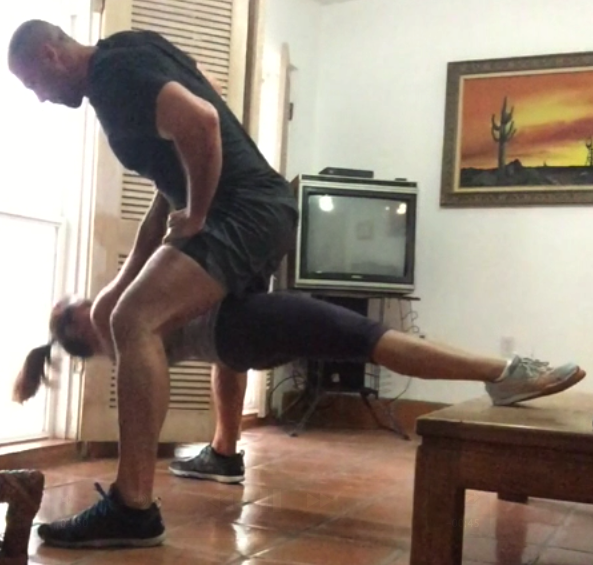 Straddle your partner's torso and row her toward your body. The more upright you are, the more you'll work your upper back, whereas the more horizontal you are, the more you'll work your mid back and lats. I like trying to feel the row in my upper back as this region tends to get neglected in traditional S&C rowing movements, so I stay more upright (I don't really have a choice as in order to get full ROM, I have to stay pretty upright, but I've stood on top of two tables and had Diana lay in between them so I could be more horizontal – this worked very well too). Make sure your partner tucks her chin – you can see in the first two reps of the video that I almost gave Diana a whiplash.
This exercise is pretty challenging for her too, as it's very hard to maintain a solid grip onto the arm, especially if you're sweaty. She'll need to place her feet on a table and bridge up, and maintain this position throughout the set.
Weighted RKC Plank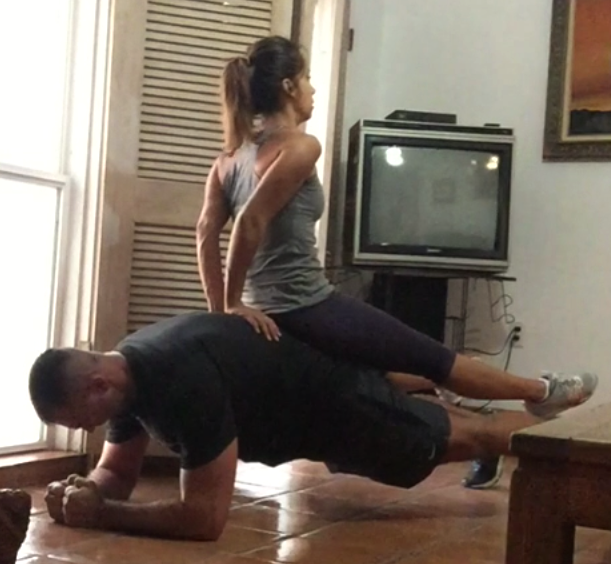 Make sure your partner sits on your low back and places her feet on the back of your legs. This effectively loads the abdominals and obliques by placing a huge extensor moment onto the lumbar spine and anterior tilting moment onto the pelvis, which are countered by the aforementioned muscles.
If you slightly 1) tuck the chin, 2) round the upper back, 3) bend the knees, and 4) posteriorly tilt the pelvis, you'll feel it in your glutes and abs to a much greater degree.
Here's a video showing the movements in action:
I did this workout yesterday and my pecs and glutes are very sore today! I did:
2 x 8 with the piggy back reverse lunges
2 x 15 with the Zercher koala bear squats
2 x 8 with the straddle single leg hip thrusts
3 x 6 with the weighted push ups
3 sets of 8 with the straddle one arm rows, and
2 sets of 25 seconds with the weighted RKC planks
Your sets and reps will necessarily differ according to your strength and how much your partner weighs (Diana weighs around 120 lbs), so adjust accordingly. Please give this workout a try and let me know what you think.