Last week,  I witnessed a personal trainer at a commercial gym berating his client for utilizing poor form. It was clearly evident to me that the exercise was too difficult for the client's current fitness abilities, and that the fault was on the trainer, not the client. However, the trainer was too ignorant to know any better. I've seen this same personal trainer try to "impress" his clients by using fancy terminology and informing them of all of their "dysfunction."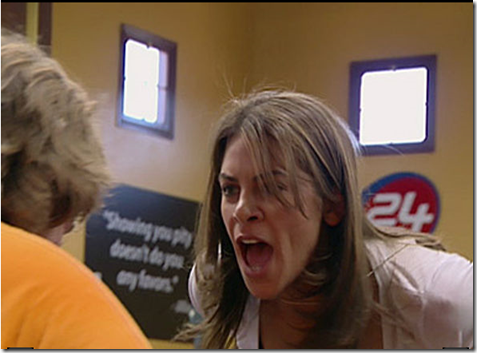 Enough With the Negative Labels!
As I've gained experience as a personal trainer, I've moved far away from labeling clients and informing them of their "weaknesses." Instead, I focus entirely on their strengths and assure them that they're healthy and able. The way I see it, clients are already insecure and lacking in confidence; they definitely don't need some "know-it-all" trainer honing in on all of their flaws and poor movement patterns. With proper exercise prescription, proper instruction, and praise, clients will gain confidence and excitement for exercise and look forward to their next session in the gym.
Here's a quote from Dan John, strength coach legend.
On the butt wink and all the rest: I don't coach ANY of that stuff for a while. Let the person get a lot of reps in before I strive for perfection. Think about what goes through most people's minds:

"I was told squats hurt your knees" (They don't)
"Now, this guy is telling me to squat…okay."
"Now, everything I do is wrong."

So, I hold my mouth shut and encourage the exploration. Doing it this way and letting the person watch and learn from me and the others seems to work as well as over-coaching. Sorry to jump back in, but I can't help it when I see people overcorrecting too early.
Thank you Dan for being the voice of reason.
The Nocebo Effect
It's important for personal trainers (and physical therapists and strength coaches for that matter) to be aware of the nocebo effect. It's basically the opposite of the placebo effect. If you tell a client that they have something wrong with them, even if  you're wrong with your diagnosis (which you probably are – their TVA/multifidus/gluteus maximus/insert muscle of the year is probably firing just fine, they're just weak and uncoordinated), you might end up being right in time.
The last thing that a new personal training client needs is a shallow personal trainer who would rather show off his diagnostic skills than keep the negative findings of the screen to himself and instead focus on the positive findings of the screen and compliment the clients.
Screen, dig, test, examine, and find all the information you can. The more information you can learn about your clients, the better. But when you report your findings to the client, butter it up and find ways to raise the clients' self-esteem so they keep coming back to visit you.
It's quite easy to show clients results as long as they're consistent and they keep showing up. But if a client quits training because their trainer makes them feel bad about themselves, or because they suddenly develop fear, anxiety, humiliation, altered motor patterns, and/or pain associated with all the dysfunction they've just been made aware of, then progression is no longer possible.
You Get More With Honey than Vinegar
I honestly can't remember the last time I uttered the following words to a client:
Your glutes aren't firing properly
Your TVA/multifidus/psoas/glute max/glute med/diaphragm/pelvic floor/VMO (or whatever other muscle is popular at the moment) isn't firing
You need serious work on your breathing
You have crappy posture
 Your ankle/hip/t-spine/shoulder mobility is horrendous
You have poor core stability
Instead, I always find a way to compliment the client and tell them what they're good at or what their strengths are. I focus on their effort and progress rather than their current fitness level. I prescribe them appropriate exercises and progress gradually.
If they have some sort of dysfunction, I'll prescribe corrective exercises to them without making a big deal about it or making them feel inferior. Moreover, a good trainer can figure out the proper exercises to allow even the weakest and most poorly conditioned clients to express their competency and demonstrate proper form and function.
Usually, my clients end up telling me things like, "my glutes are firing better," "my posture is improving," "my hamstrings aren't as tight," or "my core is getting stronger," without me telling them that it was weak/deficient/dysfunctional in the first place. If you're a good trainer, your clients will notice improvements in movement and function and be pleasantly surprised. And if you're always positive as a trainer, clients will appreciate it and keep coming back for more (and they'll achieve better results).
Like Dan John, I wait until the client has been training with me for quite some time and I've established a great rapport with them and demonstrated success before I start nit-picking their form to death and informing them of their weak points.
How to Be the Worst Personal Trainer Ever!
To further demonstrate the points in this article, my assistants and I made a video showing both what not to do as a trainer and what to do as a trainer. It ain't rocket science!
As you can see, we had a lot of fun with this video!