As many of my readers know, I spend time and effort publishing journal articles and serving as a peer-reviewer. The journal publishing process has built-in checks and balances systems to help spread good science. Sure it's not perfect, but it's a hell of a lot better than nothing (which is the current state of the online industry). Here are some things that the online industry could learn from the journal publication process:
No plagiarism tolerable – you give credit where credit is due
Lit review – you need to understand what's known and have a grip on prior research before conducting your study
References – you need to back up your claims with research
Cautious claims – you make cautious claims as you don't want to go too far out on a limb and look like an idiot down the road
Present both sides of an argument and acknowledge alternative theories – you present the science and then lay down your case
Form a question – you need to know and understand what it is you'd like to figure out
Determine methods – you need to figure out the best methods to attempt to answer the question
Practical applications, conclusions – now you take your results and try to make sense of them, remembering to be fair and cautious
Limitations – a good researcher is always aware and mindful of the limitations of what's currently known and of each individual study
Peer-reviewed – three experts will scrutinize your paper prior to publication, and if you can't please them all it won't make it
Ability to be challenged – other researchers are allowed to comment on your article or duplicate your study to see if it yields the same results
Professional courtesy – there is no name calling, and professionals give each other the benefit of the doubt
That said, I love the creativity that blog-writers display, and the freedom they're afforded allows for maximum innovation. So the journal process and the online process work side-by-side, allowing us to figure out best practices and maximize our efficacy as coaches, trainers, lifters, and athletes. However, some online gurus take things too far (click HERE to figure out how gurus operate). They do this because there is no online checks-and-balances system…until now.
I'm taking it upon myself to clean up the online strength & conditioning world, one guru at a time. I am a scientist at heart, and I know good and bad science when I see it. I'm putting this out there right now; if you're an internet fitness expert and you're a bully, if you promote pseudoscience, if your best ammo is logical fallacies, if you're a jealous hater, if you're an arrogant and cocky jerk, if you're too much of a coward to name the person you're talking about, if you simply make stuff up, if you talk about something with which you have no experience or expertise, if you cherry-pick research or data, if you can't admit when you're wrong, or if you simply make way too bold of statements based on what's currently known, I'm coming after you.
If you want to avoid my scrutiny, just be humble, be cautious with your conclusions (say things like, "I feel," "I think," "It is my belief," etc.), don't act like you're superior to all the hardworking trainers out there, stick to what you know, gain experience with something before drawing a conclusion, focus on science, present both sides of an argument, and in general don't alienate other trainers and try to brainwash your followers. Hopefully this will make a difference and keep gurus more grounded and honest, but in the meantime, I'm goin' hunting!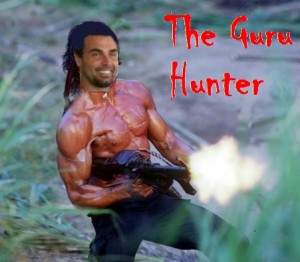 On a positive note, these posts will serve four purposes:
1. They might make gurus think twice about what they say
2. They'll teach my readers to think critically and sift through the b.s.
3. They might help cult followers wake up and smell the coffee
4. Critical analysis and discussion can only lead to more knowledge and advancements in sports science
Just in case there are any folks who might think that I'm trying to show off in these posts or am just trying to gain popularity, this isn't the case. I don't think these posts will raise my popularity. People don't like conflict and many will be turned off. This isn't so much about popularity as it is standing up to bullies and promoting critical thinking and good science.
Tomorrow I grill my first guru.