Many of the methods I recommend for glute training were born out of my studio Lifts which I operated for 2 years in Scottsdale. Back then, most of my clients would urge me to start writing so my methods could become mainstream. However, I had no time to write as I was too busy training clients and writing programs. We actually wrote new workouts every single day for every client which is incredibly effective but quite time consuming. This is a topic for another day. Here's a picture of me and my trainers in our studio; this picture was used to promote a party we had at our studio. These were some of the best days of my life.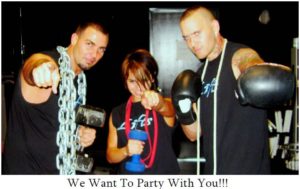 Having been a personal trainer for around eleven years at the time, I decided that I needed to start writing, so I wrote my glute eBook in addition to my first TNation article. I'm very glad I made this decision as it has paid off tremendously. Soon after I started busting out articles left and write, and I even opened up a Youtube page, joined Facebook and Twitter, and started up a blog. We did group training at Lifts and had a high volume of clientele compared to many studios that focused on private training. Over the two years many of our clients uttered similar phrases to me such as:
I went running the other day and blew my old records out of the water.

I feel my glutes so much more when I run.

I feel like the hip thrust exercise is teaching my glutes to activate more when I walk and run.

My back has never felt better.

My butt has never looked so good.

Before I trained with you, I never felt my glutes working. Now I feel them working like crazy in every glute exercise I perform.
I have so many success stories I could share, for example of various clients who completely eliminated their back pain, to a certain high school wide receiver who increased his broad jump by 18 inches and his 40 yard dash by .2 seconds in a single month, to some female clients whose husbands actually paid me personal visits to shake my hand and thank me for the changes I was creating to their wive's booties. As soon as I started prioritizing heavy bridging, quadruped, and straight leg hip extension movements, I was able to increase my football player's speed much more rapidly than ever before.
Before this time, I never really paid much attention to biomechanics and the literature, but all of these observations got me thinking about the different types of glute exercises and the role of the glutes in functional performance. Now, almost 5 years after I first thought up many of these methods, I can finally explain these results in biomechanical terms. It took me this long to catch up!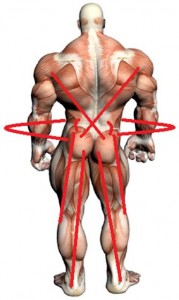 I receive emails every single day from people informing me of their success stories from revamping their glute training. I realize that I'm the only person who gets to see these emails, and I decided that I wanted to post a blog requesting testimonials from my readers. If you have noticed through following my glute training recommendations that you have improved glute shape, improved back health, increased running speed, improved lifting mechanics, increased sport performance, or any other thing you can think of, I'd love for you to post a comment. If you're a coach, trainer, or physio, please discuss how your athletes, clients, and patients have improved. I want the rest of the world to get a chance to read some of the stories I see on a daily basis. 
When I came to New Zealand; exactly half-way around the world from me, I was amazed at how many people were performing the glute exercises I recommend. I asked Strini, the manager of the local YMCA here in Auckland, to write the first glute-testimonial. I should mention that Strini started off performing hip thrusts several months ago with 135 lbs and now he's using over 400 lbs! Here is what Strini had to say:
I am part owner of Shuriken MMA Training facility and the Fitness Manager of the YMCA North Shore in New Zealand. I am constantly looking for ways to improve my fitness and the way I train, always pushing the barrier! I was first introduced to Bret Contreras by my wife who said to me, "you got to read this blog on; The Glute Guy" So I did and learnt of the craze that has got this part of NZ and most the members in the YMCA, 'thrusting mad'. According to Bret, founder of the hip thrust, this exercise was conceived while doing a MMA session.  The idea was to enhance and improve a move called bucking in MMA (getting an opponent off you by means of explosive bridging of the body). It is a total glute and hamstring dominant exercise but also has much to contribute to all types of sport as I recently discovered.

I normally run once a week to get my road work in and increase my breathing capacity. By no means am I a runner, I do the same route of 9.4km around 42min every Sunday. After doing Bret's hip thrust and reading his blog on how this exercise can enhance all aspects of strength and athletics I decided to see if it would make a difference to my Sunday runs.

Well, without trying too hard or even paying much attention I surprised myself by taking 2min off my running time and felt my glutes powering the run more than I'd ever felt before.

So thank you, Bret, for the addition to my arsenal of exercises. For me and my clients it has truly revolutionised the way we attack our glutes in training.
Ironically, now that I'm researching a lot more these days I've stumbled across a lot of information from like-minded authors/researchers that help explain Strini's results. For example, I found a 1968 EMG study/journal article that said the following:
The results reported in this study would indicate that the gluteus maximus muscle is most active at the point of maximal extension or hyperextension of the hip joint. On the basis of these findings, the exercises commonly employed to increase the strength of the gluteus maximus muscle should be re-evaluated.

(

Fischer

)
This was over 50 years ago, and it examined various standing, supine, prone, and even reverse-hyper exercises! It's good to know that I wasn't the only one wondering if there are more efficient ways to work the glutes. Regarding sprinting, here are some excerpts from some more recent articles:
It appears that many others out there question solely performing squats, lunges, and RDL's for glute work and feel that other exercises might be of value. I speak to many of these researchers, some of them every week, and they're the most knowledgeable individuals I know about speed and biomechanics.
Please leave a testimonial as to your experiences with exercises such as hip thrusts, barbell glute bridges, single leg hip thrusts, pendulum quadruped work, or band rotary work. Thank you in advance! -BC