Since my birthday is tomorrow, I wanted to provide my readers with a good hip thrust video.
And for my birthday, I'd like for my readers to give the American hip thrust a try sometime this week and let me know in the comments section whether or not you feel it working more glute compared to other variations.
I think that this video will help answer many questions that trainers, coaches, and lifters may have regarding the movement. Be sure to watch the whole thing (just over 16 minutes long) – you'll definitely learn a lot. Here's the video:
Further Explanation of Some Concepts Mentioned in the Video
1. Torso Angle
Some folks prefer a high bench and don't mind having a steep torso angle. I prefer to have my torso at 45 degrees or less at the start of the movement. The bench I've always used in Arizona is perfect in this regard, but the benches I used in New Zealand were too high.
2. Spinal Position
An easy way to tell if the spine is being moved into extension is to watch the chest. If it stays flat then the movement is probably occurring mostly at the hips and the movement is being performed correctly. If the chest sticks out then the spine is overarching and the movement isn't being performed correctly. The torso should be flat.
3. Hip Hyperextension or Posterior Pelvic Tilt?
Here is a video of Kellie Davis performing a hip thrust with hip hyperextension:
Most lifters will benefit from doing them this way, but occasionally some lifters might feel the the exercise too much in their lower backs.
For these lifters, it is appropriate to use a posterior pelvic tilting action, which will prevent any lumbar hyperextension from occurring at lockout.
Here's a video of Molly Montgomery performing a hip thrust with posterior pelvic tilt:
It takes some experience with the hip thrust to notice the difference, but watch the lumbopelvic hip complex (LPHC) motion carefully and you'll figure it out. Both options are perfectly fine.
Molly initially complained of lower back discomfort during hip thrusts but since then she's performed them in this manner (with a PPT) and has never experienced issues ever since.
And by the way, Molly just competed last weekend and though you can't tell because the picture was too far away, I believe that she had the best glutes in the entire competition. Hopefully I'll get a better pic that I can post later on as her booty was quite the spectacle.
4. American Hip Thrust – Best Glute Activator in Existence
I feel stupid for not realizing this in the past but I just noticed it last night. I was reviewing an old American hip thrust video and I noticed the strong posterior pelvic tilting action. In addition to heavier loads being used during this variation, you also combine the hip extension action of the gluteus maximus with the gluteus maximus's posterior pelvic tilting action. This is why I get the most intense glute pump in my life when performing this variation.
I now believe that the American hip thrust should be performed much more frequently and that it's without a doubt the most potent glute activating exercise known to man. I'll be performing this variation more often.
Remember to give this variation a try and let me know in the comments if you feel it working more glute compared to other variations. Thanks!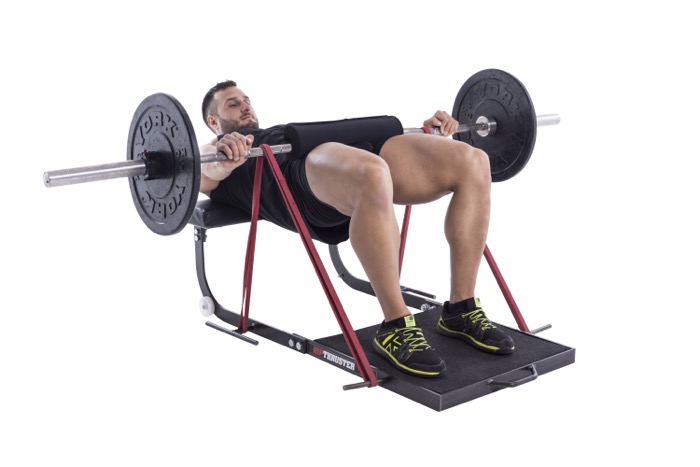 The Hip Thruster is the best way to do the hip thrust – stable and versatile!