It is absolutely imperative that we fitness industry folks understand that degeneration is a normal aspect of aging. If we told everyone with degeneration not to exercise, everyone would suddenly be sedentary, and a host of greater problems would rapidly arise.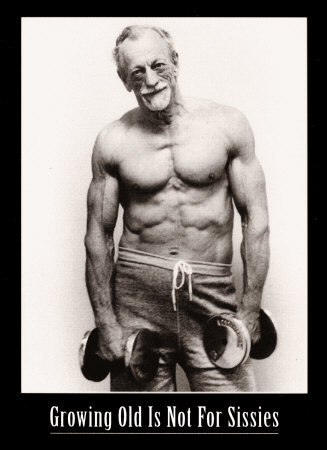 If you don't have some signs of degeneration, then you'd be "abnormal." I'm fairly certain that if all of the people reading this post were to obtain full body MRI's, evidence of degeneration would show up in multiple regions of the body in 100% of individuals. Want some evidence?
First, let's talk about spinal intervertebral discs. Around 20% of teens have mild disc degeneration, and 60% of discs of 70-year olds are severely degenerated (Urban and Roberts 2003). If you're looking at the L5-S1 disc of 70-year olds, over 90% of them will be degenerated (Hagiwara et al. 2014).
Looking at people with zero back pain, 64% have abnormal discs (52% had bulges, 27% protrusions, and 1% extrusions), with 38% of the individuals having abnormalities in multiple discs (Jensen et al. 1994). According to a systematic literature review by Brinjinkji et al. 2015, "The prevalence of disk degeneration in asymptomatic individuals increased from 37% of 20-year-old individuals to 96% of 80-year-old individuals. Disk bulge prevalence increased from 30% of those 20 years of age to 84% of those 80 years of age. Disk protrusion prevalence increased from 29% of those 20 years of age to 43% of those 80 years of age. The prevalence of annular fissure increased from 19% of those 20 years of age to 29% of those 80 years of age."
When looking at arthritis, around 7% of 18-44 year olds have it, and in persons 65 or older, this percentage rises to 50% (2010-2012 NHIS).
If we hone in on the knee joints, 20% of persons under 65 have knee osteoarthrits, whereas 50% of persons over 65 have it (Bhatia et al. 2013). Even 50-90% of athletes with no pain have serious knee abnormalities under MRI (Brunner et al. 1989, Mayor & Helms 2002, Kaplan et al. 2005, Walczak et al. 2008). Regarding meniscal tears, here's what Dr. Felson had to say: "The rule is, as you get older, you will get a meniscal tear. It's a function of aging and disease. If you are a 60-year-old guy, the chance that you have a meniscal tear is 40 percent."
At the hip, 100% of persons older than 60 have acetabular rim degeneration (Leunig et al. 2003), and 63% of gymnasts have signs of ischiofemoral impingment (Papavasiliou et al. 2014).
If we examine the shoulder joints, we'll see that 31% of persons older than 60 have shoulder osteoarthritis (Chillemi & Franceschini 2013). In 40-70 year old males, 96% have abnormal ultrasound scans – ranging from subacrominal-subdeltoid bursa thickening (78%), acromioclavicular joint osteoarthritis (65%), suprispinatus tendinosis (39%), subscapularis tendinosis (25%), partial-thickness tear of the bursal side of the supraspinatus tendon (22%), posterior glenoid labral abnormality (14%), amongst other abnormalities (Girish et al. 2011). Dr. Andrews found that in healthy professional baseball pitchers, 90% had abnormal shoulder cartilage and 87% had abnormal rotator cuff tendons. For this reason, he stated, "If you want an excuse to operate on a pitcher's throwing shoulder, just get an MRI."
As you can see, degeneration is not abnormal – it's a normal process of aging and it shouldn't be thought of as a reason to stop moving and exercising. Every single one of us have degeneration, yet we still find ways to exercise. Strength & conditioning and sports medicine professionals must embrace this phenomenon and provide recommendations as to how individuals with varying signs of aged joints can continue being active, employ resistance training, and participate in sports in the most optimal manner possible. This requires consideration of total health & wellness, since sedentarism can lead to weight gain and obesity, metabolic syndrome, frailty and sarcopenia,  and depression (for a comprehensive list of reasons why exercise is beneficial, click HERE).
Focusing on people's degeneration can provide a nocebo effect which is counterproductive and can lead to pain or increased pain. Instead, we should focus on what people can do (not what they can't), and augment the way we talk about "degeneration" by assuring people that it's normal and part of getting older. Activities and exercises can be modified so that individuals can well-tolerate them. Knowledge of proper progressions and regressions (I refer to this as, "Movement Pattern Continuums") in resistance training goes a long way in keeping people strong and healthy.
Props to The Sports Physio Adam Meakins for providing me with the idea for this blogpost.