Tom Cruise is kind of a lunatic in real life, but I don't care. From 1983's The Outsiders, to 1986's Top Gun,  to 1988's Cocktail and Rain Man, to 1990's Days of Thunder, to 1992's Far and Away and A Few Good Men, to 1993's The Firm, to 1996's Mission: Impossible and Jerry Maguire, to 2003's The Last Samurai, to 2004's Collateral, to 2005's War of the Worlds, to 2008's Tropic Thunder, to 2010's Knight and Day, to 2012's Rock of Ages and Jack Reacher, to 2014's Edge of Tomorrow, Mr. Cruise has consistently put out pure gold in terms of movie quality, and he's been doing so for over 30 years. But I digress.
Some of you might have seen the musical comedy Rock of Ages. In it, Tom plays Stacee Jaxx, a fading 80's rock legend with existential issues. When I first saw the movie, I had to laugh as it reminded me of how some of my readers think I live my life. Essentially, Tom's character is surrounded by groupie booty 24/7. But I'm definitely no rockstar, and my life is much duller.
The Perks
Don't get me wrong, being The Glute Guy definitely has its perks. Much of my fan base would quickly point out that I've had the pleasure of poking, prodding, and palpating some of the finest glutes that the world has to offer (see my clients HERE). This is definitely true.
And sometimes when I'm out and about, people recognize me, especially when I train at various gyms. For example, last Monday night was pretty fun. I went to Revolution Training System in Tempe and then to Gold's Gym in Phoenix (I do my heavy compound lifting at Rev and then hit up Golds to bust out high rep machine isolation work). At Revolution, I ran into April, a very strong powerlifter, and at Gold's, I ran into Monica, a big bootied aspiring figure competitor, and both of these ladies are readers of my blog.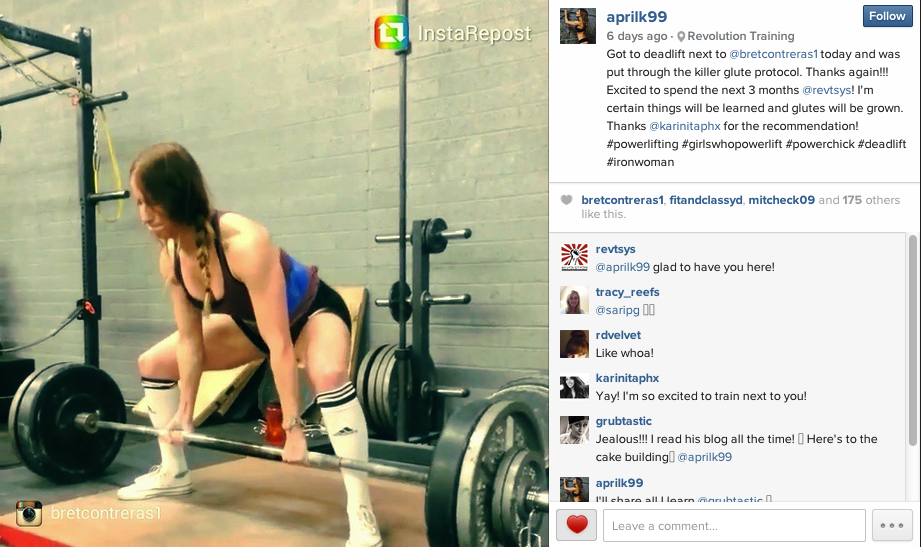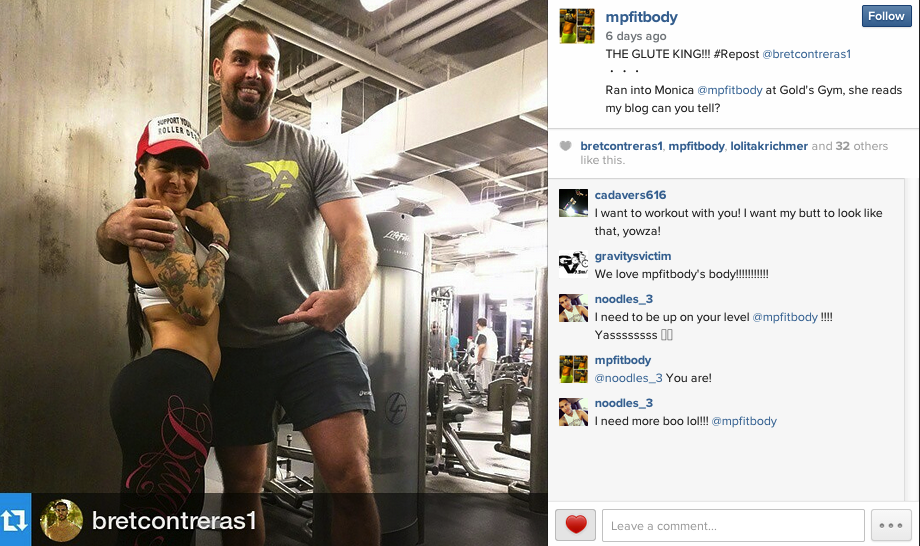 I also get tagged in a ton of pictures on social media and receive daily emails from women who send me before pictures or progress pictures of their glutes. For example, here are seven pictures that I received in a 24-hour period from Saturday to Sunday: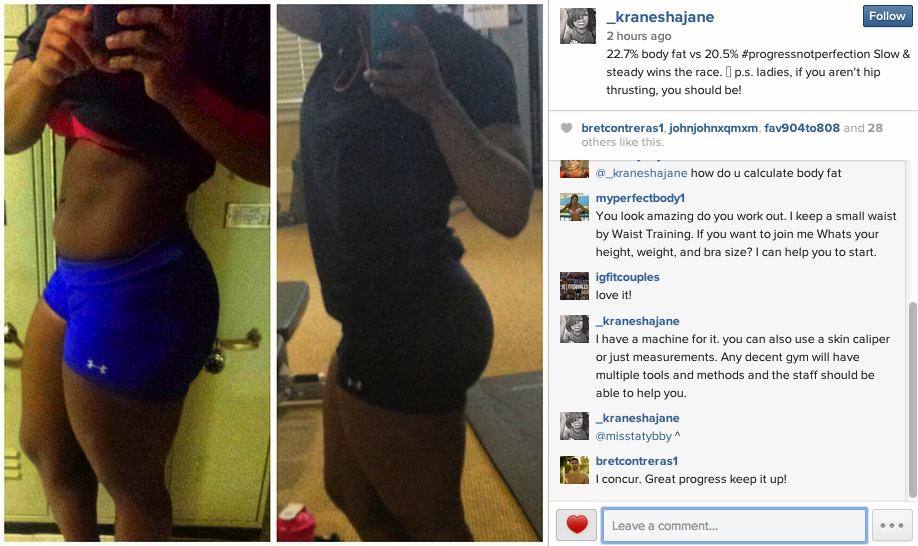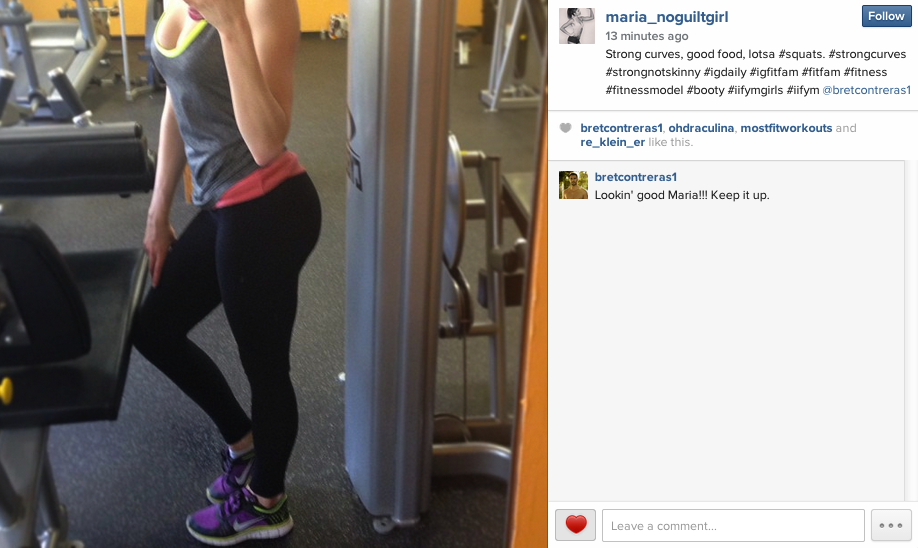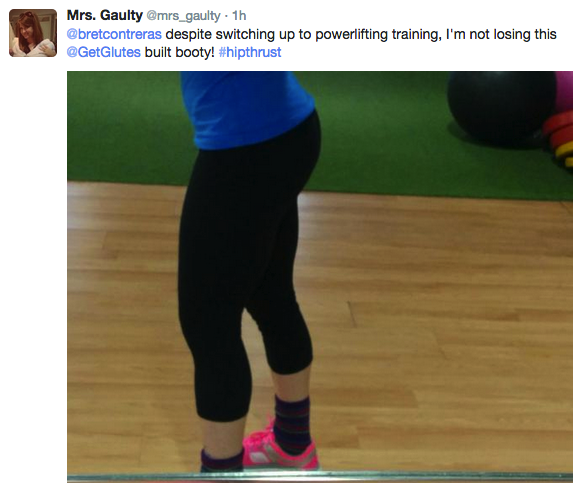 The Truth
You'd be hard-pressed to find a bigger butt man out there in the universe than me, so it's definitely nice to be surrounded by beautiful women with great backsides. And yes, it's great to be recognized and appreciated. But much of my life is dedicated to science.
I have much zeal for personal training, improving the personal training profession, and helping others achieve their fitness goals, so I always make sure I'm regularly training real clients. I also train very hard myself and intend on doing another powerlifting competition in the near future. However, in my spare time, I'm usually studying or working on my businesses. I have the monthly research review service I do with Chris Beardsley, Get Glutes with Kellie Davis, Hip Thruster, my blog, social media (Facebook, Twitter, YouTube, Instagram), a weekly newsletter, and my PhD. I also try to write a T-Nation article each month and I have two columns for FitnessRx for Women Magazine. Finally, I have my Glute Lab and I regularly publish research with my team of colleagues Brad Schoenfeld, Chris Beardsley, Andrew Vigotsky, and John Cronin. It's not easy to juggle all of this!
Between these various roles, I go through life feeling like I'm treading water, just trying to stay afloat and not sink. I'm a very curious individual and I want to know how things work. I'm so busy during the week that I try to use my weekends to pursue my other interests. Critical thinking and science are what I'm most passionate about, so when I have free time, I'm often researching different topics on Pubmed and Google Scholar, listening to scientific podcasts (lately I've been listening to StarTalk Radio Show with Neil deGrasse Tyson), and reading books on business or self-improvement (lately I've been reading Why "A" Students Work for "C" Students and "B" Students Work for the Government).
So you really want to know what a day in the life of Bret Contreras is like? This past Saturday, I woke up at 9 a.m. For the next 15 hours, I pored over the latest published research pertaining to strength training, bodybuilding, biomechanics, and physical therapy. This was the absolute best month of research for strength training I've seen to date, and I love that I still get so excited over the literature. At midnight, I was exhausted from all the reading, and I wanted to reward myself with a beer, so I texted a few friends to see if anyone was out but came up empty-handed. I left my house for the first time that day and grabbed a Blue Moon (my favorite beer) at a local bar. Then I came home and watched an episode from Season Two of Boston Legal (when my stepfather died last year, the only thing I took from his belongings was his collection of Boston Legal DVDs), replied to reader emails, and went to sleep at 3 a.m. You may be wondering where my fiancee was during all of this – she's in Texas right now doing a clinical rotation for nurse anesthetist school.
As you can see, there was no booty shaking and no sexual escapades. Just a man and his thirst for knowledge. If I could party like a rockstar and still be on top of my industry, maybe I would. But I can't help advance the strength training profession and improve upon our methods and practices if I'm not putting in the hours in the gym and hitting the books equally as hard. I'm still praying that one day a drug like NZT-48 from the movie Limitless obtains FDA approval, but until then my nose will be buried in journals. It ain't sexy, but it's the truth.