Howdy y'all, my name is Hailey Harber. Before I begin this whole shebang, I have to give some credit where it's due; were it not for my parents, I more than likely wouldn't give a rat's behind regarding anything related to fitness or health. I can't deny that they have done me a tremendous service by bringing me up in a household that not only implemented healthy eating but stressed getting sufficient physical activity. In fact, I can't remember one time in my short 21 years where I didn't have some form of abs. Now, that might sound like a dream come true to most of you ladies, and being lean is wonderful, but I eventually became a bit fed up with my masculine body and yearned to have a fuller, more feminine figure (while still being able to keep my small waist). Sure, I had nice abs, but I was seriously lacking in the trunk aspect. My  petite, lean body was accompanied by an even smaller rear end, and I decided that enough was enough. Now, as an avid researcher, I took to the internet to learn how I could achieve this so called 'plump' derierre, and the journey that ensued as a result was really quite something.
Okay! So I'm guilty- I used to be a regular visitor to the 'She Squats,' as well as other similar pages on Facebook, looking to the photos for inspiration and hoping to gain mass on my posterior by employing the same means as the girls featured in the photos. No doubt you've run across a page like that- you know, the ones overflowing with pictures of curvy rear ends that are supposedly the result of back squats? The whole 'squat for ass' message was extremely easy to buy into. Pictures of 'results' were being posted left and right, and I'd assumed that they hadn't been Photoshopped, nor had the girls in the photos stuffed their pants to give the illusion of a larger backside. As a result of seeing those photos, I took to back squatting. I became a regular inhabitant of the gym's squat rack for close to 8 months, and in that time I researched many aspects of the lift ranging from bar position, stance width, foot flare, back posture, squat depth, bar grip, and all different kinds of set/rep ranges. I hoped I would eventually run into an article that held the secret to a bigger ass via back squatting- I just assumed that this 'secret' would be hidden in some little dark nook of the article; a 'tip' under a photo, or perhaps in a comment left by some generous intelligent female who had already gained inches on her backside due to some secret I didn't know.
Months went by and I saw minimal results from excessive repetitive back squatting. I experienced soreness, to the point where it hurt to sit down, but I didn't see the gains like I thought I would have. As a matter of fact, I probably didn't gain more than ½ inch on my backside when I was solely squatting, even though I was employing 6-8 sets of 8 reps with 185 lbs while utilizing a wider sumo-like stance to target more glute. I even worked my way up and maxed out at 235, but the gains just weren't there, even though I was eating more than a sufficient amount. Going to the gym became a decision I had made due to wanting to improve my physique, not primarily due to strength goals. So finally, I decided to set aside the 'king of leg exercises' and look elsewhere. There had to be a more effective lift out there to target the glutes. So little ol' disappointed me picked up where I left off and continued to do what I do best- research.
Now, my idea of the ideal female figure has changed a bit over the years.  I used to be somewhat obsessed with keeping my waist tiny, and the rest of my body naturally followed right along and remained miniature. I really paid no mind to anything other than my waist up until a few years ago, until pictures of women with plump derrieres and full figures seemed to bombard me from every direction. Even though I had never had a problem with my weight, I could never seem to attain that full figured body. The lean look had shackled me down, and in order to escape it I needed to find the key. Eventually, I ended up pegging squats as that key, since they seemed to be working like magic for every other female on the 'She Squats,' Facebook page. I was tired of being 'toned,' I wanted to be curvy.
Before I had taken to joining a gym, a friend of mine had loaned me a 45 lb plate off of his weight set. I'd decided that I should at least be able to squat the weight of a bar and would be able to work up to it at home. After a while, I got crafty with the 45 lb plate, attempting different exercises while trying to decide which elicited the most intense glute burn. One particular movement proved to be incredibly successful; I would lay on the floor, place the plate on my lap, and proceed to thrust it up with my glutes (I had no idea what to call it at the time, but through research found that it's called a glute bridge). Eventually my body grew accustomed to squatting and bridging the 45 pounds, so I knew it was time to progress to a gym where I could employ heavier weights in my routine. When I initially joined a gym, squatting became my main priority and I had forgotten all about those glute-burning bridges. I was a squat devotee- and within 3 months I was wide stance squatting 185 lbs to parallel, but experiencing minimal to no gains. Thinking back to those lonely nights in my bedroom with that 45 lb plate, I'd began to realize that I'd been squatting as a result of the 'results' of others, not employing the exercise that had seemed to be the most effective for me. It didn't take long to understand that I'd needed to start incorporating the bridges into my routine again- heavier glute bridges. However, I just wasn't ready to kick squats to the curb. I was still looking for that 'secret' that I desperately hoped I would somehow stumble upon.
Now, the thought of performing those thrusting motions in the center of a large gym chock full of testosterone-laden guys made me just a bit uneasy. If it wasn't for a closed off section in the far side of my gym, I'm not sure if I'd have been able to grow large enough you know whats to enable me to perform a fairly sexual appearing lift.  At that time, humping a weighted barbell on the middle of the gym floor in plain view of everyone seemed thoroughly embarrassing. So I hauled the bar and two little bitty ten pound plates around to the isolated part of the gym and proceeded to complete sets of 8-10 reps. Within about 3 months, I had built up to bridging about 225 lbs for sets of 8, and had seen about an inch gain on my backside since implementing the bridges. I was still squatting, but I seemed to be stuck in a hole with them, since I hadn't progressed whatsoever with the lift and hadn't been able to progress past 185 lbs for quite some time.
At this point, squats began aggravating me a great deal. I began to force myself to add more weight to the bar, thinking that I was just being a p*ssy and not pushing myself to the extent that I thought I could, and that I would definitely start seeing significant gains if I would only start doing more reps with more weight. I increased the weight to 195, 205, and then finally 235 lbs, as a max. Deep down, I knew I had to give up squatting. They were providing no results. But in the back of my mind, the silhouettes of the 'squat' girls still haunted me. I still believed that there was something I wasn't aware of, or something that I wasn't doing right. I needed the secret, I needed the key to whatever it was that would help me reach my goal; yet no matter what I tried, nothing grew except for my impatience. For the next month, I remained adamant about squatting, hoping that my ass would start ballooning somehow like the pictures I had seen online. All I had to do was keep squatting, right?
During this time, I had run into a guy named Bret Contreras after entering into the google search bar 'pushing up barbell with pelvis,' as I had no idea what this lift was called or if it even existed. Soon after reading a few of Bret's articles, I thought back to the lift I performed in my bedroom with that 45 lb plate and the glute burn that had ensued as a result of it, as well as the inch gain I had seen since employing weighted bridges. I realized that I needed to start completely focusing on what I had felt worked best for me, and not continue to repetitively back squat because that's what everyone else was saying to do, or because it was posted on a picture of a girl with a nice ass. I realized that studies and articles should most definitely hold more credibility than the booty pictures posted on 'Yeah, She Squats,' and I knew I had to try to look at this from a different perspective.
Now even though the thought of focusing completely on bridges had been growing on me, I just couldn't seem to ditch back squatting.  It's like I was dead set that I'd wake up one morning to incredible glutes as a result of the previous day's squat sets. Anyway, I pushed them so hard on one session that I ended up trying to complete a final set of 235 while I was already very fatigued from the 8 or so sets of 8 that I normally would complete. With the bar on my back and shaking legs, I un-racked the bar, stepped forward slightly and locked myself into place. The first rep went just fine, but I got stuck in the hole and fell forward on the second rep, causing me to pull a muscle in my lower back (I didn't have a spotter). As a result, I was out of the gym for a good month, and had become pretty pissed off at how everything was playing out.  Apparently, I was squatting quite a bit for the average female, so why did I seem to be the only one not experiencing this booty growth that supposedly was a side effect of back squatting?
Consequently, I now had a large amount of time on my hands since I had just done quite a number to my lumbar- time that was utilized inspecting numerous articles of Bret's. Within the span of a month, my back healed and my knowledge of the glutes increased with every article that I read. Using my better judgment, I completely gave up back squatting and focused on barbell glute bridging. Also, I began to implement hip thrusts, as I had discovered that they have a greater range of motion and are more effective at growing the glutes than glute bridging. Yet bridging was the easier of the two (no setting up aerobic steppers) so I figured I would work my way up with weight on the bridges, and hip thrust every so often just to get the feel of it. Eventually, I could glute bridge 325 for reps, (I'm 123-127 lbs, mind you [it varies]) and my derriere gained yet another inch with them alone, even after I had completely abandoned back squatting. But, due to the slanted nature my body undergoes while glute bridging, problems arose as the weight got heavier. As I'd lift up and lock my glutes out, I had to do all I could to keep the 325 lb barbell from rolling back on me. My arms would also lock out to hold the bar up in place on my pelvis, but I began experiencing pain under my right shoulder blade from the pressure of the bar, so I decided to stick exclusively to hip thrusting, since the body rises up into a horizontal line while completing the lift, and I didn't need any more back issues after my former squatting ordeal.
Hip thrusting is now what I advocate to anyone trying to gain mass on their backside. I employ it as my main lift to this day, and my glutes have gone from 35 to 38 inches due to bridging/thrusting movements alone. I haven't back squatted for a good 7-8 months, and my glute gains still remain in place, and are increasing still. To be perfectly honest, I don't miss back squatting one bit.
What exactly is the hip thrust and how do I perform it?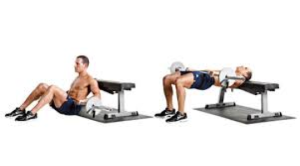 While hip thrusting, you will go from an initial sitting position (see above photo) in which your lumbar (lower back) is in a slight arch and your pelvis in very slight anterior pelvic tilt, to the top of the lift where you lock your glutes out toward a posterior pelvic tilt motion, which means you're using the glues to push the pelvis forward (or toward the sky if you're laying down). The glutes work to keep your pelvis from drifting into anterior pelvic tilt (apt), and also as what's pushing the load up (and possibly posterior pelvic tilting). Now, while you squat, your lower back keeps an arch (apt), and the glutes can't fire as hard while you are in an anterior pelvic tilt. Don't believe me? Arch your back and squeeze your glutes. Now get into a neutral spine position and squeeze the glutes. Huge difference, huh? (Thanks Bret Contreras!)
Also, the hip thrust is like a bench press, but for the posterior chain. You're pushing down right on top of the pelvis (with a barbell) and forcing the glutes to pick it up from a horizontal vector. This lift will absolutely elicit the most intense glute burn you have ever felt. Perhaps you'd care to view barbell hip thrusting solely as a bent leg hip extensior/hip hyperextensor lift instead of stressing over pelvic mechanics. When you ascend during the hip thrust, there is movement, and the glutes will fire. Ideally, I'd prefer everyone at least learn and become aware of the different pelvic tilts, but I do undertstand that some people perform the lift best while only thinking of hip extension (and hyperextension, depending on how high you rise). "The glutes must stabilize the pelvis so it doesn't drift anteriorly (as an anti-anterior tilter), so even if the pelvis doesn't posteriorly tilt, the torque (or moment) is there, sort of like the anti-extension torque on the spine in a plank." Much thanks to Bret for his awesome way with words. I couldn't have said it better. But if you'd rather concentrate on squeezing your glutes and pushing the weight up (hip extension) instead of worrying about posteriorly tilting the pelvis, that's fine too.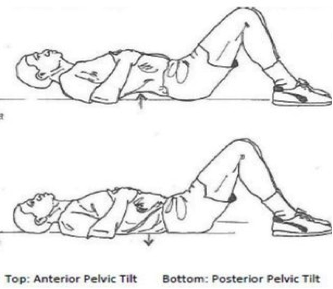 What will I need?
I should touch on the materials you'll need. Personally, I prefer using the aerobic risers to hinge off of, but you can use one of the numerous benches in the weight room, considering they're not too high. Five aerobic steppers including the top piece is normally my choice set up, which equates to around 16" tall, I believe. Also, I use a bar pad on the bar itself, as well as a fairly pliable blue yoga mat underneath, over my hip bones. I used to be able to get away with just using the black bar pad, but as I got up into the 200+ lb range, my hip bones would get nasty, painful bruises and so it became necessary for me to use more padding.
Now, the beginning hip thruster should set everything up in the same manner as the advanced hip thruster would, but instead should initially utilize plates instead of a 45 lb bar, as 45 lbs might be too much weight to start with. I'd suggest completing 4 sets of 8-10 reps with a ten lb plate on your lap. When you can easily complete the 4 sets, you should then move on to 4 sets with a 25 lb plate, then 4 sets with a 35, then finally, 4 sets with the 45 lb bar (then you start loading the bar!).
I currently changed up my hip thrust routine a bit. So… I might have been having a bit too much fun with pyramid sets and I'll admit, I got really strong with them, (maxed out at 445! I got up REALLY slow, but I got it up and locked it out) but I'm seeing more growth now that I've been completing most of my sets with a moderate/heavy weight. Here's how my hip thrust routine currently looks:
3 sets of 8 reps- 285 lbs
3 sets of 6 reps- 285 lbs
1 set of 8 reps- 225 lbs
1 set of 10-15 reps- 135 lbs
1 set of 15-20 reps with just the bar (45 lbs)
It typically takes me around 40-50 minutes to complete all of my sets. The resulting glute pump is usually so intense that if I plop down on a bench to rest for a minute, I'm up within 20 seconds due to my ass having an 'on fire' sensation. Also, it has been a while since I've visited that one secluded part of the gym, as I now hump my 285 lb barbell with pride right smack in the center of the weight room. 😉
With a shebang I began, and with a shebang I shall end! I've compiled what I believe to be some of the finest tidbits of information from Bret's glute articles. They only prove to further substantiate my argument supporting  hip thrusts in that they are indeed more effective at targeting and building the glutes than back squatting. These were copied and pasted from various articles located on Bret Contreras's main website. I feel that I must state that the following text is not my own work, and also, should you care for more in depth information on the hip thrust and it's ass-mazing benefits, sift through Bret's main website (especially the glute training category) at https://bretcontreras.com/category/glute-training/. Thanks for checking out my article!
Extra tidbits from Bret
-For these reasons (below), the glutes fire 2-3 times harder in a hip thrust compared to a squat depending on whether examining the mean or peak activation levels. How can this increased activation, when coupled with progressive overload, not matter?
-Are you going to tell me with a serious face that an exercise that leads to greater glute activation, greater hip extension torque especially at end-range (the range where squats and deads are weakest and the range during ground contact in running), and an exercise that packs serious mass onto the glutes is not functional? If so, I have a hard time taking you seriously.
-Squats and deads are not highly loaded at the top of the movements in terms of hip loading. The hips are essentially resting at lockout (there's some tension on the hip extensors with the deadlift but nowhere close to what you see in the hip thrust). This has some practical implications. The key factors in hypertrophy are mechanical tension, metabolic stress, and muscle damage. Metabolic stress likely explains why bodybuilders are more muscular than powerlifters despite the fact that powerlifters place more absolute tension on the muscles. This greater constant tension on the glutes with the hip thrust is important for muscle hypertrophy via increased time under tension (TUT) and increased metabolic stress.
-Many lifters fear injury so they never progress very far in squat and deadlift strength, and therefore they leave tons of room on the table for glute development if these are the only two lifts they perform.
-Last, they (barbell hip thrusts) lend themselves incredibly well to progressive overload – a critical component to success in strength, hypertrophy, power, and fat-loss.
-When measuring the hip extension torque angle curves of squats, deadlifts, and hip thrusts, you'll notice two things. First, that those with experience in all three lifts can achieve much higher hip extension torque levels with hip thrusting. This is due to the stability as well as the decreased demand on the spinal extensors. Many coaches believe that the spine is the limiting factor with squats and deadlifts, and I'd agree with them. Conversely, the hips are the limiting factor with the hip thrust. And second, that the hip extension torque does not drop off at the end-range of movement like it does during squats and deads.
-The hip thrust is actually the lower body equivalent to the bench press. It provides three points of support and takes advantage of gravity to work the hips from a horizontal vector.
-Due to several factors, the hip thrust greatly outperforms squats and deadlifts in glute activation. First and foremost, the glutes are activated to a much greater degree at end-range hip extension when the muscles are at short muscle lengths.
-Third, the knees stay bent, which slackens the hamstrings. The higher up you rise in the hip thrust, the more the hamstrings shorten (hip extension and knee flexion, and even posterior pelvic tilt, all shorten the hammies). This is called "active insufficiency," whereby the hammies can't contribute their full force potential, and the glutes are forced to pick up the slack to create the requisite hip extension torque. In other words, the hip thrust equates to less hamstring force and more gluteus force.
-And sixth, EMG rises as a high rep set ensues as the nervous system attempts to compensate for diminished muscle force and contractile efficiency due to fatigue by recruiting more motor units. Many lifters can't push their squats and deadlifts to ultimate muscular fatigue since their form breaks down too much. Often I have to stop my client's sets far short of failure on squats and deads even though their glutes aren't fully fatigued on account of rounding spines, caving knees, and excessive forward leans. However, with hip thrusts the set typically ends when the glutes are burning so badly that they can't complete another rep. Therefore, the hip thrust leads to greater fatigue of the fibers and greater intensity of effort for the glutes, and this fatigue is critical for maximal hypertrophic gains.
-Since the hip thrust doesn't require extreme anterior pelvic tilt torque like squats and deads, the glutes can fire harder. Furthermore, the glutes actually are challenged not only as hip extensors but also as posterior pelvic tilters during the hip thrust. The glutes must stabilize the pelvis so it doesn't drift anteriorly (as an anti-anterior tilter), so even if the pelvis doesn't posteriorly tilt, the torque (or moment) is there, sort of like the anti-extension torque on the spine in a plank.
-Fifth, the hip thrust activates and builds the upper glutes to a much greater extent than squats, and even to a greater extent than deadlifts.
-However, like most good things, they (squats) are a double-edge sword. The hormone response that you think is so valuable (squats and deads jack up testosterone and growth hormone) is overrated. There is plenty of research on this – squats and deads don't make the other muscles in the body grow larger like you think. They make the muscles that are highly activated grow larger, but muscles such as the pecs and triceps won't grow from these movements.
-The lifter is not limited by core stability and spinal extension strength or by balance and coordination. There is no learning curve to the hip thrust – many people master it in their first training session, whereas squats and deadlifts can take years to truly master. The hip thrust is very conducive to progressive overload – perhaps more so than almost any other hip extension exercise, as form is not much of a factor (it's a simple lift). This is very important for maximal gains over time. Many lifters aren't very coordinated and their body types (especially many women) aren't well suited for squats and deads. This doesn't mean that they shouldn't do them; it just means that they shouldn't be over-focused on progressive overload on these particular exercises. Conversely, every single body type is well-suited for hip thrusts (unless the lifter has a large gut and therefore has problems placing the bar on the hips).
-You don't have to get sore, and soreness can actually be counterproductive. So some soreness is okay but too much is detrimental. If I wanted people to have sore glutes I'd just give them 3 sets of walking lunges and push the intensity of effort. But this doesn't produce the best results in terms of hypertrophy, as damage is inferior to tension and metabolic stress. So keep building up your hip thrust!  
-If you studied glute activation like I have, you'd be blown away by the data. Some individual's glutes contract harder during bodyweight glute activation exercises than from one-rep max squats and deadlifts. This isn't due to the fact that the individuals don't know how to use their glutes or don't adhere to proper exercise form. It's due to the fact that biomechanically the glutes aren't maximally involved in squatting, lunging, and deadlifting. They're only maximally contracted from bent leg hip hyperextension exercises.
-The glutes can't get too strong in sports. The stronger they get, the more powerfully they contract in sprinting and the better they protect against low back, knee, hamstring, and groin injuries.
-increasing the strength of the gluteus maximus can increase and improve:
• acceleration and top speed in forward sprinting
• power in bilateral and unilateral, vertical and horizontal jumping
• agility and quickness in changing direction from side to side
• acceleration and top speed in lateral sprinting
• rotational power in swinging, striking, and throwing
• running, jumping, and throwing events in track and field
• squat and deadlift strength in powerlifting
• snatch and clean & jerk power in weightlifting
• strength and conditioning in strongman events
• thrusting power for mount escapes and submissions in MMA
• ground-based horizontal pushing force and opponent manipulation in football and martial arts
• inclined sprinting and climbing strength and endurance
• deceleration in backpedaling, lateral running, and rotational movements
 =) Happy Hip Thrusting, Everybody!