A year and a half ago, I wrote a TNation article pertaining to anterior pelvic tilt (APT) titled Don't Be Like Donald Duck. I still think it's the best way to train for improvements in APT, but recently my friend Elsbeth Vaino (FYI – Elsbeth and I have written two articles on push-ups together – HERE and HERE) wrote an article for TNation on the same topic that was very well received (click HERE for the link, but the article is pasted below as well). As you'll see, her recipe is quite different from mine, and I suspect that her plan and my plan could be integrated for a more thorough plan.
Nevertheless, I disagreed with some of Elsbeth's statements, and so I contacted her to see if she'd have a point-counterpoint with me. Being the passionate student of strength & conditioning that she is, Elsbeth was gracious enough to accept the challenge. Here is our exchange. In red are my comments and in green are hers. We'd love to hear your thoughts in the comments section below! If you've succeeded in improving your pelvic posture, what strategies did you employ (or if you're a practitioner, what strategies have worked with your clients)?
by Elsbeth Vaino   11/22/13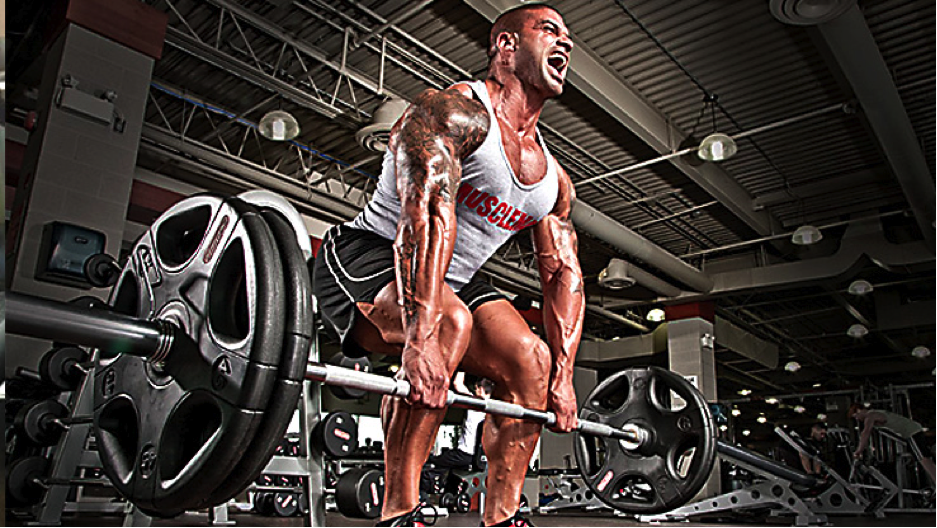 Here's what you need to know…
• Anterior pelvic tilt (APT) isn't just unsightly. It can lead to serious back problems and a stalled deadlift.
• Most popular methods to address the problem either fail to work or make the problem worse.
• To fix APT, you need to make it a priority. That means attacking it with a comprehensive plan before your lower body workouts. You can cut back once your APT is under control.
Anterior pelvic tilt is a common postural position where a person's low back appears to arch significantly while standing. Anyone afflicted with APT will always look like his gut is protruding and his butt is sticking out.
APT can also significantly limit your deadlift and even lead to a back injury, which will make you either stop lifting or become that annoying guy who can't stop talking about his sore back.
How Does APT Affect Your Deadlift?
Most lifters with APT have a small hinge in the mid back, a point where they tend to bend when they move. It's almost unnoticeable (you have to really be watching closely to see it), but when you're pulling hundreds of pounds off the floor, even a little mid-back bend is a problem.
Interestingly, it's a bend in the opposite direction most are concerned about. You often hear that you shouldn't round your back when you deadlift, which is sage advice, but extending your back during a deadlift isn't great either. Even a little bend means a loss of tension – and when you lose tension, you lose strength.
If a lifter overarches in the deadlift, this requires greater erector spinae activation, or more tension. That is the only way to achieve this hyperextended position – the spinal erectors must create an extension moment that exceeds the flexion moment induced by gravity and the load. This can indeed occur in a particular motion segment, but it should not be thought of as a "loss of tension," but rather sub-optimal spinal positioning and motor control. I'd also posit that "mid-back hinging" can occur in lifters with APT, neutral, or PPT postures, though you're probably right in that those with APT probably exhibit this characteristic more commonly.
I want to address this in parts as I think we agree on part of it, and I'm not sure if the rest is disagreement or difference of terminology. I've broken the paragraph above into parts below.
If a lifter overarches in the deadlift, this requires greater erector spinae activation, or more tension. That is the only way to achieve this hyperextended position –
This first part of your comment is where I think we disagree. I don't see it a good deadlift as a hyperextended position (yes, this was misunderstood – I don't like hyperextended deadlifts either – neutral spine is best) in the back as much as an isometric hold in the back as the hips move from flexion to extension (agree). Now that said – I do accept that a slight extension in the back as the lats engage is likely and probably even desirable. And based on what you wrote below, I wonder if that's what you're saying too? In which case I agree and accept that I should have been more exact. My intention was to point out that an extension-hinge in the back is problematic. I do agree that a small amount of appropriate extension in the back is fine. In fact I often watch a client deadlift and ask myself "is this appropriate extension or is this a hinge?" To me an acceptable extension is one that has a very gentle curve with a very small slope. But if I see a sharp curve and/or a steep slope, I suspect mid-back hinge and I will aim to correct it – usually starting with cueing during the DL ("keep the abs engaged" sometimes does the trick). (agree on all points)
the spinal erectors must create an extension moment that exceeds the flexion moment induced by gravity and the load.
I wonder if we're talking semantics here. An extension moment yes, but does an extension moment require movement? (geeky side note – this feels like a very timely point given that I just read Dr. McGill's recent article about training flexion moments not flexion movements) (exactly – you want the extension moment to balance the flexion moment, so that no concentric or eccentric motion occurs, but rather an isometric hold as you described)
This can indeed occur in a particular motion segment, but it should not be thought of as a "loss of tension," but rather sub-optimal spinal positioning and motor control.
I think we do agree that this mid-back hinge is sub-optimal and demonstrates poor motor control. But I have a hard time wrapping my head around the notion that this sub-optimal position doesn't yield a loss of tension. (I'm referring to muscle force or "tension in the muscle" in that spinal hyperextension and APT is often too much erector spinae muscle force, but you might be referring to "total body tension" which I've seen discussed but would be hard to define) I think it may still maintain the same activation level, but because that activation is now applied to muscles that are following an altered (and inferior) path, I don't see how the resultant tension can be maintained.
I'd also posit that "mid-back hinging" can occur in lifters with APT, neutral, or PPT postures, though you're probably right in that those with APT probably exhibit this characteristic more commonly.
Great point. In fact as I read one of the comments on the TNation article about whether it's really possible to fix APT, I wondered if it may make more sense to talk about functional vs physical APT, because I have also seen people who don't look to be in APT hinge at the mid-back. In fact I find these people are usually harder to spot because they don't look the part – but then they show you a plank and its sag city, or a deadlift and their ribcage flares right out. (Agree)
What's The Cause of APT?
Strengthening the lower abs as a means to fight APT makes little sense. The abs attach the ribs to the pelvis, and if the abs get stronger, won't they just pull on the ribcage more?
This statement is in direct violation of Newton's third law, a basic tenet of physics and biomechanics. When one body exerts a force on a second body, the second body simultaneously exerts a force equal in magnitude and opposite in direction to that of the first body. If the abdominals are strengthened, the increased sarcomeres and neural tone will create an equal pull on the ribcage and the pelvis.
By that argument, we'd never have any movement! (Not sure what you mean – even ground reaction forces are "reactionary" in that they exert the same force back into us as we exert into the ground) But let's break that down. I'll concede that there will be an equal and opposite force in both directions. But if we were to draw the free body diagram of the resultant forces at both the pelvis and the ribcage, what will it show as the overall net effect? If the net force holding the pelvis into APT is stronger than the net force holding the ribcage in neutral, then the result will not be a leveling of the pelvis, but rather a lowering of the ribcage. In a tug of war between pelvis and ribcage, I'm putting my money on pelvis. (I agree, and that's what's happened – the erector/hip flexor couple is winning the tug of war, so the ab/glute couple must be strengthened to achieve balance)
Perhaps the problem with APT isn't that the lower abs are weak, but that the hip flexors are stronger or shorter (or both) than the abdominals. If the hip flexor is too strong and kicks in when standing, it will pull the front of the pelvis down into APT.
It should not be thought of as "hip flexors versus abdominals," but rather, "the hip flexor/erector spinae force couple versus the abdominal/gluteal force couple."
Good point.
Another possible culprit is the hamstrings. If they're weak or stretched long, they can neglect to do their job in keeping the superior posterior pelvis in alignment. And since we're talking about hip flexors and hamstrings, we also have to talk about glutes. Hip flexor troubles often occur in tandem with weak glutes, and weak hamstrings can be the result of weak or poorly patterned glutes.
While I agree that the hamstrings and glutes are inextricably linked as hip extensors, I also feel that they're rather independent in that the hamstrings are so highly activated and conditioned as knee flexors. I do not see how weak hamstrings can be the result of poorly patterned glutes, as they're fairly independent. In fact, poorly conditioned and weak glutes typically leads to overburdened and stronger hamstrings. 
I wonder if our difference here is based on different populations. The people in whom I see weak hamstrings in concert with weak glutes are people with desk jobs who also participate in sports involving running. In fact many of the clients I see are post-rehab clients who had hamstring injuries, all of whom also have weak and/or underactive glutes on that side. I believe these hamstring injuries occur at least in part because the hamstrings were overworked due to the poorly patterned glutes, but in all honesty, I don't know if the glutes were weak before, or if they became weak after. (Fair enough)
Finally, what if APT is just a habit? If a person's been hinging at L5 (or somewhere in the lumbar region) since he was seven years old, it's now so ingrained that he just keeps hinging. Strengthening the underlying muscles may not be enough to fix this; patterning work may also be needed.
Excellent point!
With so many muscles involved with the pelvis, is it possible for one to pull too much or not enough, without a reaction elsewhere in the chain?
Why Don't Reverse Crunches Help?
If you've ever tried to address APT, odds are the recommendation you've been given is either to do planks or reverse crunches, or both. Neither of those suggestions are effective solutions for APT.
What about RKC planks, where the precise posture we're trying to shift towards is held for time? In this manner, the abs and glutes will be strengthened in a shortened position while the erectors and hip flexors are slightly lengthened.
Good point and I do like RKC planks, but I view them as a subset of planks, and in fact I generally consider them a progression of a plank. You raise a good point that they do force the body into a favourable position, and I have tried the cues that you note in your article, but I found it was just too challenging for some people, and meanwhile, I really liked the results I had with starting with the bench plank. (Fair enough)
The main reason I refrain from using reverse crunches with clients who have APT is because I agree with Dr. Stuart McGill in that we should limit our volume of spinal flexions.
Also, reverse crunches aren't appropriately challenging. A reverse crunch is an open chain exercise with a long, heavy lever (the legs). Open chain means multiple degrees of freedom, and the legs plus pelvis is a very heavy load. Does that make sense as an exercise for someone who's incapable of simply holding their torso in neutral while standing?
What About Planks?
Most of the people I see with APT are unable to hold a plank for very long without the back either hurting, sagging, or both. I tell my clients to stop at the point of pain, explaining that feeling planks in their back is a sign that the abs have given up and the exercise is no longer doing what it's supposed to be doing. At that point, and when the back is sagging, planking may even be encouraging a dysfunctional pattern.
Great point!
Unlike the reverse crunch, the plank is closed chain, so the lever is supported at two ends. However, the lever is much longer in the plank, and the greatest load occurs exactly where a person with APT has the lowest capacity to stabilize – midway between elbows and feet. For this reason, the plank is too advanced an exercise for someone with APT.
I think this is overgeneralized; there are freakishly strong lifters with APT who have strong abdominals and can perform advanced planking and abdominal maneuvers. In contrast, there are weak sedentary folks and beginners who should indeed start out at the very bottom of the totem pole.
Maybe. But I've had some people as you describe – they can plank till the cows come home (not actually sure how long that is) yet they still struggle with APT, and when I regress them do a bench plank, they have a very hard time at it. I have seen a couple people like this for whom a basic Sahrmann breathing and bracing exercise was excruciating – at first. (Okay, good point)
To your point about strong lifters with APT who can do impressive abdominal maneuvers – I would still want to run them through all of the 9 exercises I recommend. Do they struggle with any of them? If not, then cool –they probably fall into a subset of people with APT who suffer no functional effects of it. As you noted above – it happens. But I think more often than not, there is a weakness there – it's just not showing up in their plank. (Fair enough)
The other reason planking fails is because it assumes the problem is bilateral. What if the weakness or dysfunction is only one-sided? Will the plank address that, or will the dominant side cover for the weak side
What To Do For APT?
Address everything simultaneously. That may sound like overkill but you're dealing with a faulty pattern that you've probably had for years. Maybe at one point there was one cause, but odds are everything's involved now.
Agree!
Alternatively, I approach APT with the nine exercises below, knowing that we're hitting everything. If we accidentally do one or two unnecessary exercises, no big deal. Treat it like a bed bug infestation – if you have them, are you only going to get one room treated, or are you going to go ape-shit on the whole apartment so they never come back?
Agree!
Nine exercises might sound like a lot, but once they get the hang of them, my clients do them in less than 10 minutes, which also warms them up nicely. We typically top that off with another five minutes of more general movement preparation, leaving 45 minutes to lift. Plenty of time for deadlifts!
If you're not a fan of warm-ups but your current training involves long rest periods between sets, consider breaking up the exercises below and do one in between each set. Ideally choose them such that they don't interfere with the muscles involved in your work sets.
The Program
1. Crocodile breathing. This exercise is for the diaphragm, the ribcage, and the t-spine.
Details: Lie on your stomach and breathe deeply. The goal is to have your belly expand into the floor, which will push your body away from the floor. Then exhale completely. Repeat for 12 breaths.
2. Box hip flexor stretch. Use a 12″ plyo box for this but a stair works too. I discussed above that hip flexion is probably part of the problem, so let's try to improve it.
Details: Place one foot on the box, lower yourself into position, and then maintain great posture while you breathe deeply. Count 10 breaths and then switch sides.
3. Side lying quad stretch. The rectus femoris is a secondary hip flexor, and so it may be a contributor to APT. There are other quad stretch options, but this one allows for a quad stretch while preventing cheating through lumbar spine extension.
Details: Lie on your side and grab the top of your upper foot with the same side hand while flexing the hip and knee of the lower leg. Breathe deeply for 10 breaths and then change sides.
4. Leg-lock bridge. This is for the glutes in case the poor hip extension is the problem. I chose this version of the single-leg glute bridge because the "locked leg" keeps us from cheating lumbar flexion for hip flexion, which is why we're here.
Details: Do 10 reps on one side, holding the up position for two seconds, then repeat on the other side. If you get hamstring cramping, that's confirmation that your glutes don't work properly. As a cue, try pushing the heel into the floor and think of pushing the toes through the front of the shoes.
5. Rolling. Nope, not foam rolling – developmental rolling. People seem to be very divided when it comes to rolling. I was skeptical at first too, but they've grown on me. Regarding the point above about the problem not necessarily being bilateral, rolling effectively splits the core into diagonal quadrants, so if there's weakness on one side but not another, it will come out.
Details: Start supine to prone (S2P), with 1-2 sets of 5 upper body rolling the first week, and then move to lower body (if time isn't a factor do both upper and lower). That's on your back, rolling to your stomach.
Week 2, assuming the movement is good and S2P is getting easy, we move to Prone 2 Supine (P2S). Note: If you have neck problems or if they cause pain in your neck, don't do them.
6. Hip hinge. For some this is a no-brainer, but for others it's the most important movement you're not doing right. To make sure the movement is great, use a dowel held vertically behind the back, with the dowel touching the back of the head between the shoulder blades and the butt. Now bend over without losing any of those points of contact. As soon as one of these points is lost, stop and correct.
Details: Do 10 reps, switching hands halfway.
7. Off-weight Romanian deadlift (RDL). This is an exercise where the first time you do it will determine whether you need to do it, as it'll show if you have a major imbalance between your left and right side.
Details: Set up a bar on a rack with a 5-pound plate on one side. Place your hands on the bar normally (don't adapt for the slight offset). Now pick it up and do 5 RDLs to a normal depth. Rack the bar and move the plate to the other side and pick the bar up again, making sure to use the same hand placement as before. Repeat.
Notice anything? If not, then you don't need this exercise and you can skip to number 7. If, however, the bar felt 10 times heavier on one side than the other, this one's definitely for you.
8. Bench plank. I noted above that I think planks are too advanced for most people with APT, but building the plank is part of the solution.
Details: To make it a more appropriate challenge, move your forearms up onto a bench. This change is often very profound as people suddenly feel the plank where they're meant to feel it. I also cue people to stop once they feel it in their back, with a goal of extending the time each session.
Once you can get to 60 seconds without sagging or without feeling it in your back, progress to the floor, but use the same discipline as you did with the bench version.
If you're unable to hold the bench plank for more than 30 seconds without feeling it in your back, consider regressing it further by doing it with a slight bend in your knees. Doing so can help take the hip flexors out of the equation and allow a proper abdominal contraction.
9. Single-leg lowering. This one can be a shocker and is a fantastic option to help teach your body to stabilize the core in the presence of leg movement. Think of the relevance here: Every step you take when walking or running involves this movement, but if you can't stabilize it you're going to end up extending at your lumbar hinge instead of at the hips, which is really a unilateral expression of APT. Hopefully this helps bring home the notion that this pattern is relevant both bilaterally and unilaterally.
Details: Start this exercise with one foot supported on a box or door frame, and move the other leg. Form is crucial here – you'll need to focus on engaging your core to stabilize your pelvis so that the only part that's moving is your leg.
Do 10 reps on one side and then 10 on the other. Once it gets too easy, progress to the unsupported version where you do this with your hands holding something solid (leg of a plyo box or power rack). Lift both legs up in the air and hold one leg up while lowering the other, making sure that the pelvis does not move with the leg.
Putting it all Together
Here's a summary:
Crocodile breathing: 12 deep breaths
Box hip flexor stretch: 10 deep breaths per side
Side lying quad stretch: 10 deep breaths per side
Leg-lock bridge: 10 reps per side with a 2 second hold
Rolling: 5 each direction
Hip hinge: 10 reps
Off-weight RDL: 5 on the easy side; 10 on the hard side. Or skip it if there's no difference
Bench plank: Hold for time
Single-leg lowering: 10 each side
Get Your Tilt Off
Add these nine drills to your workout for a couple of months (yes months – reality sucks) to save your back, your deadlift, and to put an end to the faux belly.
It should be noted that some folks will be able to improve their pelvic posture (I have several clients who have noticed marked improvement…but I did not conduct pre and post-training measurements so these are just anecdotes) (me too  – and I also haven't done measurements. I'm starting to re-evaluate what measurements I do pre- training so that in future I can have hard evidence vs anecdotes), whereas others will not. Some lifters will seem to do everything "right" and still not see any improvements in pelvic posture, which is likely due to genetics and also sport/lifting/lifestyle factors. These folks need not fret as one can do just fine going through life in APT. APT is common in sports, it's not correlated with low back pain, and exercise modifications can allow for long pain-free lifting careers.
Maybe you should get them to try these 9 exercises. J I'm only half-joking with that comment. Maybe adding breathing and including some unilateral abdominal work could improve outcomes on the people for who you aren't seeing improvement? I hope that doesn't sound too arrogant – it wasn't the intention. (Does not sound arrogant at all Elsbeth – you're a class-act)
I'm willing to bet that you don't mind if I ask about the use of the hanging leg raises in your program. Wouldn't they fall into the same category as sprinting and sit-ups in that they strengthen the psoas and rectus femoris? (Great point. In retrospect, I shouldn't have included the hanging leg raise and should have instead written about hollow body holds – those are incredibly effective but too challenging for most beginners…although modifications can be made)
I definitely agree that genetics and other lifestyle and sporting factors play a part, and that APT may exist but not be problematic. I actually think the lifestyle sporting factors are part and parcel of the patterning point I make in the article: If you are doing something in the "other 23 hours" that sustains and encourages the APT position, that's going to have a big negative impact on the hard work you're doing in the gym.
It has been a pleasure discussing this with you. It's so nice to get into the geeky details with someone, knowing that either of us is willing to concede to the other if they make a great point. Thank you Elsbeth! You're awesome. This is how professionals should interact with one another!