Today's post is from Derrick Blanton, a regular contributor to my blog. Derrick is constantly pondering biomechanical topics and thinking up effective cues. Here he describes what he feels is a better way to achieve proper knee position in a squat – focusing on loading the lateral heels.
My two assistants and I experimented with this and found that it is indeed highly difficult if not impossible (Andrew was barely able to, but Joey and I could not) to achieve medial knee displacement (inward knee caving) at the bottom of a squat while loading up the lateral edge of the heel, as long as our feet weren't pointed inward. I'm assuming that this applies to the vast majority of lifters. We were able to cave inwards while still loading the lateral heal half-way up in the squat, but not at the bottom. 
I'm still a "knees-out" guy, but I really like this "drive the lateral heel" cue as well. Try it and see what you think! 
A Better Way to Cue "Knees Out" in a Squat
By Derrick Blanton
The SQ has never been a natural movement pattern for me, and I've basically tried every cue ever written to make it click. Thus the latest round of spirited disagreements regarding this concept of "torque" and proper knee position has captured my attention!
Bret's Note: Below is a List of Current Articles and Videos I've Compiled Pertaining to this Debate
Chinese Olympic Weightlifting Team

Olympic Weightlifting Coach Bob Takano Debates

Physical Therapist Kelly Starrett

Another Kelly Starrett Interview

Physical Therapist Quinn Henoch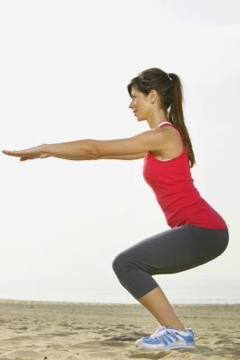 The controversial cues in question generally run along these lines: "Screw the hips into the socket!" "Shove the knees out!" "Create maximal torque through the system!"
Unfortunately, it seems that many folks are overzealously applying these ideas and some are even ending up injured.
Cueing movement is a tricky proposition! Tossing out one size fits all prescriptions virtually guarantees problems for someone learning the exercise, due to confusion or individual biomechanics.
So with that in mind, I'd like to toss out a one size fits all prescription.
Ha ha, just kidding! But seriously, it doesn't have to be this hard. What if there was a better cue to stabilize the hip and align the knees? I believe there is!
"Drive the lateral heel."
That's all you got, smart guy?
No esoteric discussions about torque, no complex theories, no Kool-Aid to drink?
Yes, that's it, fellow squatter! Just keep a steady and constant force through the lateral (outside) heel, right about where it merges into your arch. Do so as you squat down into the hole, even harder at the eccentric/concentric transition, and all the way back up again.
This action at the lateral heel will automatically engage the stabilizing muscles of the lateral hip, and align the knee properly.
No caving in, and no ridiculous bowing out. It's magic!
"Does this same cue apply if I squat toes straight ahead, toes flared out, feet at hip width, feet at shoulder width, or feet at sumo width?"
Yes, yes, yes, yes, and yes. Drive the lateral heel!
Regardless of the squat stance that you select, you will have a very hard time getting the knees to buckle inwards into valgus if the lateral and posterior foot is forcefully grounded. It's simple, weight bearing geometry.
(OK, sure if Terry Tate, Office Linebacker comes roaring in and takes out the side of your knees while you are squatting, then I stand corrected! Doggone it, stay with me here!)
Because the SQ's kinetic chain is closed at the ground, the knee will general cave in with a corresponding overpronation of the ankle and foot. Forcefully preventing this action with lateral pressure from the hip through the floor, makes valgus collapse darn near impossible, assuming your feet aren't pointing inwards.
We are talking about forceful alignment, not rotary torque. Trust me, the rotary torque will happen all by itself if you just direct the force, and perform the movement.
The "Foot Feedback" Technique
In about 12-seconds, you can form a clear mind-muscle connection with your lateral hip in squatting action. Position small plates under your feet so that they cut across the outside of the heel. The plates are not there to elevate the heel and buy ROM, but rather to create a sensory map of where to direct force.
Only the outside half of your heel should be on the plate. This creates a tactile feedback loop and provides the CNS with hard data proprioception. Let the CNS earn its money and sort out how much "torque" and abduction you need for the job.
Meanwhile you just focus your attention on smashing that plate!
Now, enjoy the amazing sensation of your knees cleanly tracking on a line with the hip and foot. You're welcome!
I call this a "foot feedback" technique, and I suggest you learn it barefoot. You are now literally feeling your way through the movement, like a baby rising to stand for the very first time. (OK, that was a little dramatic…sorry!)
This idea is a bit similar to pull from the pinkie on pull-ups, or push through the outside heel of the hand for push ups. When you exert force through a point of contact on a closed chain lift, it streamlines the necessary forces of stabilization. Less "thinking" required.
So at the risk of being another "one size fits all" guy, I do think this may be a useful cue for a broader spectrum of hip types and squat styles.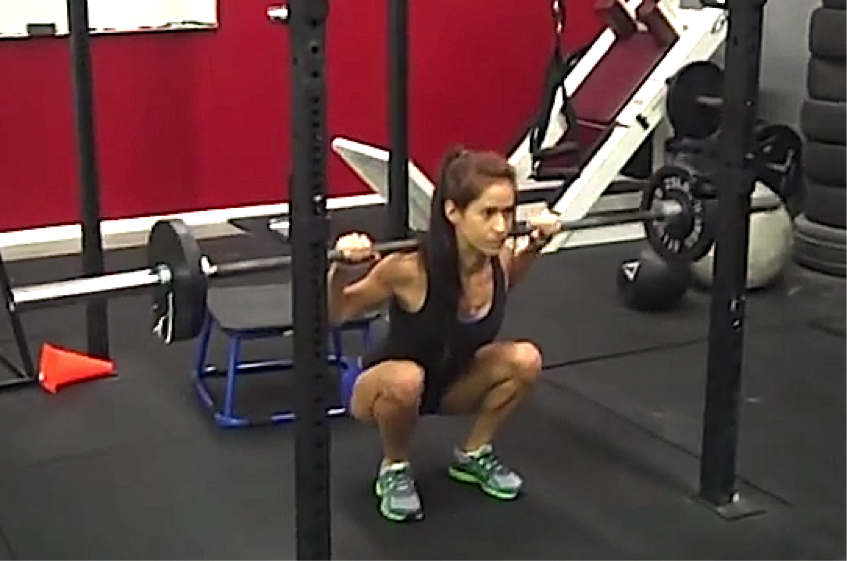 Here's Bret's client Erin. She takes a very narrow stance, and still squats all the way to the floor.
I would probably shred my labrum if I were to force a deep squat from that stance. My hip capsule just doesn't roll like that…literally!
We all have different hip capsules, as Stu McGill has patiently tried to explain.
Thus, to get rock bottom, I have to widen my stance to just outside shoulder width, and flare my toes about 20-degrees. What once was a nasty collision course of bone vs. capsule, is now a smooth elevator ride down!
The point is that either and any type of squat stance still benefits from driving through the lateral heel, and ensuring stable knee tracking alignment.
OK, enough rationale. The proof is in the pudding, so give this a whirl barefoot on small plates with body weight only, and if it is not immediately helpful, as in…
"Holy Hammer of Zeus! That Derrick Blanton dude is some kind of deranged, squat cueing genius!!! Wow, that feels better…how do I send him money?!"…
then this cue was not a keeper for you, and I'm sorry for taking 12-seconds of your life that you will never get back.
(Plus you can always fall back on, "Shove the knees out"! )
Give it a try and let me know what you think!