Attention Naudi Aguilar,
First of all, I want to clarify something. I never knew who you were as of several days ago. But your team recently tagged me in one of your posts about bilateral glute training, and several of you decided to badmouth my methods. Had your team not done that, I would still not know who you are or what your beliefs were. However, since you chose to come after me, I decided to do my research on you, and I found your methods and beliefs to be highly questionable and flat out contradictory with regards to what published research shows, Therefore, I intend on grilling you. I decided to first post an article providing a general overview as to how people like you go about your business; this way I could teach my readers how to spot pseudoscience, hence my last blogpost. I did not mention your name, but it turns out that many people recognized the fact that the article heavily characterized your actions. This blogpost and my next one will indeed mention your name and will not beat around the bush.
You seem to be acting shocked at the backlash you are currently receiving. I want you to know that people are responding to you because you and your team are actively calling them out directly. If you and your team laid low, remained humble, and let your results speak for themselves, you wouldn't be receiving such backlash. However, this is not the case, and you've been very vocal lately, denouncing and declaring dysfunctional adaptations associated with:
Deadlifts
Axial loaded squats
Olympic lifting
Gymnastics
CrossFit, and
All bilateral glute exercises
Moreover, you've implicated the entire strength & conditioning industry in a large conspiracy to cover up your allegedly superior methods in attempts to continue lining our pockets with our inferior, antiquated methods. As the late Carl Sagan once said, "Extraordinary claims require extraordinary evidence." To date, I've seen zero evidence supporting any of your claims.
Perhaps more alarming than your claims is the way that you and your team interact with skeptical individuals. Rather than provide evidence or logical consistency, your team attempts to bully the opposition and resort to ad hominem attacks. A larger concern is that I don't think you or your team even understand the scientific process, but that's a separate matter. I fear that although there is ample evidence to refute your claims as well as ample logical rationale, you will not consider any of it and will continue to bash popular and successful forms of training that possess sound research supporting their efficacy. To quote Sam Harris, "If someone doesn't value evidence, what evidence are you going to provide to prove that they should value it? If someone doesn't value logic, what logical argument could you provide to show the importance of logic?"
Since my last blogpost, I see that your team has been accusing me of 1) being butthurt, 2) being jealous of your success, 3) stealing your methods, and 4) wanting your autograph? What in the hell is wrong with you guys haha? I'm not butthurt, I'm not jealous, I've watched your videos and I don't use a single method of yours, nor have I stolen any of them from you, and I do not want your autograph. All I care about is science and spreading good information in the strength & conditioning industry. I have witnessed plenty of cult-like behavior in my time, but your team takes it to an entirely new level.
I have prepared an article that refutes some of your claims and backs it up with scientific references. However, rather than post the article, I'd first like to reach out to you in hopes that we can settle our differences in a debate.
Therefore, I hereby formally challenge you to a debate regarding various claims you have made. Since you seem to label most lifters as "beta males," I'm hoping that you'll act like an "alpha male" here and accept my offer.
In particular, I'd like to discuss the following:
1. Whether or not you realize that not everyone is concerned with their gait and throwing mechanics and that most people take up exercise because they simply want to look better
2. Whether or not it is okay for these individuals with aesthetics goals to perform bilateral exercises and exercises that target various muscles
3. Your claim that deadlifts are for beta males and that they do not lead to functional improvements
4. Your claim that Olympic lifting is for beta males and that it does not lead to functional improvements
5. Your claim that axial loaded squats suck
6. Your claim that all bilateral glute training conditions out the posterior oblique sling and that it does not lead to functional improvements
7. Your definition of functional training versus those of others in the industry (see a quote of Naudi's definition of functional training toward the bottom of this article)
8. Your interpretation of human evolutionary biology and its relevance to resistance training, specifically whether we were in fact designed solely to run and throw, and whether or not every aspect of our training should be geared toward improving solely running and throwing performance
9. Assuming that running and throwing were indeed the only activities we should try to improve in training, whether or not your methods are best suited to achieve these improvements
10. Your claim that pectoral training (bench press, push ups, etc.) is dysfunctional because it interferes with throwing mechanics (see Naudi's claim in quotes near the bottom of this article)
11. Your claim that calisthenics on bars is counterproductive because it makes you perform like a gorilla
12. Your insinuation that rotational training should be the centerpiece of functional training
13. Your usage of unstable surface training for functional improvements
14. What the general purpose of the Functional Patterns training system is – who is it for, what does it claim to improve, and what does it do better than other forms of training
15. Whether or not everyone should be adhering to your system (some of the methods shown at the bottom of this article), or if other methods are better suited for various people depending on their goals
16. Whether or not rotational training is in fact the best way to build rotational power
17. Your claim that sagittal plane training should be avoided and whether or not sagittal plane training leads to functional improvements in other planes
18. Your claim that there is a huge conspiracy going on in S&C to cover up your methods and continue promoting archaic, traditional methods
19. Your insinuation that individuals seeking increased glute mass would be better off performing  THESE and THESE exercises rather than the ones I utilize HERE and whether or not you truly believe this
20. Whether or not you have obtained a single before/after picture of a client like I do HERE showing an impressive glute transformation 
21. Whether you intend on conducting any randomized controlled research using your methods and comparing the functional transfer to those of other popular and established forms of training (powerlifting, Olympic lifting, CrossFit, gymnastics)?
22. If so, what the measures of functional performances would be – would they examine speed, power, strength, and hypertrophy (which are in general what people seek in training), or would they examine subjective measures such as gait aesthetics, throwing aesthetics, TVA function, and posterior oblique sling coordination (which are in general not what people seek in training, but even so, how would one go about measuring this anyway)
23. Whether you think that everyone should be standing all day with the posture you propose to be ideal (see Naudi's example of exemplary posture shown at the very bottom of this article)
24. Your take on THIS article written by sports science legend Mel Siff in 2002 (13 years ago) on functional training/functional trainers and whether you think it accurately describes you and your methods
25. Your take on my article from the other day and whether or not you think it accurately describes you and your methods
And by the way, let's make a deal. If you share this on your Facebook page, please allow me and my people to chime in and don't block them or delete their comments. If you do this, I will do the same; I won't block you or your people or delete comments. Your modus operandi seems to be to block and delete your opposition, but hopefully that won't be the case this time around. But rather than go this route, it would be far more productive to simply hash this out over conversation. We could easily find a 3rd party who could host a live Google Hangout of our debate.
If you accept the offer, then I will not post another article that debunks some of your claims. But if you decline the offer, I will go forth in posting my article. I look forward to hearing back from you.
Sincerely,
Bret
P.S. Since people might be wondering where you made these claims, I'm posting some of them below, along with links to your social media pages.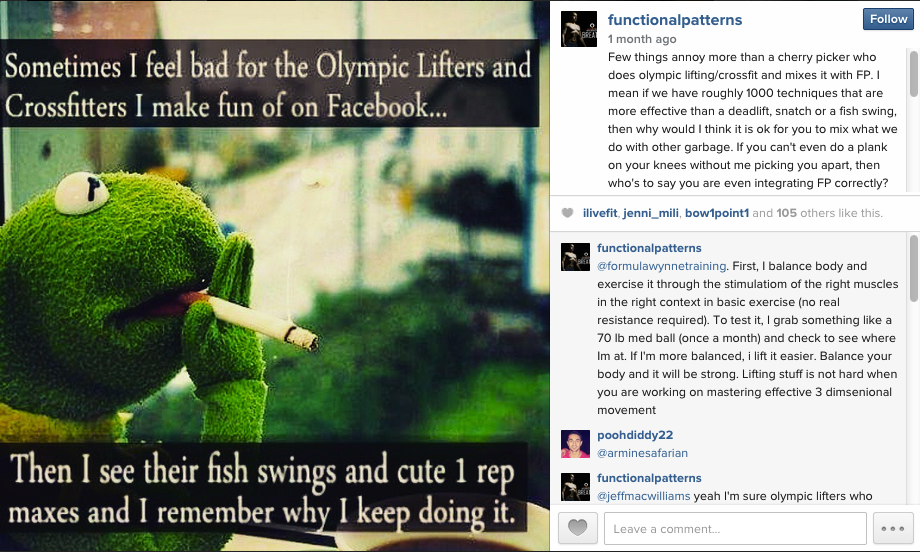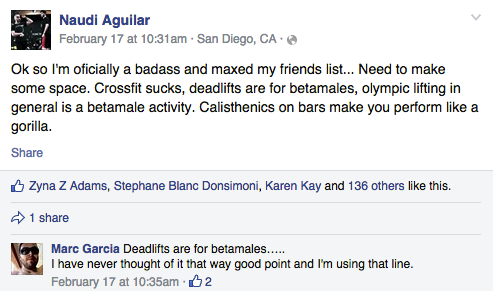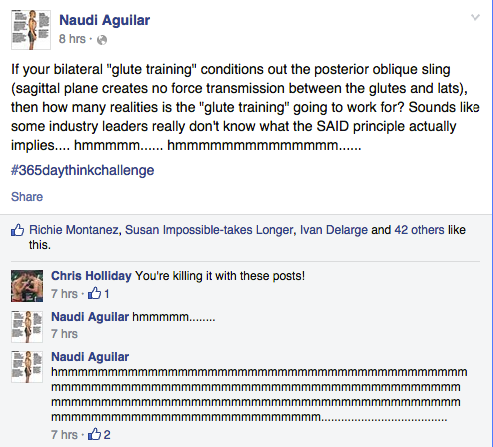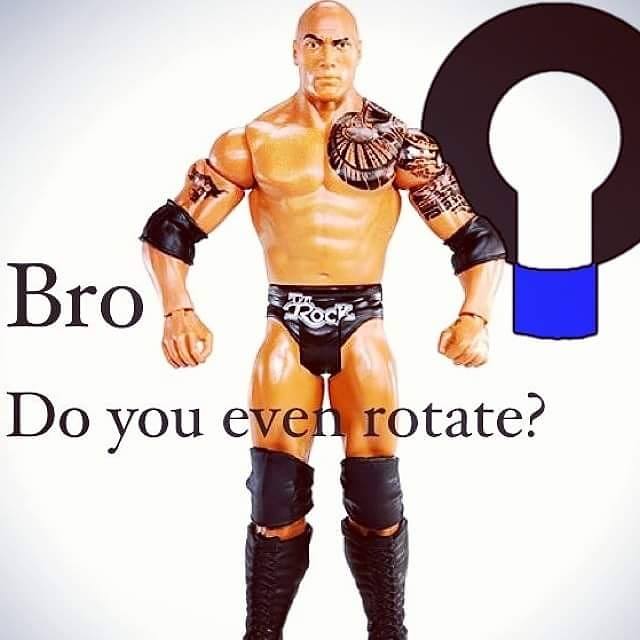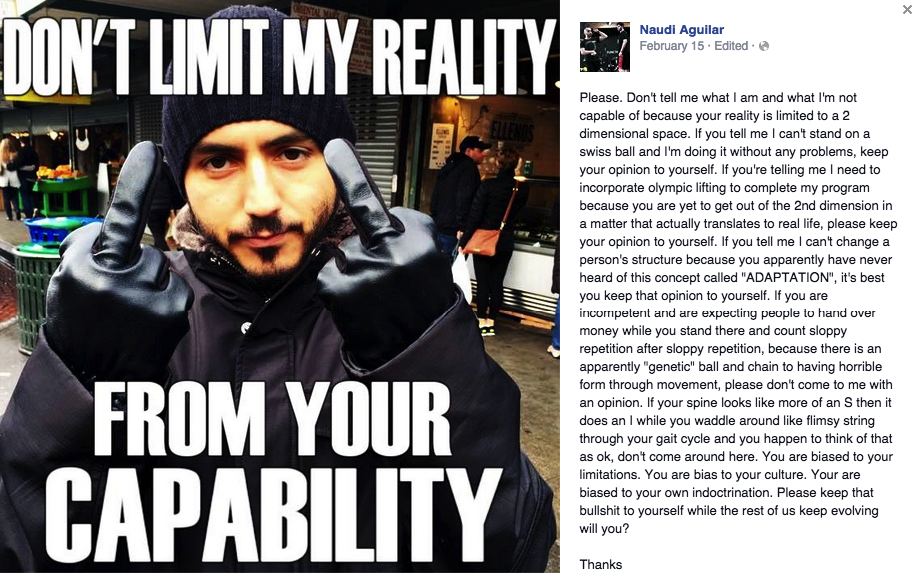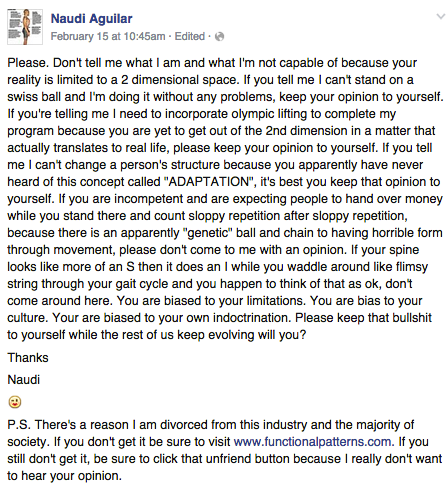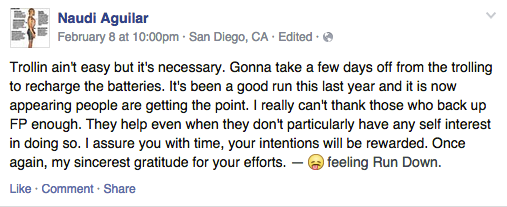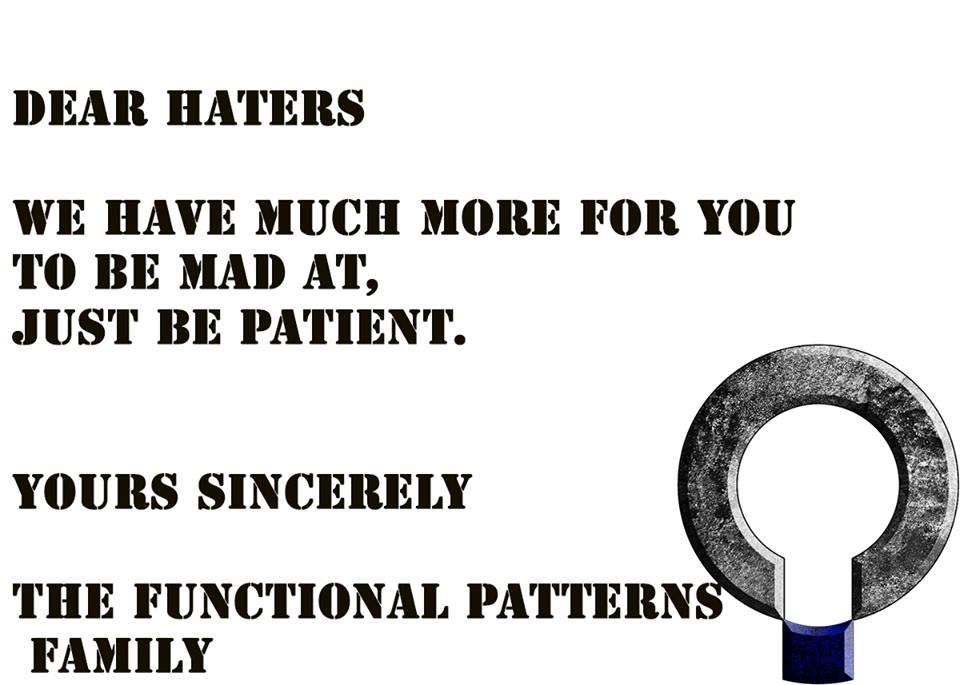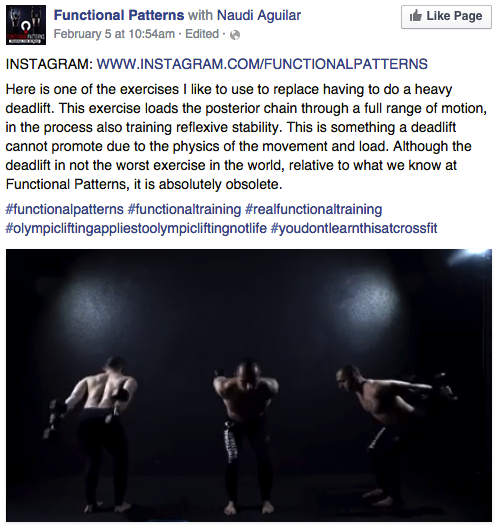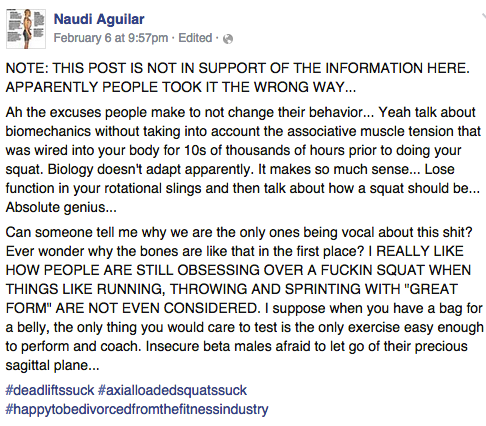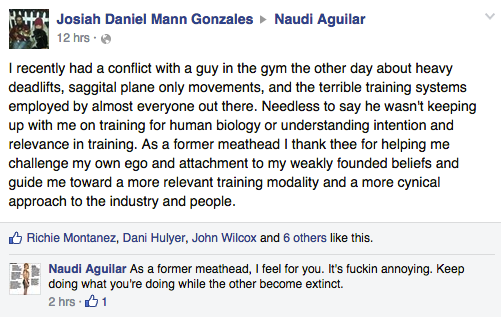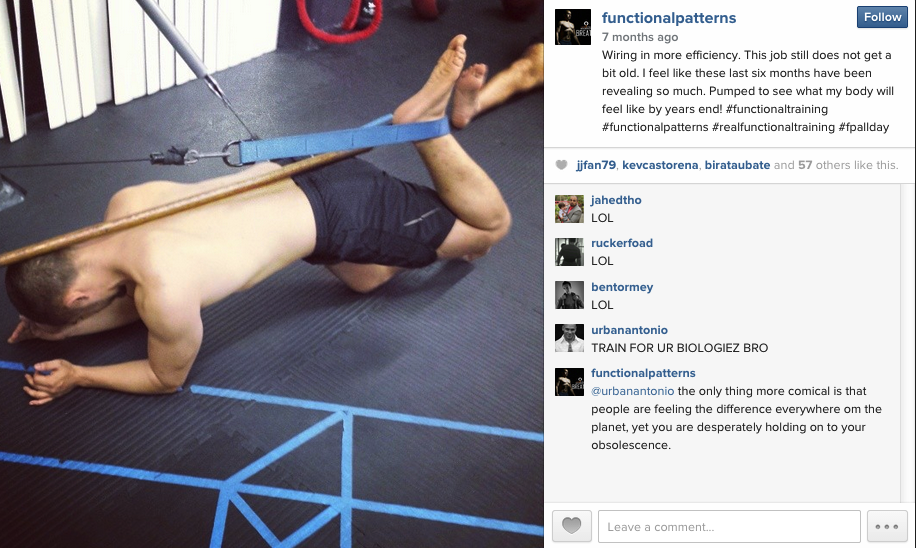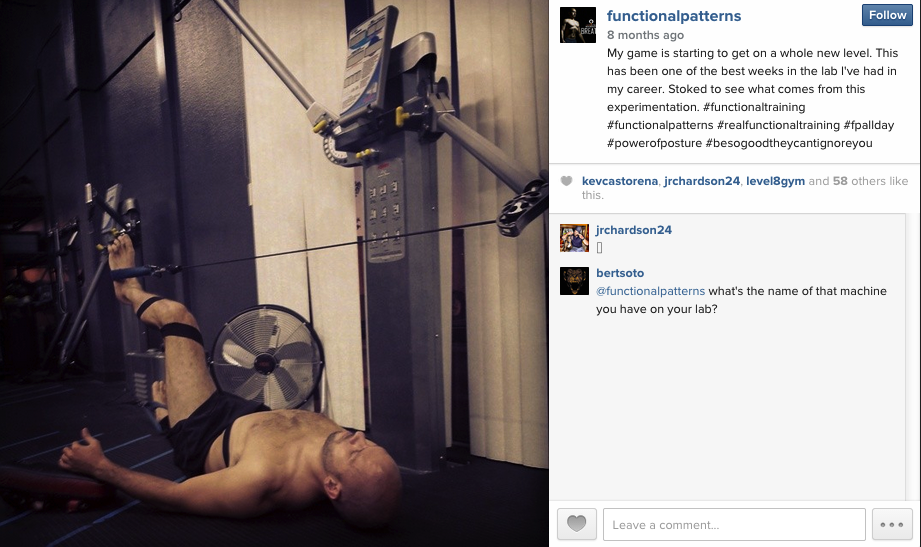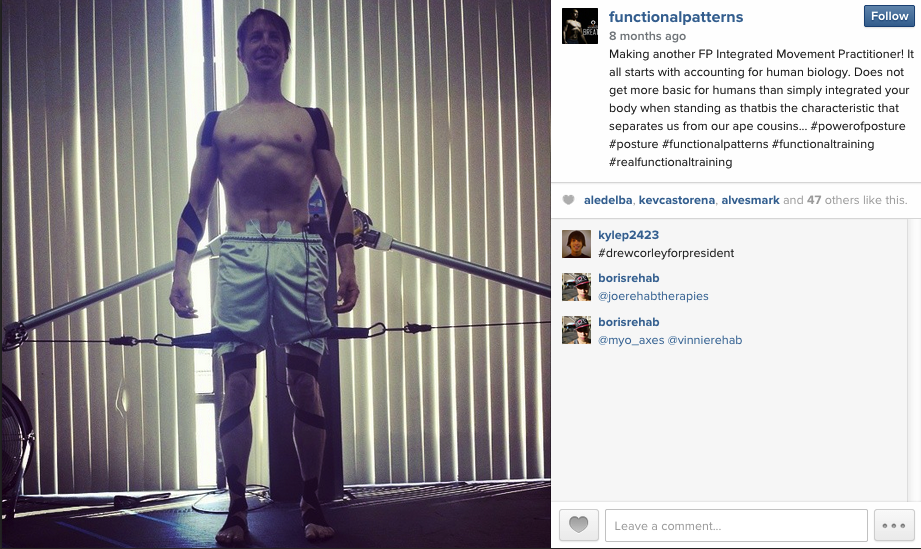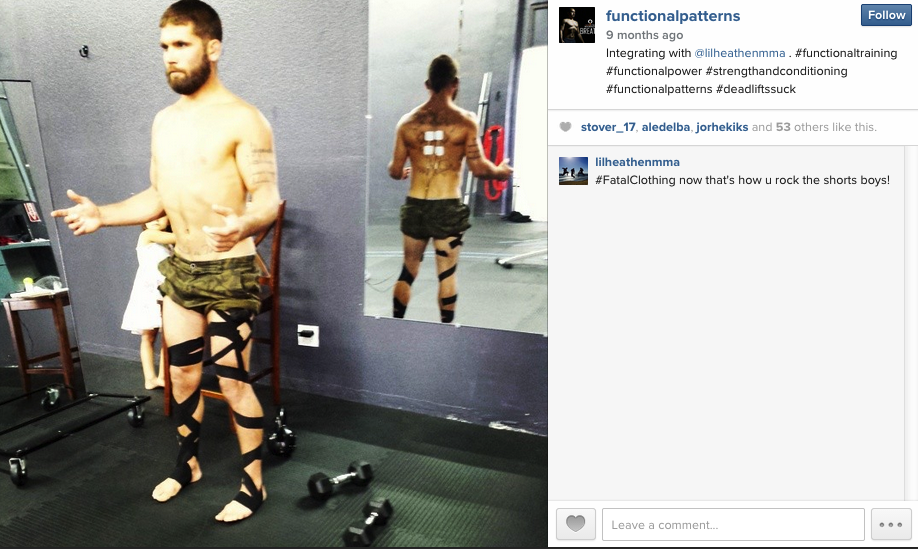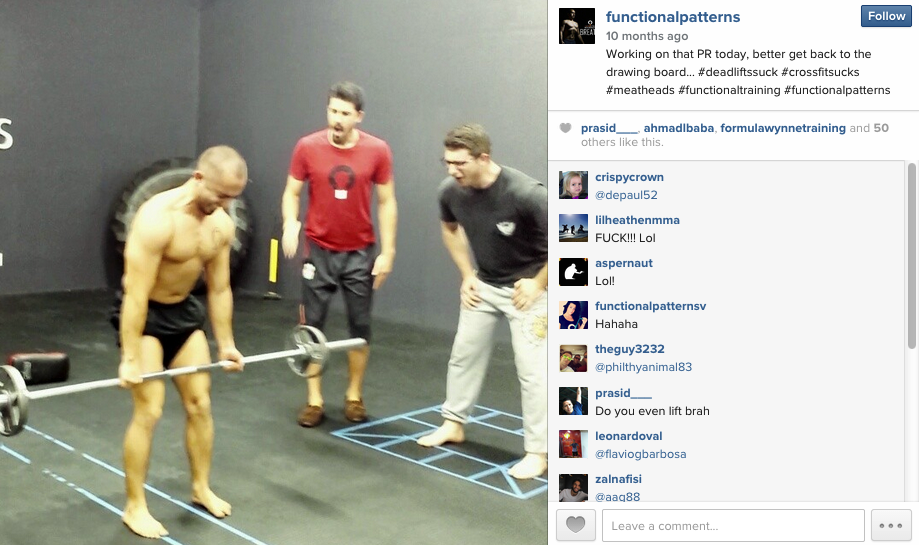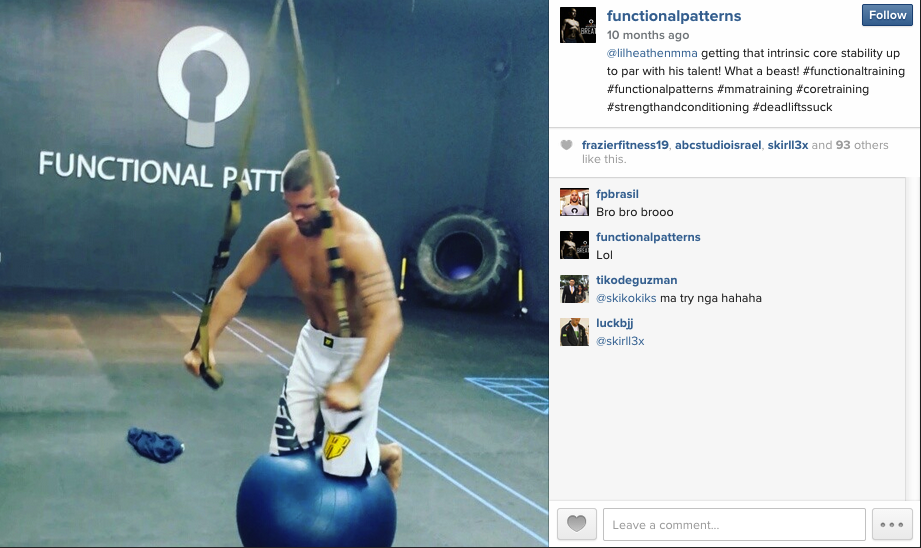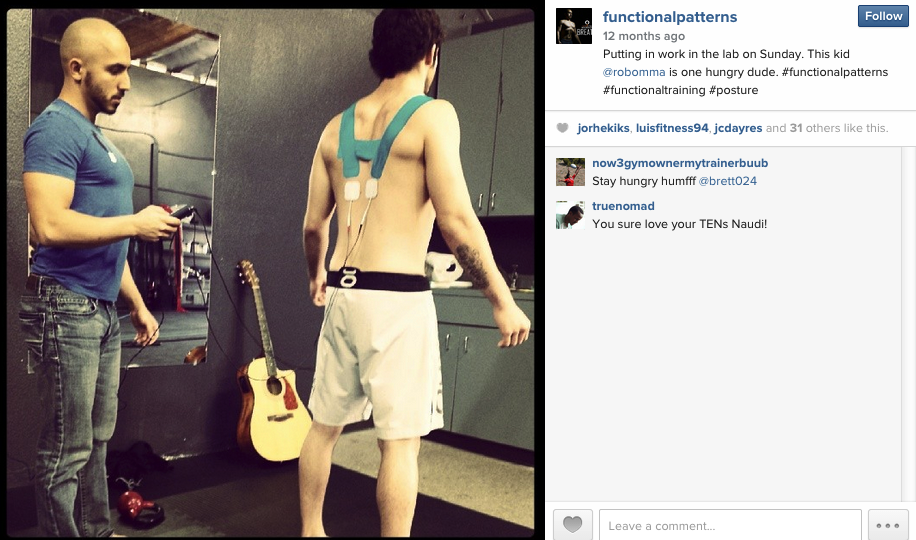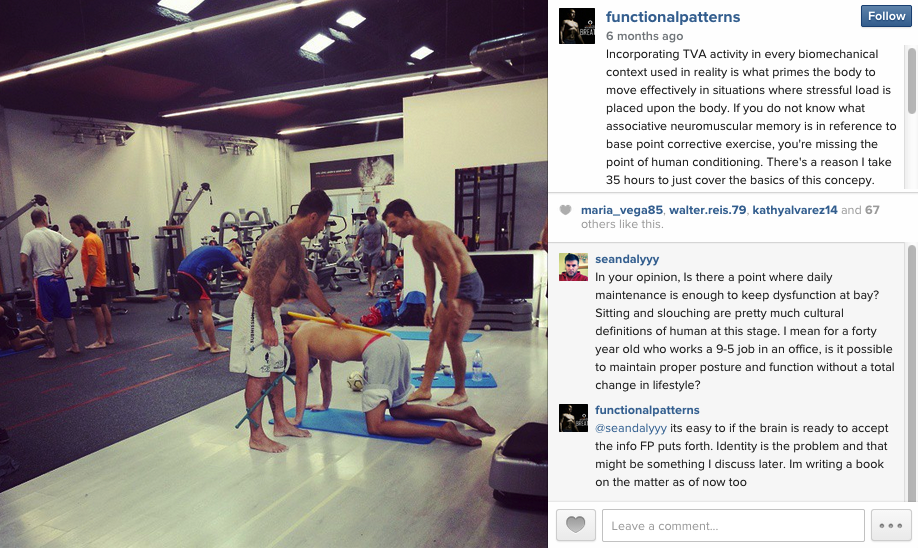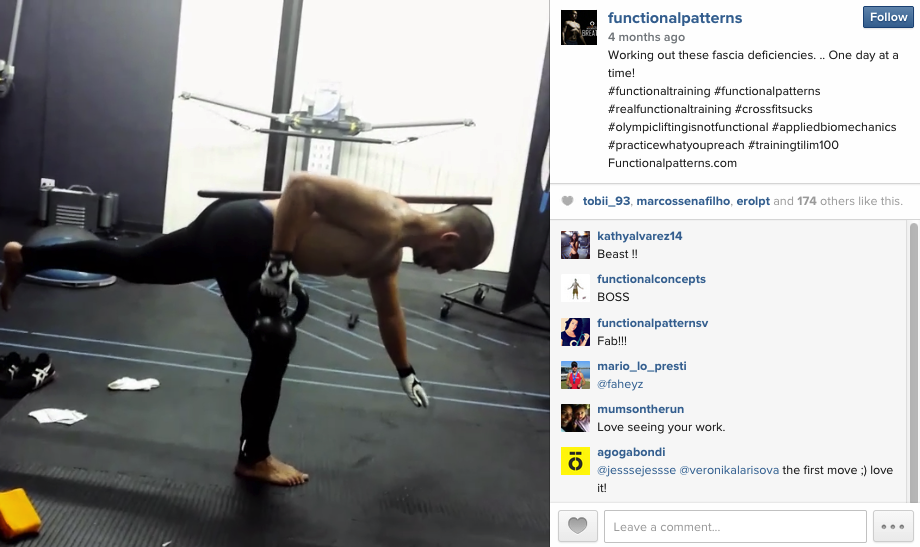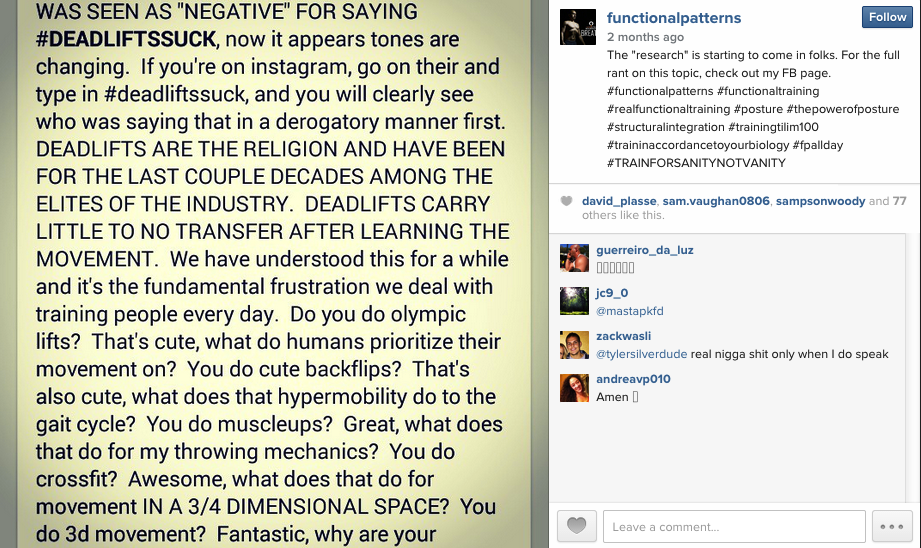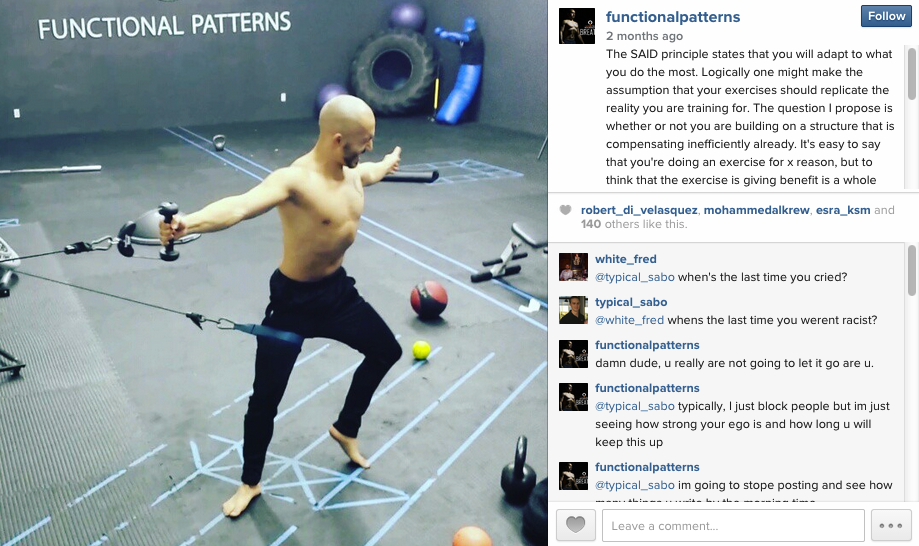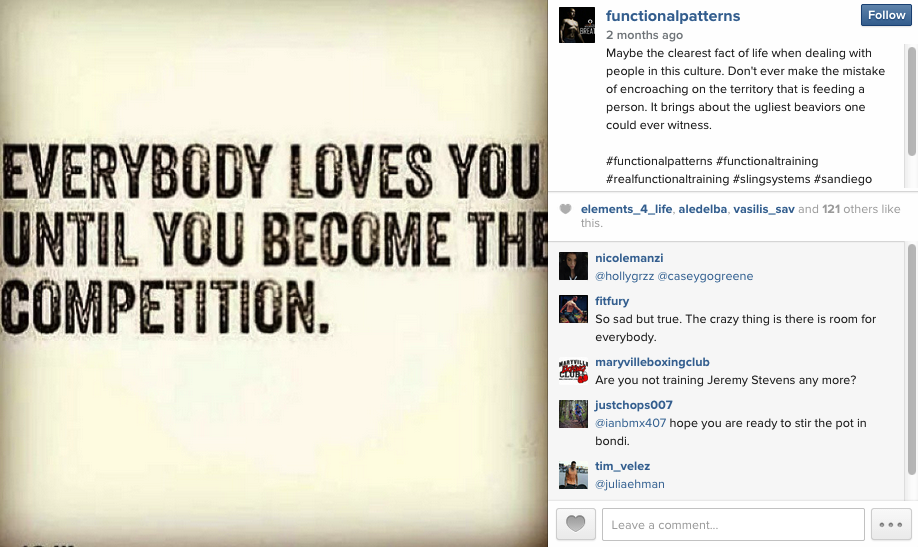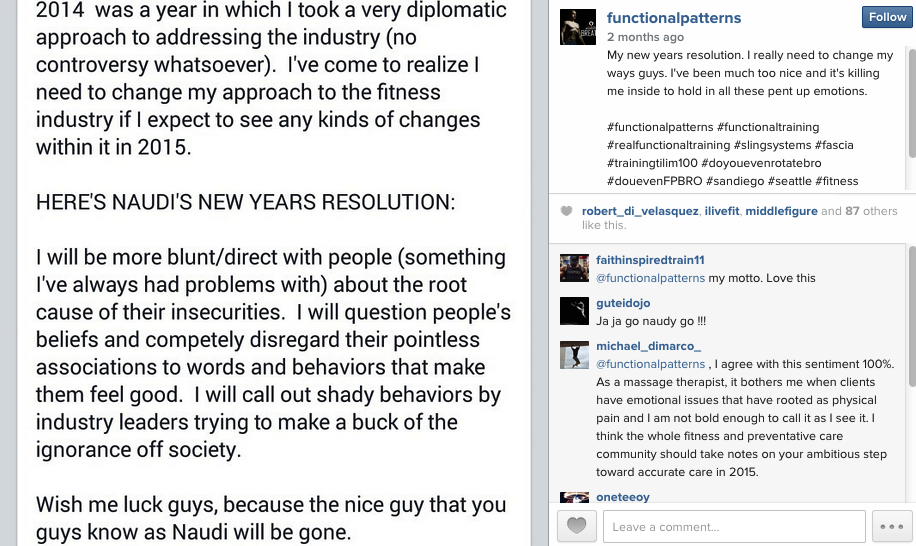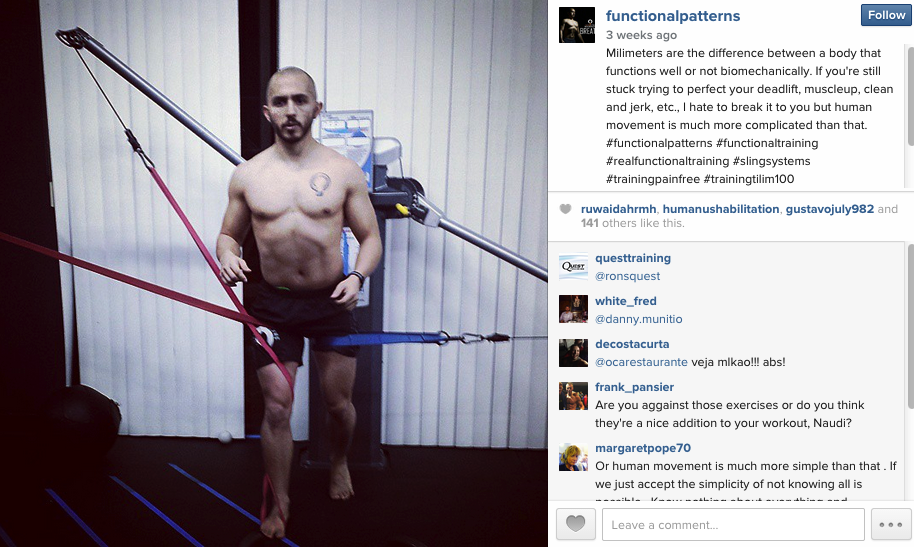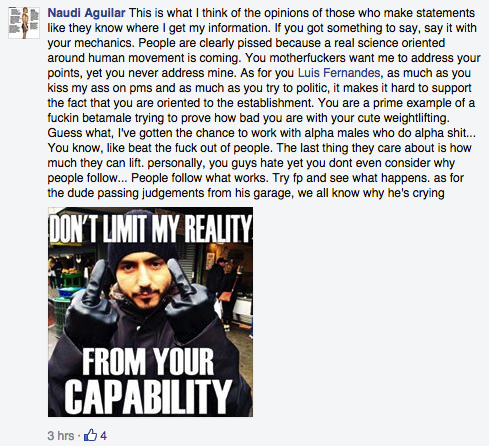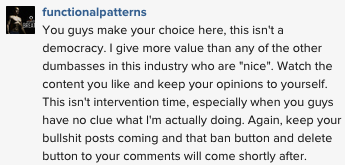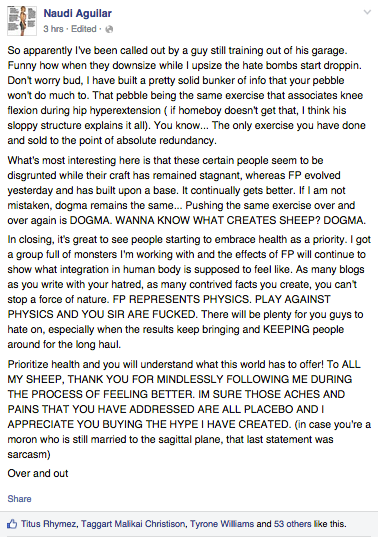 Naudi on Functional Training
"Functional Training" is a term thrown everywhere in the fitness industry. With the majority of fitness professionals promoting Olympic Lifting and Gymnastics as "functional training", it seems the industry as a whole has been a bit misguided. Analyzing the "science" the majority group in the fitness industry have put forth to validate that these types of training platforms, it has become obvious to anyone with enough education that they have neglected so many variables that apply to all human beings on this planet. Specifically when we bring up the context of human biology influencing a person's training goals. The fact is, to deem something as Functional Training, there has to be a basepoint in which people can all agree upon. We are humans. We prioritize the improvement of certain functions with the way our musculoskeletal system adapted over the course of millions of years. In short, the answer is very simple. Train for your biology. Not your ego. Then again, this is if the end goal is living longer and stronger for an entire lifetime."
Naudi on Pectoral Training
"I don't recommend that you work your chest. It's really destructive. It created lots of problems in my shoulder and it took me quite a while to undo those deficiencies. Just think that one dysfunctional pattern repeated over and over and over again can create an assortment of different problems. It took us a very long time to evolve into human beings, to get very good at running, to get very good at throwing. So think about it, if I'm loading my pecs over and over again, it's quite possible that your external oblique, your pec major, your serratus anterior, your intercostals, all become one thing. And when you think of something for functionality, like summation of forces of throwing something, you need separation of all those tissues. Something like a bench press or a chest fly or anything that builds the chest is counterintuitive to how the pec muscles evolved. From what I can speculate on is that we evolved our pectoralis major as a muscle to help us throw something and if you are overstimulating that muscle and you're not enabling it to separate from the external obliques, the intercostals, the serratus anterior, that the fascia associations are not separated, you're going to build a very structurally screwed up body."
Naudi's Example of Excellent Standing Posture