Sometimes I enjoy looking back at my training journals over the years. My workouts have always been effective, but the way I've trained has morphed considerably over time. The same goes for how I train clients. In my own training over the past twenty years, I've gone through a high-volume bodypart split phase, a high-intensity total body phase, a lower-upper split phase, and a high-frequency total body phase. I started out using mostly machines, transitioned to mostly bodyweight, barbells and dumbbells, and now like to also incorporate bands, and kettlebells. In my time I've toggled back and forth between unilateral and bilateral, high reps and low reps, high force and high velocity, isolation to integration, and quantity to quality.
After a while you realize that everything has a purpose. When considering training for rehabilitation, hypertrophy, strength, power, speed, agility, and endurance, many types of systems and many tools are warranted, and it all blurs together.
Two days ago I gave my first of many upcoming 21st Century Glute Training workshops. It was a huge success; 32 trainers, coaches, and therapists spent an entire day equally divided between lecture and hands-on learning. Afterward I was speaking to some of the attendees and I told them that my training methods, beliefs, and philosophy are always evolving. My systems are in a constant state of flux depending on the knowledge I gain from training more individuals, reading more research, and learning more about biomechanics.
Flow With Science
One thing that is very difficult for lifters, trainers, physios, and coaches to do is flow with science. We get a rigid belief and picture of how things work in our head only to find out down the road that we were wrong. When reading Muscle, Smoke, and Mirrors, I had to laugh at all of the things that the industry once thought was true. As resistance training became more popular, folks came out of the woodworks trying to prevent the methodology from spreading. Resistance training supposedly led to enlarged hearts and created slow, clumsy, and inflexible muscle. Squats supposedly destroyed the knees. Luckily some bold individuals ignored these naysayers and forged ahead.
Hypotheses
I suspect that over time we'll learn a few more things, and I've been fairly vocal about these hypotheses. I believe that we'll learn that crunches do not destroy the discs as most people believe, that squats are not the the best strength training exercise for increasing linear sprint speed, and that power development is maximized when methods are aligned according to force vectors.
The way my brain currently understands these items above is that some spinal motion is healthy for the discs, hip thrusts and back extensions are better for maximum speed development than squats, and max power requires training for strength, power, and elasticity in multiple planes and directions.
Being Wrong
But what if I'm wrong? What if new research comes out over time to refute my beliefs? What if research emerges showing that every repetition leads crunchers one microscopic step closer to disc herniation as the nucleus slowly works its way through the lamellae? What if upcoming research shows that squats lead to more improvements in sprint speed than hip thrusts due to increased leg spring stiffness? What if future studies show that general strength training methods involving the basics do just as good or better of a job than vector-specific training?
I will not feel embarrassed for being wrong. I'm proud of my current knowledge and my courage to state my opinion as I stick to what's true in my mind regardless of whether it will or will not make me popular with the mainstream. What's important to me is that I flow with science. Based on my knowledge of biomechanics, my experience training others, and my knowledge of the literature, I'm pretty confident in my beliefs.
But I will be the first to update my readers if new research emerges indicating that I'm wrong. I'll also be the first to update my readers if new research emerges indicating that I'm right. And if any of this research has particular strengths or weaknesses, I'll be sure to point it out to my readers. I'll also be sure to update my own training systems and change the way I train myself and others based on my new knowledge.
Confirmation Bias
Don't ever be too rigid in your beliefs that you quit adapting with science. I've realized some things about gurus that really turns me off. Most of them quit adapting. I think this has to do with the fact that many of them sell products, write articles, film videos, and teach workshops. Since they share their opinions in these mediums, it becomes difficult to say, "I was wrong." Nobody should be faulted for being wrong, but they should be faulted for ignoring evidence, putting on blinders, and refusing to grow.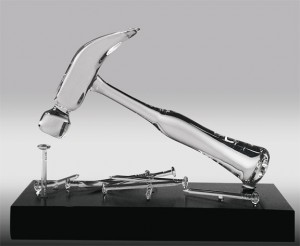 If all you have is a hammer, everything looks like a nail. Gurusim leads to confirmation bias and I try my best to avoid it. In case you don't know, this is Wikipedia's definition of confirmation bias:
Confirmation bias is a tendency for people to favor information that confirms their preconceptions or hypotheses regardless of whether the information is true. As a result, people gather evidence and recall information from memory selectively, and interpret it in a biased way. The biases appear in particular for emotionally significant issues and for established beliefs. For example, in reading about gun control, people usually prefer sources that affirm their existing attitudes. They also tend to interpret ambiguous evidence as supporting their existing position.
It's not that these gurus are jerks; they're not knowingly attempting to deceive, it's unintentional. Robert Maccoun believes that most biased evidence processing occurs unintentionally through both cognitive and motivative mechanisms.
When I speak at seminars and workshops, my attendees always seem to ask me a couple of questions. First, they ask what my opinion is regarding training the VMO, and second, they ask me what my opinion is regarding training the TVA. Let me tell you what my opinion is.
The VMO
I've read around twenty articles in the past two years that indicated that knee valgus and patellofemoral pain is linked to the hips, not the VMO. Before we go any further, just use some common biomechanical sense.
Do you think that this: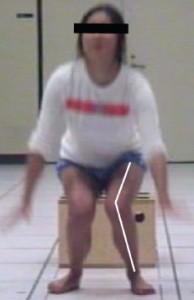 Is caused by weakness of this?: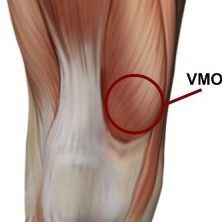 Or weakness of this: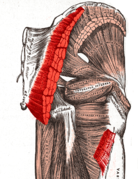 I know what makes more biomechanical sense to me, and I also know what I feel when I walk up stairs or squat while trying to keep my knees out.
Matt Fitzgerald discusses some of this in his article here, but there are literally dozens more studies, and to get an adequate grip on this topic you really need to consider the entire body of evidence. In fact, in a recent review paper titled Influence of the Hip on Patients With Patellofemoral Pain Syndrome: A Systematic Review, the researchers identified 15 worthy papers on the topic and this search was limited to September of 2010. Since then many more have emerged; a couple new ones every month on this topic. Researcher Christopher Powers does an amazing job explaining the biomechanics of knee injury mechanisms in his article titled The Influence of Abnormal Hip Mechanics on Knee Injury: A Biomechanical Perspective.
Having read all of these papers and trained some folks in this position with success, I can tell you some surprising things. It's not all about strength, it's about strength balances. It's not all about the gluteus medius, it's also about the gluteus maximus and hip external rotators. Finally, it's not all about strength, it has much to do with motor control (timing, patterns, etc.). One paper showed that simply telling runners to contract their gluteus maximus and envision their leg staying in a straight line when they ran led to improvements in running mechanics. I'm sure that the same is true for jumping and landing. This is not to say that knee valgus is only motor control related, as it's also related to strength, but the best outcomes will occur with a strengthening and kinaesthetic awareness/educational protocol.
One thing I'm pretty sure about is that it's not the VMO! The notion that the VMO even exists is debated in the literature in a paper titled Do the Vastus Medialis Obliquus and Vastus Medialis Longus Really Exist: A Systematic Review, and a review paper by the same authors found that the VMO cannot be preferentially activated over the VL here in a paper titled Can Vastus Medialis Oblique be Preferentially Activated? A Systematic Review of Electromyographic Studies. I've only seen one paper showing much of a difference in VMO activation relative to VL and that was when performing a squat while squeezing a Swiss ball between the knees. Do you really want to train that pattern? And the difference was something very small such as 8% if I recall correctly, which is not something to write home about.
My guess is that some coaches have had success with their training methods in curing patellofemoral pain because they're prescribing exercises such as Bulgarian split squats for the VMO, thereby training the hips and increasing lateromedial and torsional hip stability, all the while incorrectly attributing the methodology to the increased strength of the VMO. My take: don't give the VMO a second-thought in training. The quads get strengthened in proper balance through knee dominant training. Focus instead on hip dominant work, accessory hip exercises, and neuromuscular awareness.
The TVA
Moving on, we don't need to train the TVA with healthy people. It's true that I've read plenty of papers showing that the TVA doesn't function optimally when the low back is in pain. Injury and pain can cause certain inner core unit muscles to contract late in the game in regards to extremity motion, including the TVA and multifidus, and it may be important for physios to retrain these muscles early on in rehabilitation. In this case lower abdominal hollowing has been shown to be an effective route for isolating the TVA, and bird dogs can be used to train the multifidus. But this is for rehabilitation purposes, and the TVA might simply fix itself all on its own once pain subsides.
Hollowing for rehab is one thing, but hollowing for increased stability during heavy lifting is monumentally different. In 2007, Grenier and McGill found that abdominal hollowing was far inferior to abdominal bracing for stability purposes due to a reduction in the leverage in core muscles (rectus abdominis). I can't figure out why anyone would want to suck in their abs when performing heavy strength work – you want long levers for stability, not short levers. The researchers found that the TVA contributed a paltry .14% to the stability of a brace pattern, which is also nothing to write home about.
A recent paper by Stokes titled Abdominal Muscle Activation Increases Lumbar Spinal Stability: Analysis of Contributions of Different Muscle Groups, showed that further increases in TVA activation above normal levels of activation did not improve spinal stability. Furthermore, Cholewicki and VanVliet found in a study titled Relative Contribution of Trunk Muscles to the Stability of the Lumbar Spine During Isometric Contractions that all muscles are important for spinal stability; no muscle moreso than any others when considering different loading variables. My take: ignore the TVA if you train healthy individuals. The TVA gets trained in proper balance with every single action you perform that recruits the inner core.
Barking Down the Wrong Tree
One reason why all of this is so important to me is that if we continue to believe that we've got the criminal but we're wrong, then the true killer is a free man while we're oblivious. For example, if we attribute back pain to crunching then we may fail to examine potentially more important factors such as weak glutes. If we attribute knee pain to the VMO we may fail to examine potentially more important factors such as weak glutes as well. It seems that some experts would rather go down defending their original stances than educate their readers about new findings in the literature.
Mel Siff's Legacy Lives On
There are a bunch of trainers including myself who were highly influenced by Mel Siff. For those of you who don't know of him, he was the Elvis Presley of Sports Science. He could silence the cockiest of gurus. He didn't give a damn about popularity, he cared about advancing sport science. Many of my colleagues such as Keats Snideman, Joe Dowdell, Joel Jamieson, and Brad Schoenfeld, to name a few, were heavily inspired by Mel. Though Mel passed away long ago, there are a bunch of us who try our best to carry his torch.
I'm certainly not anti-guru as I'll be the first to admit that I've learned a ton from dozens of top trainers and coaches. I value the knowledge I've gained from these folks dearly. I would say that I am anti-arrogance, anti-bro science, anti-bullying, and anti-bull headedness.
The way I see it, if you're a guru and new research comes out suggesting that you might be wrong, you should be thankful for the researchers' efforts as it challenges you to become better. This is the way it should be: no egos, just the pursuit of excellence.
Hitch Your Trailer to Science, not People, and You Won't be Led Astray
My professor John Cronin always says to me and his other students:
This is what I know to be true today. It is subject to change next week as I continue to learn.
This is how a true scientist thinks, and we're all scientists whether we know it or not. The simple fact that you're reading this blogpost means that you're searching for answers, seeking knowledge, experimenting, and learning. What you believe to be true today will indeed be different from what you believe to be true five years from now. Be flexible in your philosophy. Be open-minded. Be skeptical.