This blogpost will be a bit different than my usual posts, but let's face it; sometimes life is full of good luck, and other times it's the other way around. Below are two excellent things to consider the next time you're down on your luck. The first is a quote from Charles Swindoll:
The remarkable thing is we have a choice everyday regarding the attitude we will embrace for that day. We cannot change our past… we cannot change the fact that people will act in a certain way. We cannot change the inevitable. The only thing we can do is play on the one string we have, and that is our attitude. I am convinced that life is 10% what happens to me and 90% how I react to it.
The second is from The Four Agreements by Don Miguel Ruiz M.D.
Don't Take Anything Personally Nothing others do is because of you. What others say and do is a projection of their own reality, their own dream. When you are immune to the opinions and actions of others, you won't be the victim of needless suffering.
When my luck is down, I try to envision a hypothetical conversation with Clint Eastwood that goes something like this:
Clint: Are you paralyzed?
Bret: No
Clint: Do you have cancer?
Bret: No
Clint: Do you have AIDS?
Bret: No
Clint: Did any of your friends or family recently die?
Bret: No
Clint: Are they safe and healthy?
Bret: Yes
Clint: Then man the hell up son! Your life is going pretty well.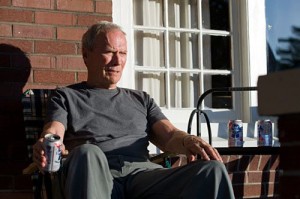 According to this site, half of the world lives off of $10 per day or less, so if you're earning far more than that be appreciative. In this study, researchers showed that happiness is not just having what you want, but also wanting what you have. Start focusing on what you do have rather than what you don't have. Most of us are pretty darn lucky if we take a second to realize it! https://www.youtube.com/watch?v=8r1CZTLk-Gk