Hi there fitness friends, I have a few random things to share with you.
1. Strength Physiotherapy Podcast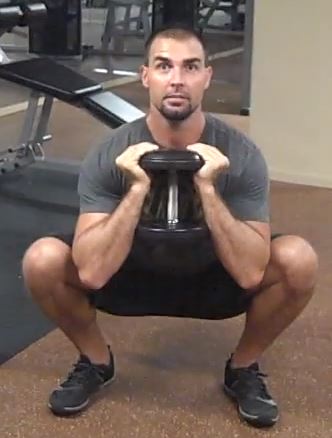 A UK physical therapist by the name of Chris Lendrum recently interviewed me for his Strength Physiotherapy Podcast. Physical therapists/physios – I recommend that you click on the link and subscribe to his newsletter so you can listen to his podcasts regularly. He asked some excellent questions – we covered personal training efficacy, glute training, functional training, sprinting mechanics, this whole "gluteal amnesia" thing, the ethics of palpating clients' glutes, assessing glute function, programming for glute development, proper hip thrust mechanics, the hip thruster, CNS fatigue, how to research, best research reviews, the 2 x 4 program, and more. You can listen below.
2. Perfect Squat Form
Brandon Campbell recently asked me to film a video on squat depth for his channel. Some of it is information repeated in a video I posted a couple of weeks ago, but I added in some new information and had Skelley make an appearance. Brandon helped me realize how crappy my camera and microphone is, so I plan on remedying that in the upcoming months. Check out the polite comments underneath the video; I didn't realize that this was possible on YouTube. Kudos to Brandon for creating such a culture. Here it is:
3. Don't Dis the Deadlift
My friend Tony Gentilcore just reached out to me and asked for my input on a blogpost. A physical therapist/Pilates aficionado was dissing the deadlift, so we teamed-up to put her in her place, respectfully of course. Click HERE to read her comment and Tony and my response. Here are some of my rebuttals to whet your appetite, but you need to read what she wrote in order to get the gist:
Most strength coaches borrow from Yoga and Pilates and incorporate various drills into their warm-ups and corrective exercise regimes. We'll use anything that's effective, as S&C is all-encompassing. The same cannot be said of trendy modalities that pick and choose what's included and what's excluded and fail to tailor programming to the goals and needs of the individual. Pilates can definitely be progressive in nature and isn't always "wussy," but if maximum power, strength, or conditioning is the goal, then you're going to have to jump, sprint, lift heavy, and move around more. 

Agree! Perhaps you'd be interested to know that the highest bone densities ever recorded are in powerlifters (see 

HERE

 and 

HERE

), and that high load exercise is more effective than low load exercise in increasing bone density (see 

HERE

). 

Do you have any research to support your claim that deadlifting with a neutral posture leads to disc herniation? I'm very well-versed in spine research, and I'm unaware of any such research. I believe that with proper deadlifting, the erector spinae will be strengthened, the vertebrae will be strengthened, and the discs will be strengthened too, in concordance with Wolff's law of bone and Davis's law of soft tissue. 

Nevertheless, the spine is very good at handling compressive loads when in neutral postures, and shear loading is limited in neutral spine deadlifting as well. If you round your spine close to full flexion when deadlifting with heavy loading, then lumbar intervertebral discs can indeed herniate and ligaments can be damaged. However, now we're talking about a different exercise (roundback deadlifting, not neutral deadlifting). An exercise is judged based on how it's supposed to be performed, not how jackasses screw it up. We could also speculate about the effects of performing Pilates maneuvers with improper form, but this wouldn't imply that the exercises should not be performed with proper form.

If you're going to deadlift, you better hold your breath until you pass the sticking region. Failing to do so would reduce IAP and therefore reduce spinal stability, which could compromise spinal posture and lead to injury. I agree that IAP will be extremely high during deadlifting. However, strength coaches first introduce deadlifting to clients with light loads, ensuring proper mechanics. Each week, loads are increased so that the body has the ability to build up in strength. This is the essence of progressive resistance training. We also program multiple exercises that will further strengthen the abdominals, the erectors, and the glutes, which will further help prevent injury. 

I'm aware of no research showing that deadlifts lead to increased incidents of hernias. You can speculate that deadlifters might be at greater risk for experiencing hernias, but the role of exercise and occupational lifting on hernia risk has been debated, with both sides providing great arguments (see 

HERE

 for references).  In my experience as a personal trainer for well over 15 years, I would say that proper deadlifting does not significantly increase hernia injury risk. 
When you deadlift, the muscles of the TVA, multifidus, diaphragm, and pelvic floor (sometimes referred to as "innner core unit" muscles) contract to produce IAP. Essentially, a pressurized cylinder is formulated via contraction of each of these muscles (a few more assist, but this is beyond the scope of this article). The pelvic floor muscles draw upward and inward, which increases the IAP and stabilization. As you can see, the pelvic floor muscles will be strengthened and not stretched out. Women tend to notice improvements in incontinence after learning proper resistance training, including deadlifts. If their pelvic floor muscles draw outwards, then they are exhibiting a dysfunctional pattern and need to be taught proper pelvic floor biomechanics. Research shows that 78% of women who exhibit flawed pelvic floor mechanics can properly contract the pelvic floor muscles after basic instruction (click 

HERE

 for an article on this topic). Women who properly contract their pelvic floor musculature will properly stabilize during deadlifts, Pilates, and other exercise. Women who don't will improperly stabilize during deadlifts, Pilates, and other exercise. The IAP doesn't blow the pelvic floor outwards during the deadlift like you propose, nor does it force the diaphragm upwards. Rather, it's the proper mechanics of the core muscles that creates the high IAP. 

In summary, you have failed to issue an evidence-based response, and I believe that your unfamiliarity with the deadlift exercise is biasing your beliefs. Just as you recommended that Tony give Pilates a try, I recommend that you start learning about deadlifts and experimenting with them in the gym. From the various hip hinging drills, to single leg RDLs, to partial deadlifts such as rack pulls and block pulls, to full range deadlifts such as conventional, sumo, and trap bar deadlifts, to various variations such as Romanian deadlifts, stiff leg deadlifts, and snatch grip deadlifts. 

Since you're making the claims that proper deadlifts damage discs, abdominal walls, and pelvic floors, the burden of proof is on you. You can speculate all you want, but bear in mind that if this were true, all powerlifters would have wrecked spines, hernias, and incontinence. This isn't the case at all; quite the opposite. But they're loading the spine to the maximal limit. Research shows that there's a u-shaped curve with regards to low back pain and exercise. Sedentary folks and individuals who perform strenuous exercise have increased pathology and low back pain, whereas those in the middle are more healthy and comfortable (see 

HERE

 and 

HERE

). Therefore, a few days of strength training per week utilizing basic strength training exercises such as squats, deadlifts, hip thrusts, planks, push-ups, and rows will generally improve back health and structural integrity. 
 4. My Badass Mom

Here's my badass mom doing her weekly lower body workout. At 62 years old, she stays fit by walking three miles per day, but she also does her weight training one day per week. If we all regularly performed exercises like goblet squats, kettlebell deadlifts, band hip thrusts, single leg hip thrusts, back extensions, kb swings, and reverse lunges as we aged, we'd be a much healthier and fit nation.
I hope you enjoy the content!