Hi Bret, I've been following your blog for a while, and it's filled with great information on glute training. I dig the whole hip thrust thing, but to be honest I'm just not feeling them! I've been performing hip thrusts for two months now, and I feel them mostly in my quads, not in my glutes at all. Am I doing something wrong? I look forward to your response. – Dan
Hello Dan! Great question, and I'm glad you asked this for three reasons. First, I addressed Hamstring Dominance (read this if you haven't already) seven months ago, so it's about time I address Quad Dominance. Second, there are a lot of people who find themselves in this situation, so it's an important question. And third, I just recently figured out an excellent solution. Here you go:
1. Do Feet-Elevated Bridging While Pushing Through the Heels (Heel Elevated Glute Bridge)
Some trainers/coaches out there who figured this out long ago will laugh at me for this (being that I'm The Glute Guy and all), but I just recently realized the value of heel-elevated bridging. These were very popular long before I came around. My EMG research showed that shoulder-elevation was better for glute activity, which makes sense as at the top of the lift, the hips are holding up a greater percentage of bodyweight due to the angle of the body (similar to a feet-elevated push-up versus a torso-elevated push-up).
But there are many lifters who feel hip thrusts mostly in their quads. The shoulder-elevation greatly increases quadriceps activation. As a matter of fact, here's a chart showing mean and peak EMG data from an experiment I conducted a few years back with hip thrusts versus barbell glute bridges:

With 90 less pounds, the hip thrust still activated 35% more mean quad and 75% more peak quad.
With the heel-elevated variation, you're taking the quads out of the lift for the most part, in addition to increasing the functionality of the hamstrings. In this variation, the hammies have to function as isometric knee flexors to prevent knee extension, in addition to extending the hips in concert with the gluteus maximus. And this knee-flexion component is even more pronounced when you push through the heels (rather than placing your feet on the edge of the bench and pushing through the forefeet) as shown in the video below.
Moreover, since the top range is more unloaded for the hips compared to the shoulder-elevated version, the motor control aspect is easier for the glutes. In other words, it's easier to control glute functionality with lighter loading since compensation patterns are less likely to emerge. Lifters who struggle to squeeze the glutes at end-range or who struggle to engage in a slight posterior pelvic tilt will find it easier in this variation compared to the shoulder-elevated variation.
This is Diana; a quad-dominant hip thruster. She feels hip thrusts mainly in her quads, and it isn't until the very end of the set where she actually feels the glutes doing anything. She's able to hip thrust 155 x 20 reps, but she doesn't feel the burn in her glutes or get a glute cramp or glute pump when doing them.
Compare that to the heel-elevated glute bridge. She cramps up and is burning like crazy with only 30 bodyweight repetitions. She feel her hammies doing around 30% and her glutes doing around 70% of the lift, but more importantly, she feels the quads doing 0% (nothing).
Therefore, she gets more out of 30 bodyweight heel-elevated glute bridges than she does with 20 barbell hip thrusts with 155 pounds of external loading.
This variation should initially be prescribed to all lifters who feel hip thrusts mostly in their quads.
2. Don't Go Up in Weight So Fast
Many lifters see my Youtube videos and then rush their hip thrust progression. They might watch one of my female clients busting out 225 pounds and then jump right into heavy barbell loading. What they don't realize is that it might have taken me 6 months of consistent progressive training to help them reach that point.
Make sure you feel it in the glutes, and progress gradually, making sure to never lose that glute connection.
4. Consider the Barbell Glute Bridge, or a Hip Thrust from a Shorter Box
The less shoulder elevation, the less quad activation. So barbell glute bridges, or hip thrusts off of a smaller box (like an aerobics step with 2-4 risers) will help keep quad activation at bay.
5. Toy Around with Different Positions: Try Widening the Stance, Turning the Feet Out, Dorsiflexing the Ankles, and/or Posteriorly Tilting the Pelvis
You may benefit from tinkering with form which might put your glutes in a more advantageous position to fire maximally. Some folks benefit from slightly widening their stance, some folks benefit from turning their feet out slightly. Some folks benefit from picking the toes off the ground (ankle dorsiflexion) and pushing through the heels, but this probably won't help much with the hip thrust as much as it might in a glute bridge. Finally, some folks benefit from posteriorly tilting the pelvis at the top of the lift (see this link for a good explanation of PPT). Try these techniques and see if you like any of them.
6. Static Stretch the Hip Flexors First
If your hip flexors are tight, stretch them first so you can reach end range hip extension and get into the zone of maximal glute activation. Many people have tight hip flexors, but not all people do. Stretch the psoas and the rectus femoris (2 different types of stretches) if need-be.
It may also be wise to stretch the hip flexors for other reasons; you may be able to inhibit them a bit and create some slack to make things easier for the glutes. Here's a video discussing hip flexor stretching:
7. Worst Case Scenario – Just Stick With Heel-Elevated Progressions
Stick with the above advice for a while. When you feel that you've achieved good mastery, go back to hip thrusts and give it another whirl. See if it's helped your glute activation. For some lifters, the problem will have solved itself and they'll feel the glutes firing during hip thrusts. Other lifters won't be so lucky – no matter what, they'll always feel hip thrusts primarily in their quads.
In this case, stick to heel-elevated variations (or perhaps just the barbell glute bridge and single leg glute bridge). You can indeed use a barbell with the heel elevated glute bridges, but if you go this route use a smaller box and make sure you don't allow the bar to roll downward. Moreover, you can do single leg heel-elevated glute bridges. Don't underestimate these variations! Many coaches such as Nick Tumminello, Mike Boyle, Joe DeFranco, and Martin Rooney have been doing these for quite some time with success. See below for a simple loading method (plate on the shin of the opposite leg).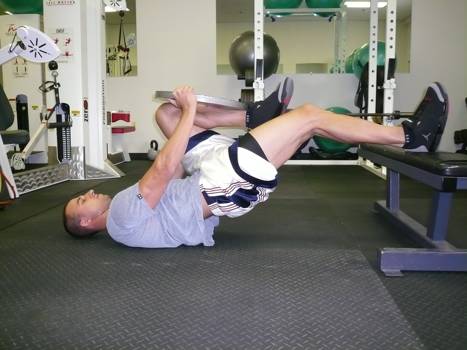 So you have plenty of good options, just don't give up on those glutes! Best of luck.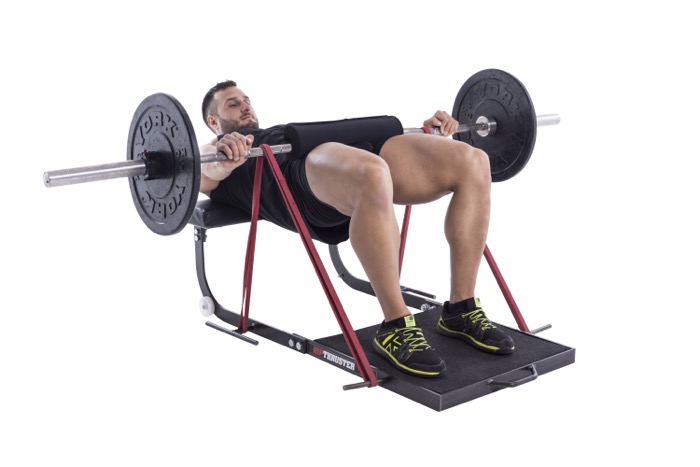 The Hip Thruster is the best way to do the hip thrust – stable and versatile!