Today's guest blog is by Marianne Kane; an Irish fitness blogger and all around good person.
A Strong Butt is a Beautiful Butt: One Woman's Journey to Gluteus Magnificus
By Marianne Kane
When I began my fitness journey my only real goal was to be lean and have a six-pack. Sound familiar? Well as time has passed this goal seems irrelevant and shallow. Now, what I want is to build a body that will stand the test of time and do me proud by focusing on what I can do and how well I can do it, IN ADDITION to reaping aesthetic benefits as a bonus.
This was a key realization for me because in getting good at exercises from the basic level to advanced and getting stronger in the process, your body shape changes to reflect your training. It's like the saying "you are what you eat", the same principle can be applied to the type of training you do. My body is the sum of my hard work but, without a thirst for knowledge and understanding of the how's and why's about training with purpose, I would not be talking to you today about my most valued achievement – my Booty!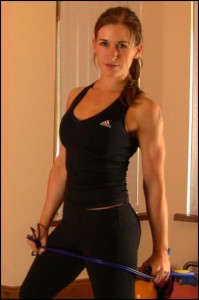 My "Glute Journey" began when I realized that despite having a naturally decent shape, my glute muscles were weak and seriously imbalanced. Unknown to me at the time, this was affecting every aspect of my training.
In 2007 I began weight training in an attempt to strengthen my body and fight the symptoms of my Ankylosing Spondylitis (an inflammatory Arthritis), which mainly affected the SI Joint causing many painful muscle spasms and knots (mostly in the glutes). Exercising was difficult, but I was determined not to let it beat me.
Over time what I discovered was that although I was lifting more weight in my squats, deadlifts and lunges, my form never really improved and I often had pain in my back or my knees. I was oblivious to the importance of the glutes in moving correctly until I met the kettlebell (and trained to be a KB Instructor). This training opened my world to the ideas of "glute activation", "corrective techniques" and the "hip hinge".  After over a year of training with KBs, I noticed a huge difference in my overall stability, mobility, flexibility and strength. Not only was I moving better, I was pain-free in doing it. From this point on my glutes started to shape up, by wakening up.
About 8 months ago I was introduced to Bret's blog and after reading his great articles, watching his videos and laughing at his random thoughts, I realized just how important the glutes are in everything we do. I decided it was high time I gave my butt some real attention.
Watching the amazing women that Bret trained and the strength that they gained, I was hooked on strength training again. Being totally blown away by what these other ladies could do, I wanted to get in on the action and pass on the best knowledge and advice to my own blog readers. By focusing on proper form, full range of movement, and regressions and progressions in every exercise, the quality of my workouts improved, as did the results!
Following my interview with Bret just a few months ago I took his advice and began including the Hip Thrust into both my blog workouts (www.myomytv.com) and my own training. After just a few weeks, I started getting comments from people saying that my butt had got rounder, firmer and looked so much better! My Beloved Behind always had a good shape as I said, but people were really starting to see a difference. Not only that, but my squats, deadlifts, kettlebell swing and many other exercises all started to improve, both in form and in strength!
The glute bridge and hip thrust exercises are the reason my glutes are as strong and aesthetically pleasing as they are today. People who know me will also know I am not one who believes that changing a physical attribute will make you happy, as I discovered with my "get lean and get a six-pack" goal back in the day. What I have come to appreciate is that happiness does come from seeing results and knowing that your hard work is paying off. There is nothing more rewarding than seeing your training result in shaping your body to reflect progress and strength. Not only that, but as a female, my new curves make me feel so feminine and sexy. What woman doesn't want curves that could kill? And what man could resist them …[Bret's note: Guilty as charged; I'm all about the curves]
Basically, these bridging variations have taken my butt to a whole new level; a level I couldn't reach with squats, deadlifts, lunges, or kettlebell exercises. They're a vital ingredient to the glute-sculpting puzzle, and I believe that all women (and men for that matter) seeking sexier glutes and improved athleticism should be doing them on a regular basis. See this booty below doing some heavy glute bridges.
So ladies, if you want your booty to look better, focus on making it work better first through simple low-load exercises and then start moving up the progressions and performing more advanced variations. If you do this, everything will fall into place.
After all … A Strong Butt is a Beautiful Butt!
Cheers
Marianne