Many individuals wake up with low back pain. Sometimes this pain can be prevented. When individuals sleep on their stomach, the lumbar spine can go into excessive hyperextension. This jams the posterior elements of the spine together which can lead to pain.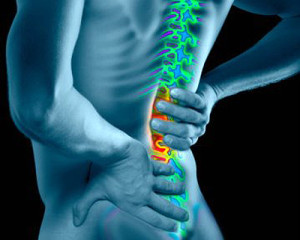 In order to prevent this from happening, perform a posterior pelvic tilting action prior to lying down. Simply lift the body upward and squeeze the glutes as hard as possible, then lay back down. This new position will "grip" and the spine will be in a more neutral position, which will prevent the posterior elements from jamming together.
I've had a few clients over the years inform me that this simple tip was a life-changer for them, so I figured it was worth posting as a blog in case others out there could benefit from it. Here's a 20-second video showing how it's done:
There are plenty of other beneficial strategies for alleviating low back pain when sleeping. Placing pillows underneath the abdominals when sleeping on one's stomach, in between the knees when sleeping on one's side, and/or underneath the legs when sleeping on one's back can work miracles too, as can avoiding problematic positions altogether. Finding optimal mattresses and pillows can be life-savers as well.
Don't just accept low back pain as part of life – be proactive about it and figure out solutions. Sleep should go hand in hand with your strength training endeavors, not work against them!