In the last Strength of Evidence Podcast Episode, Ms. Jenny Sinkler, Jon Fass and I discussed exertional rhabdomyolysis. I confessed to not being comfortable with my familiarity of creatine kinase levels following various training protocols. Just recently I stumbled across a brand new study involving the infamous University of Iowa incident from 2011. I decided to review the study along with a couple dozen others in order to educate myself on the topic. I'd like to share with you my findings. Near the bottom of this article is the information from the new study involving the University of Iowa.
What is Exertional Rhabdomyolysis (ER)? 
Here's a chart from THIS paper that summarizes ER: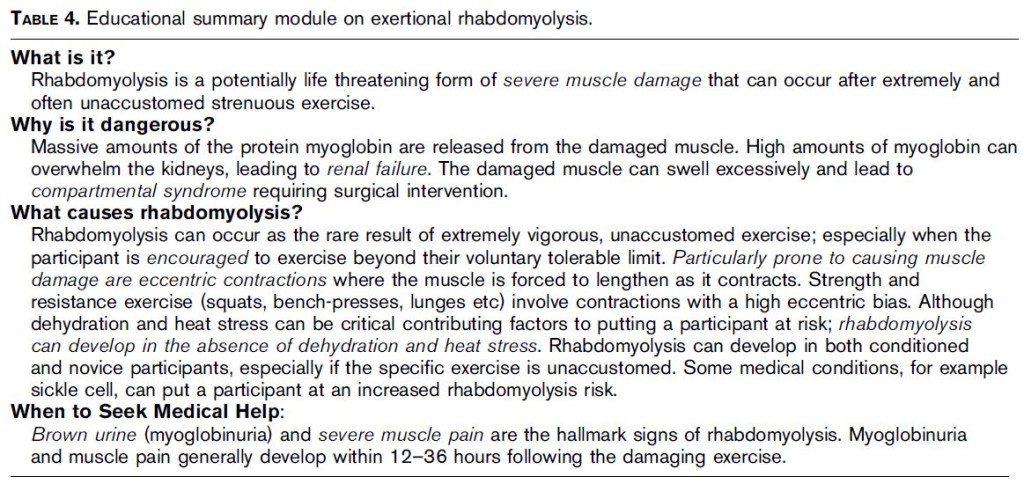 What is the Best Indicator of ER?
There are several things that doctors will look at, including creatine kinase (CK) levels, creatinine, myoglobin, and various ratios of these. CK appears to be the gold standard, but as you'll see below, there's more to the big picture than just examining CK.
High Variability with CK Levels Following Exercise
While CK is the most commonly used indicator for ER, there is high variability between subjects. In fact, there are "high-responders" and "low responders," in terms of CK output following damaging exercise.
For example, THIS study ran two experiments: one where subjects did 20 minutes of stepping exercise (one leg did concentric step ups and the other did eccentric step downs), and another where subjects kept exercising until failure. There were three subjects in the latter group, with one lasting 50 minutes, another lasting 60 minutes, and the other lasting 120 minutes. The subject who lasted 50 minutes had a CK level of 34,500 mU/mL, the subject who lasted 60 minutes had a CK level of 1,698 mU/mL, and the subject who lasted 120 minutes had a CK level of 2,643 mU/mL. This shows that the same workout produced 20X higher CK levels in one subject than another.
Moreover, THIS paper reported a subject who experienced ER who had a CK level of only 700 IU/L, so high CK levels aren't necessary for ER diagnosis. Finally, THIS paper showed that 9/12 football players exhibited over 10 times their baseline levels of CK (average of 5,125 IU/L) during ten days of 2 practice/day sessions over the preseason, yet none were hospitalized for ER, complained about symptoms, or had to suspend activity.
Therefore, it's important to look at other criteria for ER such as urine color, muscle pain, nausea, weakness, headaches, difficulty with movement, decreased joint ROM, cramping, and swelling.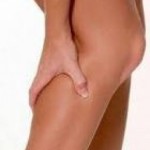 Estradiol and CK
THIS study shows that estradiol exerts a protective effect on muscle damage and can decrease elevations in CK, indicating that women will experience different results depending on where they are in their menstrual cycle. THIS paper states that based on the available evidence, women don't experience less muscle damage than men, but their inflammatory response may differ.
What are Normal Creatine Kinase Levels, and How do Gender and Race Affect These Levels?
In THIS study, normal creatine kinase levels were shown to range from 19-155 IU/L in adult women. It appears that gender race affect CK levels, with men showing higher values than women and blacks showing higher values than Asians, Hispanics, and whites.
THIS paper shows that black men had levels of 147 IU/L, white men 61 IU/L, and Hispanic men 85 IU/L. For women it was 66 IU/L, 37 IU/L, and 42 IU/L for black, white, and Hispanic women, respectively.
THIS paper involving a huge sample size showed that within each ethnic group, men had higher median creatine kinase levels than women: African Americans, 135 versus 73 IU/L; whites, 64 versus 42 IU/L; Hispanics, 69 versus 48 IU/L; and South Asians, 74 versus 50 IU/L.
What are Typical Creatine Kinase Level Increases Following Exercise?
Now I'll point out some studies that have been conducted in the literature.
THIS study showed that 30 hours post marathon, average CK values were 2,213 IU/L with one person showing a maximum of 12,950 IU/L. 
In a 246 kilometer continuous race lasting under 36 hours, THIS study showed that CK levels were 43,763 IU/L (before the race they were 178 IU/L). Ranges appear to be between 10,000 and 170,000 IU/L.
THIS paper showcased a 16-year old boy who did 62 crunches in 3-5 minutes as part of a physical screening and got ER. His CK values were 13,180. It also showcased a 17-year old boy who played soccer, got ER, and experienced CK levels of 9,056 IU/L. 
THIS 12-year old boy was punished for talking in class and had to perform 250 squat jumps. He experienced ER, and four days later his CK levels peaked at 244,006 IU/L.
THIS bodybuilder with ER had CK levels of 76,080 IU/L. THIS bodybuilder with ER had CL levels of 70,962 IU/L.
THIS bodybuilder decided to take 80 grams/day (16 times the daily amount) of creatine for four months and ramp up his training to 2 daily sessions for 10 days prior to a competition. He experienced ER and had CK levels of 39,900 IU/L.
In THIS paper, a personal trainer chose to keep pushing a female client to train harder despite having to help her walk to a machine and her requesting to quit. She experienced ER and her CK levels peaked at 234,000 IU/L. This same paper showed another example of a personal trainer prescribing a new sedentary client three sets of four rowing movements, three sets of two biceps exercises, and abdominals, then the following session he trained chest and triceps in a similar manner. He vomited after the sessions, experienced ER, and had CK levels that peaked at 70,158 IU/L.
THIS paper had subjects perform 2 sets of 25 maximal eccentric biceps curls done in rest-pause fashion with a 3 second repetition followed by 12 seconds of rest in between reps (and five minutes in between sets). This is pretty crazy – it wasn't until 5 days later that extreme swelling was noticed. Isometric force continued to drop until the 6th day, where he only exhibited 11% of his original strength. Nineteen days later he still had a 55% loss of force, and by day 47, he still hadn't regained his original strength (9% loss after 47 days).
HERE is a study done on swimmers – subjects alternated between a minute of push-ups and a minute of squats for 10 straight minutes. The next day they did a 40-minute upper body circuit, and the day after that they did a max pull-up test and abs. Seven of the swimmers experienced ER, and CK levels ranged from 14,417 IU/L to 157,700 IU/L.
In THIS paper military recruit had been sedentary for 6 months and then performed a 5 kilometer march while wearing an 18 kilogram rucksack, then did 50 push-ups and 50 sit-ups. He experienced ER and his CK levels peaked at 296,000 IU/L.
THIS paper showcased a 16-year old wrestler who performed 60 min of wall-sits, squats, sit-ups, push-ups, lunges, and plyometric jumps. The next day, the athlete performed a bunch of running drills. His was hospitalized with ER and experienced peak CK levels of 146,000 IU/L.
In THIS article, 8 female lacrosse players performed 3 x 20 rep dumbbell curls with 15 lbs in each hand (one player used 10 lbs). All 8 athletes experienced ER and had CK levels ranging from 4,287 to 28,247 U/L.
THIS football player was fine until he did a cold-water plunge, which set of severe muscle cramps. His was hospitalized with ER but only had CK levels of 2,545 IU/L.
THIS study showed that an American football player with ER had CK levels at 130,899 IU/L. The training session that led to the ER was 10 sets of 30 rep band-resisted squats with one-minute rest in between sets, followed by 30 reps of RDLs, shrugs, and curls.
In THIS paper, a high school football team in Oregon was told by their coach to perform a 4-5 minute partner drill where subjects supersetted chair dips with push-ups. Twelve players were hospitalized with ER, 6 of the players had CK levels over 10,000 IU/L, and the other 6 had CK levels over 20,000 IU/L.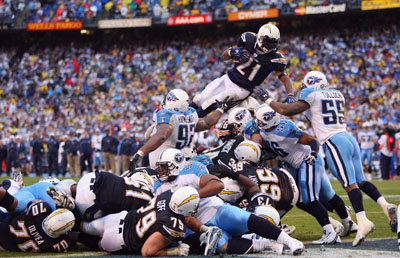 When to Return to Training
THIS paper recommends waiting until CK levels drop below 5,000 IU/L to gradually start participating in training again.
The Infamous University of Iowa Incident
And now I'm going to review the recent study HERE invoving the University of Iowa.
Essentially, after a 3-week break following a bowl game, the players performed their first week of workouts consisting of the following:
Jan 20, 2011
15 min warm-up

Snatches 3 x 3 with 65, 70, and 75% 1RM
Parallel squats 100 reps with 50% of 1RM (as many sets as needed to complete)
Sled pushes 5 x 20 yds with 180-240 lbs
Pull-ups – max reps with body weight
Dumbbell rows 3 x 12 with 65% of 1RM
Cable push-aways 10 reps
Abdominal cable pulldowns 2 x 10 reps
Blast strap rollouts 2 x 10 reps
Jan 21, 2011
15 min warm-up

Bench presses 100 reps @ 50% of 1RM (as many sets as needed to complete)
Back extensions 5 x 10 reps with body weight
Abdominal cable pulldowns 15 reps
Jan 24, 2011
15 min warm-up

Hurdle hops 3 x 3
Hang cleans 1 x 2 with 70% 1RM, 1 x 2 with 75% 1RM, 3 x 2 with 80% of 1RM
Incline presses 1 x 5 with 70% 1RM, 4 x 5 with 75% of 1RM
Romanian deadlifts 5 x 5 with 75% of 1RM
Pull-ups 3 x 10 reps with body weight
Overhead press 3 x 10 reps with 60% of 1RM
On this day (Jan 24), several players visited the athletic training staff presenting dark urine, severe muscle soreness and swelling, and abnormal gait. The trainers sent out a mass text encouraging any affected players to report to medical staff. Nine players were admitted to the hospital for ER, and ten volunteered data for this particular article. The ten players' CK levels were as follows:
96,986

115,819
127,413
143,055
166,991
179,509
227,821
233,167
264,363
331,044
Average CK levels were 188,617 IU/L, with a min of 96,986 and a max of 331,044. Players were treated with IV's and were released 4-6 days later, their CK values were still approximately 10,000 IU/L upon discharge. Two weeks later, players were asymptomatic and had CK levels between 100-700 IU/L. Around 14-24 days following discharge from hospitalization, players gradually began training again. All players reported that the squat workout was the most difficult workout they'd ever performed.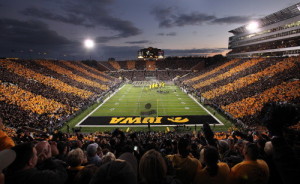 Take-Away Points
Ironically, I wrote much of the same advice I'm about to mention two and a half years ago (before the Iowa incident occurred) HERE. If you're a coach or personal trainer:
Do not have your athletes do insane workouts without gradually familiarizing them with it first. For example, let's say you want them to do four sets of 20 rep squats with a load equal to their own body weight. Have them do one set of 20 the first week, two sets the second week, three sets the third week, and four sets the fourth week. Or, have them do four sets of 20 with 25% body weight the first week, 50% body weight the second, 75% the third, and 100% body weight loads the fourth. 

Ease athletes into any new methodology or exercise. This goes for cardio, HIIT, endurance, max strength, power, and speed work.
Do not use exercise as punishment. Prescribe the amount that you planned for (training sessions should be planned) and no more. Feel free to do less though depending on athlete biofeedback.
Don't start off your season with 2X/days practices. Start off the first week with one session per day and ramp up to two per day the following week.
Don't assume that your athletes stayed conditioned over the off-season or during breaks, or that they performed "homework" exercise as prescribed.
Listen to athletes and clients – if they feel like something is wrong or "off" during the training session, they're probably right.
Build your athletes and clients up gradually. Don't be overzealous and push them too hard too soon.
Make sure you can rationalize your programming. There's nothing wrong with just doing 3 sets of 5-10 rep squats with heavier loads; most sports don't require 60 seconds of non-stop squatting (or push-up) endurance.
Pay attention to the eccentric component to your programming as it takes a greater toll on the muscles than the concentric component. 

 

Small muscle groups can get compartment syndrome and isolation movements can trigger ER. Don't assume that "smaller" movements aren't dangerous – biceps, triceps, and ab exercises have each shown to produce incredibly high CK levels following damaging workouts.
Crazy eccentric workouts can cause so much damage that it takes over a month to return to baseline strength levels.
Excessive damage is overrated and causes stagnation. Err on the side of caution.
Some athletes are more prone to muscle damage than others – it's your job to learn this about your athletes and adjust programs accordingly.
High-rep resistance training and high-rep plyometrics appear to be the most risky forms of exercise for ER; higher than heavier training and endurance training.
Before ever prescribing a workout, do the workout yourself.
Educate players about ER so they know to report symptoms right away.
I'll leave you with a quote from the late, great Dr. Mel Siff:
To me, the sign of a really excellent routine is one which places great demands on the athlete, yet produces progressive long-term improvement without soreness, injury or the athlete ever feeling thoroughly depleted. Any fool can create a program that is so demanding that it would virtually kill the toughest Marine or hardiest of elite athletes, but not any fool can create a tough program that produces progress without unnecessary pain.