With Thanksgiving two days away, I felt it would be appropriate to post a special blog listing fitness-related things that I'm thankful for. Here they are in no particular order of importance:
1. Having a Fully Functioning Body
Even though I'm not genetically-gifted in terms of bodybuilding or powerlifting, the mere fact that my body is healthy and I can perform full-body compound barbell exercises several times per week makes me incredibly happy. Many individuals are not so lucky.
2. The Literature
Over the past few years I've gained a huge appreciation for the literature. I've even grown to love the peer-reviewed process. At first it's daunting, but over time you start to make sense of the progression of knowledge in a particular area, which keeps you grounded and focused.
Countless strength coaches, trainers, and lifters put their entire faith in gurus, but experts are all-too-often wrong. Many put their entire faith in textbooks, but textbooks are comprised of author's interpretations and opinions and are highly subject to error. Being grounded in the literature makes the most sense to me, in addition to understanding the scientific method and hierarchy of knowledge. Though the literature isn't perfect, it's the best system we got!
3. The NSCA
There are many reasons why I'm a huge fan of the NSCA. Their conferences, their certifications, and most of all their journals. The JSCR and the SCJ are incredible, and each month they include relevant information for lifters, trainers, and coaches. As a matter of fact, next month's SCJ is going to kick some freakin' butt (check out the articles published ahead of print HERE)!
4. Brad Schoenfeld
Brad and I have published many articles together over the past few years, and we've just gotten started. We are now performing original research which is quite rewarding. My weekly conversations with Brad are priceless. Furthermore, Brad might just be the best scientific fitness writer in the world. I'm very lucky to have met someone who is more interested in hypertrophy than I am and who exemplifies the true essence of critical thinking.
5. Ben Bruno
I love talking training with Ben. He and I have very similar thoughts regarding strength training, and he has a real knack for understanding program design and exercise variations. Our weekly conversations are also priceless. It's so nice to have close colleagues who share the same passion for heavy and intense lifting.
6. Facebook
Everyday, Facebook allows me to interact with fellow lifters, writers, researchers, and athletes. It allows me to stay current with popular trends, and it allows me to spread my message to my readers and friends. And I have special pages for various purposes; I have a regular page, a fitness page where I post most of my links to good articles, a page for my research review service, and a page for my podcast. Social media is changing the world.
7. Twitter
Just like Facebook, Twitter allows me to do interact and spread my message to thousands of fellow lifters, writers, researchers, and athletes. It allows me to stay current with what all my favorite writers are up to as well.
8. Youtube
Once upon a time, we had to actually attend competitions, seminars, and buy VHS tapes if we wanted to see footage of Strength & Conditioning, Powerlifting, Weightlifting, Bodybuilding, or Strongman practices. These days, Youtube allows for a much greater understanding of exercise form. If a picture says a thousand words, then a video says a hundred thousand words!
9. The Internet for Researching
Pubmed, Google Scholar, online University libraries, and various fitness websites and blogs make researching a million times easier than it was a couple of decades ago. Researchers back in the day actually had to attend libraries to get their learn on!
10. Scientists
With the internet sort of resembling the Wild, Wild West, it's very difficult to separate fact from fiction. I spend a portion of each day responding to emails and blog comments pertaining to "guru science" (stuff that gurus think but don't really know). As I've matured as a fitness writer, I've grown to appreciate the scientists, the critical thinkers, those who understand the scientific method, and evidence-based practitioners. If the various experts were more scientific, I wouldn't have to spend so much time correcting inaccuracies or pointing out speculation vs. solid evidence.
11. Chris Beardsley
I can't say enough about Chris. Without Chris, my research review service simply wouldn't be possible, nor would any of the products we're releasing. Chris is one of the most competent individuals I've ever met, and I've finally found someone who is equally as interested in Biomechanics as I am!
12. Jonathan Fass
Jon is someone I've looked up to for a long time. He's one of the most natural speakers I've ever met, and he's not afraid to speak his mind. He is a critical thinker and an evidence-based practitioner, a very intelligent person in general, and I'm very happy to have him as a teammate for my podcast. FYI, Jon and I are recording episode 3 this week so stay tuned!
13. Alan Aragon, Eric Helms, and Layne Norton
These three guys have taught me a ton about nutrition science, contest prep wisdom, and aspects pertaining to physique enhancement. They are incredibly bright, they walk the walk, and they are highly unselfish with their knowledge. These guys have worked very hard to advance the industry's scientific understanding surrounding nutrition for hypertrophy, body composition, and fat loss goals.
14. John Cronin
I'm very proud to have John Cronin as a mentor and supervisor for my PhD. He has taught me very much and has encouraged me to stand up to fitness bullies in the name of scientific advancement. I keep playing back in my mind the conversations I shared with John last year and they're priceless. Everybody should have a mentor (or two, or three).
15. Jason Silvernail
Jason is a top-notch researcher and practitioner who is well-read in the field of Physical Therapy. In particular, Jason has helped advance the industry's knowledge pertaining to pain science. I've learned a lot from Jason about topics related to chronic pain.
16. Like-Minded Fitness Friends
It pleases me beyond measure that there are thousands of people out there who are just like me; who love training glutes, who love lifting heavy, who love Sports Science, and who don't feel right if they don't get their weekly fix of exercise. Makes me feel normal!
17. Bloggers and Writers Whom I Learn From
There are too many people to list, but it's a pleasure to learn from fitness folks like Joe Dowdell, Mike Robertson, Nick Tumminello, Tony Gentilcore, Martin Rooney, JC Santana, Chad Waterbury, Christian Thibaudeau, Smitty Diesel, Joe DeFranco, Dan John, Pavel Tsatsouline, Jason Ferruggia, Tim Henriques, Gray Cook, Craig Leibenson, Mike Reinold, Stu McGill, Stu Phillips, and many more (of course, the other folks I mentioned in this post too). I know I'm forgetting a ton of folks but you get the point…
18. The Glute Squad
I have such fondness for my Glute Squad. They've taught me a ton about how strong women's glutes can get and about female training, and I've had an incredible time in the process. Seeing these ladies compete on stage makes me so proud it's hard to describe.
19. Kellie Davis and Marianne Kane
Kellie and Marianne are the two best female glute experts in the world in my opinion. They pay close attention to the glutes during resistance training, they experiment with all the exercises, and their clients obtain incredible results. I'm very happy to be friends with these two ladies. I'm pleased to have Kellie as my co-author with Strong Curves, and I'm proud to be coming out with a Video Gluteal Workout series with these two ladies in the near future.
20. My Life
I was talking to my colleague the other day and he said, "Bret, you've got the life." Too often I take it for granted, but I really do have the life. No boss. I don't wake up to an alarm. I spend my days reading, training, and writing about fitness – doing what I love. And I get to speak to many of the world's best coaches and researchers on a regular basis. It's a damn good life, even if I don't always take the time to notice.
21. TNation
It's a huge honor to write for TNation; the best damn fitness website on the net. Years ago I dreamed of being a contributor, and now I'm a regular. A majority of the best strength & conditioning writers write for TNation, so I always make sure to do my best when I contribute.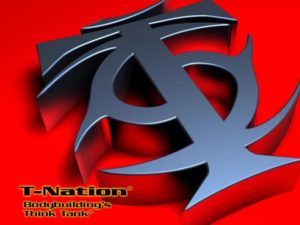 22. My Home Gym
I have a power rack on my balcony, a lever squat and glute ham raise in my bedroom, and heavy ass kettlebells in my living room, among other things. Who could ask for anything more?
23. Charles Staley
Charles and I have been training partners for the past 6 months or so, and I've benefited greatly from this experience. We have excellent conversations during our workouts, and I appreciate his wisdom. In fact, he's convinced me to compete in a powerlifting contest in April, which will be my first contest. It's very nice having Charles and Gene Lawrence – our other training partner – around to offer advice. Having two seasoned professionals to make sure I'm pausing for long enough and keeping my head down on the bench when I bench press, reaching depth during my squats, and fully locking out my deadlifts is priceless.
24. Louie Simmons
I credit Louie for much of my success as a personal trainer. If you can teach an excellent box squat, deadlift, and bench press, you're 80% the way there! If you can't learn from Louie then there's no hope for you!
25. Eric Cressey
Staying motivated and being challenged is important in life. There are many factors that contribute to making a fitness blogger popular; his knowledge, his public speaking skills, his strength, his physique, his ability to deliver results, his ability to effectively communicate, his integrity, his marketing skills, and his general competency. Due to the fact that Eric is freakishly strong and intelligent and trains pro athletes for a living, he's always inspired me to strive harder as a writer, lifter, and trainer. Eric raises the bar in more ways than one! Here's Eric deadlifting 600 lbs six years ago in 2006!
Have a Happy Thanksgiving Everyone! Don't forget to consider all the things you should be grateful for.