Cryotherapy (cold therapy) has been around for ages. Athletes and celebrities alike love it, including Floyd Mayweather (see the video below of Floyd using it), Kobe Bryant, Cristiano Ronaldo, Justin Gatlin, the Dallas Mavericks, the Dallas Cowboys, Jennifer Aniston, Demi Moore, Jessica Alba, Mandy Moore, Minka Kelly, and more (according to HERE, HERE, and HERE). I've used cold tubs in the past, and like many things in the world, it made intuitive sense to me that it would help me recover. I never really knew how it would help and through which mechanisms it helped, but I just "felt" it working, and I didn't really question tradition.
The problem with relying on "feeling" is that it could just be temporary and fleeting, it could be due to the Placebo Effect, or it could actually diminish results without us knowing. This is why research is so important; conducting RCT's allows us to examine short term physiological mechanisms inherent to a particular intervention along with long term changes in performance measures that are associated with a particular intervention.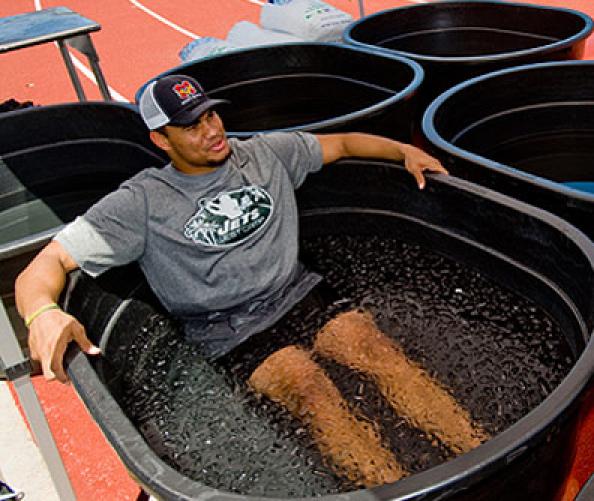 Many athletes and coaches like to jump into a cold tub immediately following a workout. Hell, cold tubs are common in high end training athletic training facilities around the world. Past research in postexercise cold water immersion is unimpressive. Some studies show minor potential, for example postexercise cold water immersion may improve postexercise lipid peroxidation (HERE), but for the taking a long hard look at the evidence on postesexercise cold water immersion doesn't justify it's inclusion in most sports recovery programs – it doesn't appear to outperform a Placebo (HERE), it doesn't improve sleep architecture (HERE), a major review paper didn't approve of it for treating muscle soreness (HERE), and another review paper concluded that it benefited endurance athletes in terms of recovery, but not strength/power athletes (HERE).
A recently accepted article in The Journal of Physiology summarized two eye-opening studies that warrant further attention in the Strength & Conditioning field (HERE). I'm going to copy and paste the abstract, key points, and some author quotes below.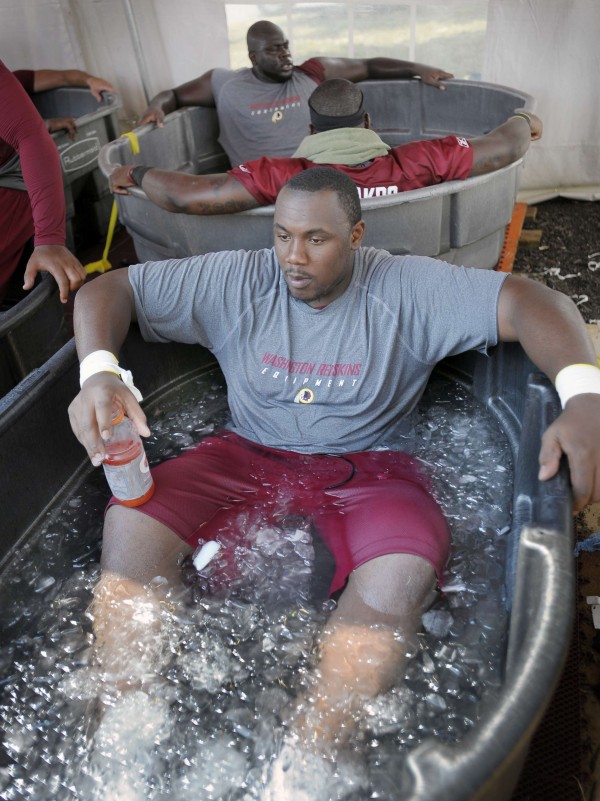 Post-exercise cold water immersion attenuates acute anabolic signalling and long-term adaptations in muscle to strength training
Abstract
We investigated functional, morphological and molecular adaptations to strength training exercise and cold water immersion (CWI) through two separate studies. In one study, 21 physically active men strength trained for 12 weeks (2 d⋅wk–1), with either 10 min of CWI or active recovery (ACT) after each training session. Strength and muscle mass increased more in the ACT group than in the CWI group (P<0.05). Isokinetic work (19%), type II muscle fibre cross-sectional area (17%) and the number of myonuclei per fibre (26%) increased in the ACT group (all P<0.05) but not the CWI group. In another study, nine active men performed a bout of single-leg strength exercises on separate days, followed by CWI or ACT. Muscle biopsies were collected before and 2, 24 and 48 h after exercise. The number of satellite cells expressing neural cell adhesion molecule (NCAM) (10−30%) and paired box protein (Pax7)(20−50%) increased 24–48 h after exercise with ACT. The number of NCAM+ satellitecells increased 48 h after exercise with CWI. NCAM+– and Pax7+-positivesatellite cell numbers were greater after ACT than after CWI (P<0.05). Phosphorylation of p70S6 kinaseThr421/Ser424 increased after exercise in both conditions but was greater after ACT (P<0.05). These data suggest that CWI attenuates the acute changes in satellite cell numbers and activity of kinases that regulate muscle hypertrophy, which may translate to smaller long-term training gains in muscle strength and hypertrophy. The use of CWI as a regular post-exercise recovery strategy should be reconsidered.
KEY POINTS SUMMARY
Cold water immersion is a popular strategy to recovery from exercise. However, whether regular cold water immersion influences muscle adaptations to strength training is not well understood.

We compared the effects of cold water immersion and active recovery on changes in muscle mass and strength after 12 weeks of strength training. We also examined the effects of these two treatments on hypertrophy signalling pathways and satellite cell activity in skeletal muscle after acute strength exercise.

Cold water immersion attenuated long term gains in muscle mass and strength. It also blunted the activation of key proteins and satellite cells in skeletal muscle up to 2 days after strength exercise.

Individuals who use strength training to improve athletic performance, recover from injury or maintain their health should therefore reconsider whether to use cold water immersion as an adjuvant to their training.
"The key findings were that cold water immersion (1) substantially attenuated long-term gains in muscle mass and strength, and (2) delayed and/or suppressed the activity of satellite cells and kinases in the mTOR pathway during recovery from strength exercise. We propose that regular deficits in acute hypertrophy signalling in muscle after cold water immersion accumulated over time, which in turn resulted in smaller improvements in strength and hypertrophy. The present findings contribute to an emerging theme that cold water immersion and other strategies (e.g., antioxidant supplements, non-steroidal anti-inflammatory drugs) that are intended to mitigate and improve resilience to physiological stress associated with exercise may actually be counterproductive to muscle adaptation (Peake et al., 2015).
This investigation offers the strongest evidence to date that using cold water immersion on a regular basis may interfere with training adaptations. No previous study has investigated the effect of cold water immersion on muscle hypertrophy after strength training."
As you can see, this evidence is extremely damning. It seems like we all got guru'd. Jumping into a cold tub after a hard workout hampered our gains by slowing down the normal rate of progress in terms of satellite cell and mTOR pathway activation, strength acquisition, and muscle fiber hypertrophy. If you've heavily relied on cold tubs following your strength training workouts, you could have been more jacked. Hopefully professional sports teams, coaches, and trainers will be open-minded to ditching this common practice, as it's used abundantly in the preparation of athletes in the NFL, NBA, and UFC.