Crossfit is undeniably one of the biggest trends in the fitness industry at the moment. In just a few short years, it has acquired a large influence over the way that coaches carry out strength and conditioning.
One of the central tenets of CrossFit is that their approach is the best way of achieving elite-level results. But very few CrossFit WoDs (workouts of the day) include specific gluteus maximus exercises, like hip thrusts, barbell glute bridges, pull-throughs or horizontal back extensions. While they do tend to perform sled pushes and American-style kettlebell swings, it's just not the same, not by a long-shot. When I started integrating specific glute work into my training, my clients immediately saw huge results in terms of glute development, strength, and power.
This means that following the standard CrossFit template will not lead to optimal improvements in the ability to generate force and power horizontally. We need to be able to generate force and power horizontally when sprinting or when pushing opponents out of the way during sport. It also means that CrossFit leaves large glute strength and muscle mass increases on the table. Glute strength and muscle mass are very helpful when moving in vertical, lateral, and torsional directions in addition to horizontal directions. Finally, there's a psychological edge that is achieved when glute development is at an all-time high, which I think would be warmly welcomed by CrossFitters worldwide.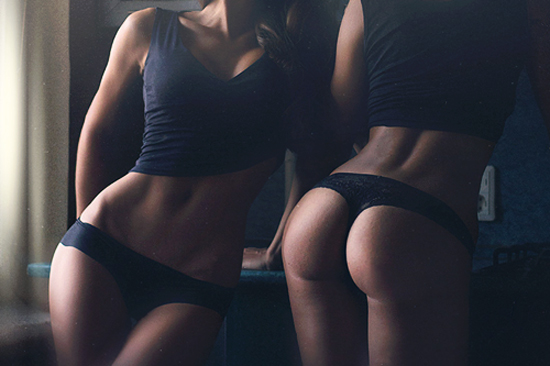 To help put this right, I've written a CrossFit-style Glute WoD and my colleagues over have written one too. Scott from Metal Rhino kindly agreed to film them (that's him in both videos, suffering mightily). Here they are:
Bret's Glute WoD
RKC plank
Barbell glute bridge – 100kg males / 60 kgs females
Sumo walks – mini-band
3 rounds of 20 seconds / 20 reps / 20 reps for time
Hip Thruster Glute WoD
Hip thrust – 100kg males / 60kg females
Heavy RKC-style kettlebell swing – 32kg males / 20kg females
3 supersets without rest – 21 / 15 / 9 reps for time
Please give these Glute WoD's a try and let me know what you think.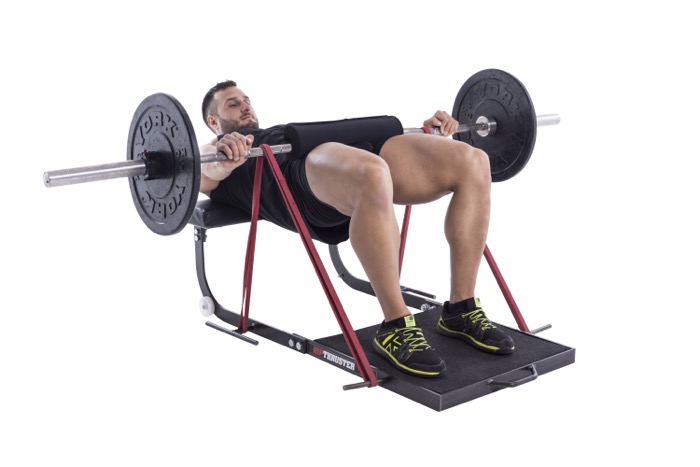 The Hip Thruster is the best way to do the hip thrust – stable and versatile!