Hi fitness friends!
It's been a busy few months since we launched Hip Thruster.  Since then, we've had a steady stream of orders coming in. Hopefully, you'll start to see them appearing in gyms near you, if you haven't already.
Since a lot has happened, I thought it was time to share with you some of the recent developments.
Hip Thruster around the world
Initially, the Hip Thruster was only available in the US. After launching, I received many emails from people outside the US who also wanted a unit. So I worked with Chris Beardsley, who is based in the UK, to partner with Metal Rhino, a gym equipment manufacturer based in Northern Ireland.  In mid-November 2013, the Hip Thruster was launched across Europe.
Now, operations in Europe have expanded and the team has already taken orders and enquiries from across Europe, Canada, Australia, Mexico and the United Arab Emirates, to name just a few!
Hip Thrust Championships 2013
To kick off the launch of Hip Thruster in Europe, the first ever Hip Thrust Championships were held in Manchester in the UK just before Christmas. The competitive spirit was apparently in full force!
A video was shot on the day showing the Hip Thruster units in action and getting comments from some of the competitors.  I was sorry I couldn't make it over from the US – it looks like everyone had an awesome time.
***
Hip Thruster on Facebook
This month, we set up a dedicated Hip Thruster page on Facebook so that we can keep you up-to-date with developments and promotions. Like our Facebook page and please tag us whenever you post up videos and photos of your Hip Thruster unit in use.

***
Feedback about the Hip Thruster
We've been getting some great feedback from customers who have already purchased and received units.  Here's a sample of the comments:
"I received my new Hip Thruster last week.  My hubby put it together last Saturday morning…simple.  The quality is fantastic! … This morning I worked up to 6 reps of hip thrusts using two 45lb plates plus a 25lb bar! Feels amazing! … I am thrilled with my Hip Thruster!" – J, Atlanta US
"LOVE the hip thrust bench" – Quote from client at Physical Culture gymnasium, UK
"[The Hip Thruster is] definitely designed tough for commercial use … the wheels and handle are great if it needs to be moved about, as is the ability for the bench to 'free-stand' in the upright position for storage if it needs to moved out of the way for other exercises. …
"The Hip Thruster [pad] has no seam and is thickly padded along the facing edge so is considerably more comfortable [than using a bench edge] which allows people to focus and concentrate on the form of the exercise and lifting the weight without the distraction of the upper back being in pain or discomfort. …
"The other benefits of the bench like the better height and band facility … are well documented but as a commercial gym equipment purchaser it is mostly the convenience factor that attracts me to the Hip Thrust Bench. As a side note It is also popular to use the bench for the Pullover and Split Squat (and we have a split squat roller pad unit in the gym as well so it's being used in preference to that). User experience is vastly improved with this convenience item and squat fans who don't hip thrust love it too as they can now get to the squat rack easier. If your gym members want to Hip Thrust (or Squat) I'd recommend this bench." – Chris at Physical Culture Gymnasium, UK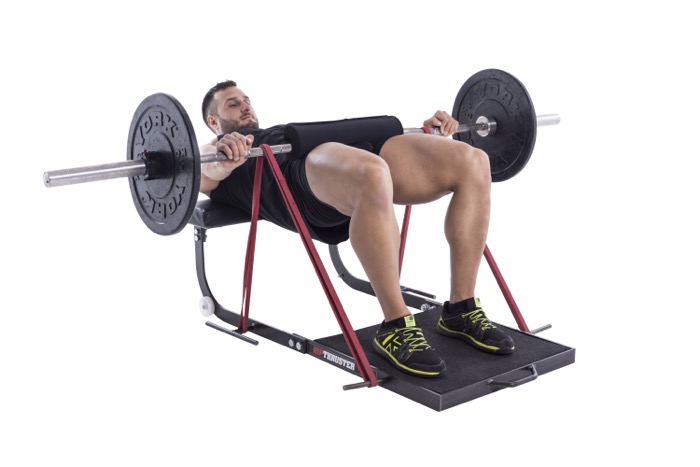 The Hip Thruster is the best way to do the hip thrust – stable and versatile!