Many strength coaches are big on rotary strength and stability. While we love our Pallof press movements, which fall under the "core stability" umbrella since the core remains stable, we also love our cable chop and lift movements and our landmine movements, which may or may not fall under the "core movement" umbrella depending on how the movements are performed (with or without spinal rotation), in addition to med ball rotational movements.
Some coaches feel that spinal rotation strengthening should be avoided completely, some coaches believe that spinal rotation strengthening should be performed but the movement should occur at the thoracic spine and the hips while the lumbar spine is locked down, and some coaches think that spinal rotation strengthening is great and you don't need to cue anything because the body is smart and knows how, where, and when to rotate.
In Mike Boyle's article entitled, Is 'Rotation Training' Hurting Your Performance?, he quotes Shirley Sahrmann, who states the following:
The thoracic spine, not the lumbar spine should be the site of greatest amount of rotation of the trunk… when an individual practices rotational exercises, he or she should be instructed to "think about the motion occurring in the area of the chest."
Mark Buckley does an excellent job of discussing the biomechanics of spinal rotation exercises in this free PDF. He states that:
Rotation is not the concern – where the rotation takes place is the concern
Mark goes on to state that thoracic rotation accounts for 60-70° (Segmental contribution as high as 7-10° in the mid thoracic area at T3-T9) of rotary movement in the spine, while lumbar rotation only accounts for 10-15° (Segmental contribution as small as 0-2° at L1-L5 and 0-5° at L5-S1) of rotatry movement in the spine.
Our Lumbar Spines are Jacked
In this article, Eric Cressey pointed out that in this study, it was shown that in the lumbar spine:
52 percent of the subjects had a bulge at at least one level, 27 percent had a protrusion, and 1 percent had an extrusion [82% of subjects]. Thirty-eight percent had an abnormality of more than one intervertebral disk
Our Thoracic Spines are Also Jacked
Last year I was pulling up research pertaining to the thoracic discs, and I stumbled upon some interesting and perplexing information. This study states that thoracic hernations occur with much less frequency than lumbar or cervical hernations. This study reports that thoracic hernations are responsible for only .15-1.8% of all spinal herniations.
However more recent research paints a different picture. In this study involving 90 individuals,  37% of asymptomatic individuals had at least one thoracic disc herniation, 54% had a disc bulge, 58% had an annular tear, 29% had deformation in the spinal cord, and 28% had Scheurmann end-plate irregularities or kyphosis. And this study, conducted in 2007, which claims to be the largest study in the world's literature on the topic of thoracic disc herniation, states that thoracic disc hernations occur in 50% of patients and that 26% of patients had multiple herniations.  This study states that degenerative disc disease and disc herniations are the most prevelent thoracic spine abnormalites and that disc herniations predominate in the lower thoracic segments and are a dynamic phenomenon.
Disc Herniations are in Flux
Interestingly, while disc degeneration does not improve, thoracic herniations are in a state of constant flux. This study shows that 27% of disc herniations improved over a 4-149 week range of follow-up. After a mean follow up period of 26 months, 48 previously looked at discs in this study were examined, and they found that 3 of 21 small disc herniations increased in size, one of twenty and three of twenty medium discs increased and decreased in size respectively, and four of seven large disc herniations decreased in size.
Method of Imaging Matters
It appears that the method of imaging matters, as this study showed that 21 of 48 thoracic discs appeared healthy when using MRI, but when using discography only 10 of 48 appeared normal. Studies involving discography likely underestimate spinal abnormalities.
Torsion Hammers the Lumbar Facets (But Extension and Lateral Bending are Worse)
This study shows that lumbar facet joints carry no load in flexion, and large loads during extension (205 N at a 10 Nm moment and a 190 N axial load), torsion (65 N at a 10 Nm moment and a 150 N axial load), and lateral bending (78 N at a 3 Nm moment and a 160 N axial load).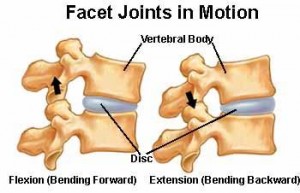 Thoracic Facet Joint Pain vs. Lumbar Facet Joint Pain
This study showed that the prevalence of facet joint pain was 39% in the cervical spine, 34% in the thoracic spine; and 27% in the lumbar spine.
This study showed that painful thoracic facets occurred in 42% of individuals with thoracic pain, while only 31% of individuals with low back pain suffer from painful lumbar facets, however of the 500 people with chronic spinal pain involved in the study, only 6% had painful thoracic facets and 25% had painful lumbar facets. During the background portion of the article, the authors stated that, "facet joints have been implicated as a cause of chronic spinal pain in 15% to 45% of patients with chronic low back pain, 48% of patients with thoracic pain, and 54% to 67% of patients with chronic neck pain."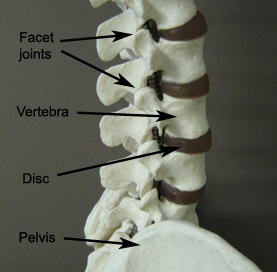 Poor Hip Mobility Most Likely Increases the Risk of Low Back Pain in Rotary Sport Athletes
This study stated that "Among people who participate in rotation-related sports, those with LBP had less overall passive hip rotation motion and more asymmetry of rotation between sides than people without LBP."
This makes perfect sense, as individuals possessing insufficient hip internal and external rotation mobility will be forced to compensate and rotate more at the lumbar spine. Over time this will usually result in injury and/or pain if left unchecked.
Rotational Exercises are Safer With Some Axial Pre-Loading
In this article, Nick Tumminello quotes the late, great Mel Siff:
A certain degree of compressive preloading locks the facet assembly of the spine and makes it more resistant to torsion. This is the reason why trunk rotation without vertical compression may cause disc injury, whereas the same movement performed with compression is significantly safer.
Some Things You Need to Think About
Let's say that a certain movement requires 60 degrees of spinal rotation. Do you want all 60 degrees of rotation occuring in the 12 thoracic motion segments with absolutely zero motion occuring in the five lumbar motion segments?
Would this be the safest method of execution, and is this a natural movement pattern?
Or, would it be safer if the individual rotated (for example) 55 total degrees in the twelve thoracic motion segments and 5 total degrees in the five lumbar segments?  Is some lumbar rotation natural and beneficial, or do you want to completely  "lock it up" by cueing all motion in the chest/t-spine area?
Aren't end ranges of spinal motion the most dangerous for the discs? Wouldn't we want to distribute load evenly rather than concentrate it in one region?
Does architecture (ie: what the lumbar spine and thoracic spine were built for) matter when thoracic discs and facets get beat up just like the lumbar discs and facets?
Are spinal rotation exercises even worthwhile considering they are high risk? Should we ever do any spinal rotation under load, or is it wiser to stick to just rotary stability exercises for the spine where the spine stays motionless while rotary forces are resisted/prevented?
Segmental vs. Fluid Rotation
Nick Tumminello talks about segmental rotation in this video:
My Take
It is very important to first qualify individuals for proper hip and thoracic spine rotational mobility. If they don't have it, you need to prescribe mobility drills until they get it. Here are a bunch of different t-spine rotational mobility drills:
Here are some hip mobility drills:
https://www.youtube.com/watch?v=XEwfxa_9_y8
While you are developing hip and spine mobility, you can simultaneously work on preventing torsion by prescribing rotary core stability exercises such as band or cable rotary holds or foam roller prone and supine rotary holds.
Next, you can introduce a dynamic component and have individuals prevent spinal rotation while the limbs are moving dynamically. These include cable chops, cable lifts, landmines, and tornado ball slams. Finally, you can incorporate some slight motion in the spine via various types of chops, lifts, landmines, and medball throws, but you want to make sure that individuals are moving at the proper segments. If you followed the correct steps, then individuals should be able to distribute loading efficiently and rotate with a combination of hip and t-spine rotation with slight motion at the lumbar spine.
To reiterate, there's a 2-step process:
1. Increase hip and t-spine mobility and work on static rotational core stability
2. Move to dynamic rotational core stability and eventually rotational strength with some spinal movement involved
As far as cueing to "move at the chest," I believe that it's best to err on the side of caution and try to get most of the mobility in the t-spine rather than involving the lumbar spine. Even though discs at all spinal regions appear to take a serious beating and develop herniations, and even though facet joint pain seems to occur at all spinal regions as well, it makes sense to look at the architecture of the spine and try to determine its optimal function.
Furthermore, many novices erroneously believe that spinal rotation should occur mostly in the lumbar spine and they therefore actively attempt to twist to end-range lumbar rotation. This is highly dangerous. If individuals think of movement occuring in the chest, they'll stay tall and properly distribute stress over a broad range of joint structures which will minimize tissue damage and the likelihood of injury. I'm sure that even when individuals attempt to lock down the lumbar spine there is still some slight (but not dangerous) motion involved.
Evidence shows that there is a huge genetic component to disc degeneration and herniations. While trainers and coaches like to believe that we can prevent the onset of spinal degradation by teaching the body to move properly via mobility, stability/activation drills, and proper cueing for motor control feedback, it appears that there is only so much we can do.
I only perform (myself) and prescribe (to clients) spinal rotation work twice per week and stay away from end ranges. Two sets of 6-10 reps is the typical volume. One day per week usually involves anti-rotation (the spine stays neutral and resists rotation), while the other day involves actual rotation (the spine twists a bit).
What's your take? Are spinal rotation movements worth the risk? If so, where should the rotation occur, how should the exercises be cued, and how frequent should they be prescribed?