This is a new idea I just thought up, and I'm hoping that I can get a bunch of coaches and trainers to offer their take on the topics each week. If I get a good turn-out in terms of responses, then I'll keep it going. If not, then I'll squash it.
Topic #1: What Type of Squat Should Athletes Perform?
Last year, in my graduate Biomechanics course, we closely examined the forces and stresses involved in squat depth. It was exciting to learn the exact biomechanical reasons as to why different depths stressed various structures more so than others. Rather than reinvent the wheel, I want my readers to read this article entitled The Biomechanics of Squat Depth by my buddy Brad Shoenfeld. If you want to read more on this topic, then read this article by Jason Shea.
The typical lifter can vary his or her workout from session to session, week to week, month to month, etc. However, in the world of Strength & Conditioning, many coaches tend to pick one style of squat and stick with it. For example, Louie Simmons likes the box squat, Dan John likes the front squat, and in The Charlie Francis Training System, Charlie Franics seemed to be very fond of the half squat (though I've seen interviews where he says he states that he preferred squatting past parallel so I'm uncertain as to which style he used more often).
Considerations
There are many different things to consider when squatting. Here are some considerations:
Type of Loading (barbell, safety squat bar, cambered bar, goblet, etc.)
Bar Placement (high bar, low bar, racked position, Zercher position, etc.)
Depth (quarter, half, parallel, full)
Stance Width (narrow, medium, wide)
Other Considerations (start position ie: Anderson squat, implements ie: box squat, hassock squat, manta ray, front squat harness, foot flare, accommodating resistance ie: bands, chains, weight releasers, foot wear ie: Chuck Taylors, Oly shoes, etc.)
Goals
Bodybuilders tend to perform high bar narrow stance half squats (most say they squat rock bottom, but video analysis paints a different picture). Powerlifters tend to perform low bar sumo stance parallel squats. Olympic lifters tend to perform high bar narrow stance full squats. It all depends on the goals of the lifter. In my own training, and my training of others, I'm usually focusing on trying to create the optimally functioning individual so they don't break down years later.
My Take
For myself and the majority of my clients, I prefer the following configuration:
Barbell, High or low bar position, full depth, narrow or medium stance.
Here is my rationale:
1. Safety
Olympic squats have been executed safely for many years by Olympic lifters. They employ much higher frequencies, loads, and volumes than typical athletes, yet they're able to keep squatting year in, year out and they don't break down like you'd imagine. If they're able to do this, then a few sets of full squats 2-3 times per week won't for typical athletes will not be problematic. I've always used the full squat with my clients and knee or back pain has almost never been an issue.
The full squat is self-limiting. Newbies have found that they can often load up a barbell with 3-4 plates and shift their weight forward, bend mostly at the knees, and quarter squat the weight. If they tried this with a full squat they'd be stapled to the floor. Full squats keep you honest!
2. Superior Athleticism
I don't know about you, but when I conjure up the term "athleticism," I think of things like mobility and flexibility, joint stability, and motor control and coordination, in addition to strength, power, speed, and agility.
When you get new clients or athletes, often times they can't full squat well. They rise up onto their toes, they lean forward excessively, or their knees cave inward. This is due to issues with mobility, stability, or motor control. You have two options in this case. The first is to just have them half squat and get them much stronger in this range. The second is to figure out why they can't full squat and fix them so they are able to get strong at full squatting. This takes more effort, patience, and consistency, but the rewards are well worth it in the end.
If someone buries a 405 lb full squat and hoists it up with perfect form, then you know they have excellent ankle dorsiflexion, hip flexion, thoracic extension, glute activation, and core stability. That's a lot of good information!!!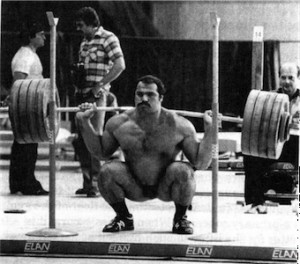 Your Turn
Now is your turn. What type of squat do you prefer, and what's your rationale?