Hi Folks!
Welcome to episode #1 of The Strength of Evidence Podcast. Our first episode lays the ground-work for future episodes, as we discuss important topics such as the scientific method, what it means to be "evidence-based," and logical fallacies. We will draw from these methodologies as we hash out topics pertaining to strength, conditioning, and rehabilitation in subsequent podcasts. Here is the link to the mp3:
CLICK HERE TO DOWNLOAD OR JUST LISTEN
Here are the show notes:
Purpose of the Podcast
Help teach critical thinking skills
Evaluate the evidence pertaining to various topics in fitness
About Us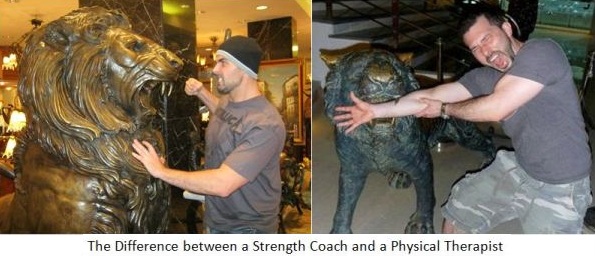 What is Evidence-Based Decision Making?
"A systematic approach to the training of athletes and clients based on the current best evidence from peer-reviewed research and professional reasoning." – English et al., SCJ, June 2012
Develop a question
Find evidence
Evaluate the evidence
Incorporate the evidence into practice
Reevaluate the evidence
The Hierarchy of Knowledge
Portney & Watkins 2007
The Scientific Method
Logical Reasoning
Trial and Error
Authority
Tradition
Logical Fallacies
Ad Hominem
Appeal to Authority
Appeal to Fear
Strawman
Cherrypicking
Hasty Generalization
Red Herring
Proof by Verbosity
Nirvana Fallacy
Bandwagon
Anecdotal
Confusing Correlation with Causation
Placebo Effect
"The beneficial effect in a patient following a particular treatment that arises from the patient's expectations concerning the treatment rather than from the treatment itself."
Pitfalls of Research
Overgeneralization
Limitations
Methodology
Sample Size
Experimenter Effects
Fudging/Fraud
Confirmation Bias
Good Video: Science for Smart People
Last, we leave you with a video by Tom Naughton, where he discusses many similar topics that we did in our podcast. We think you'll really enjoy it as he injects a good deal of humor into the presentation.
That's all for episode #1. In episode #2, Jon and Bret will be discussing "To Squat or Not to Squat;" a popular debate in certain Strength & Conditioning circles.