Pelvic strength and endurance is highly underrated in strength & conditioning. If you fail to stabilize the pelvis, it will rotate and take the spine along with it. You want to dictate what your pelvis does during exercise; not the other way around. I have two new exercises and one older exercise to share with you today.
The Hollow Body Position
The hollow body position has been used in gymnastics for decades and is an excellent core exercise. Unfortunately, most strength coaches have yet to embrace it. This is a shame as the exercise develops lumbopelvic stability and improves the body's ability to resist excessive anterior pelvic tilt and lumbar hyperextension. For maximal pelvic stability, you want the glutes and abs to be strong and coordinated in order to hold down posterior tilt.  The hollow rock focuses on abdominal strength.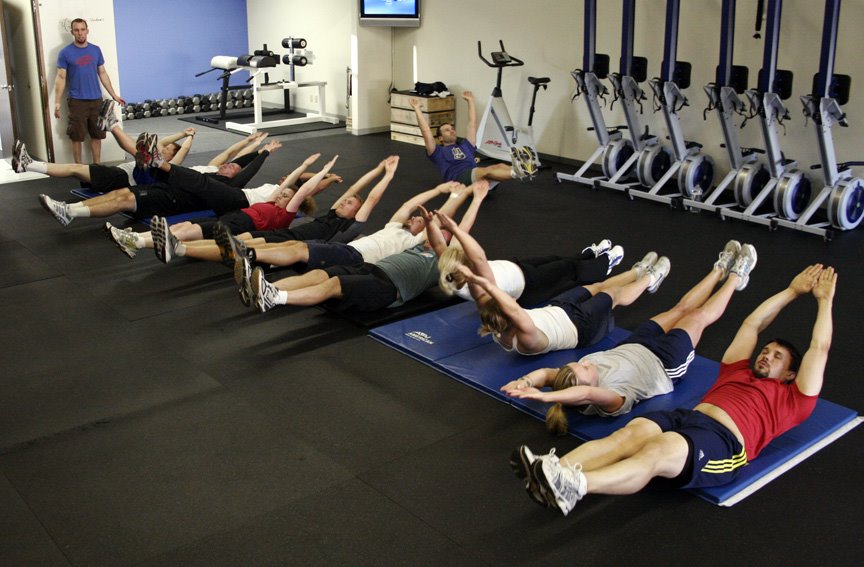 It is significantly more challenging than a standard plank exercise and is harder to screw up. Initially you may find that a 20-second hold is highly challenging, but you'll quickly gain endurance. Over time you want to be able to hold this position for 2 minutes. Once you master this, you can begin rocking up and down or finding other ways to make the exercise more difficult.
Just lay on the ground, flatten out the lumbar spine so it's flush with the floor and posteriorly tilt the pelvis, then raise your legs approximately 6-12 inches off the ground. Here's' how it's done:
The Posterior Pelvic Tilt Straight Leg Bridge
The Posterior Pelvic Tilt Straight Leg Bridge can be performed to develop glute endurance which goes hand in hand with the abdominal endurance gained from the Hollow Body Position. Simply lay supine, squeeze the abs and glutes into a posterior pelvic tilt, then dig through the heels and slightly raise the body off the ground.
The Long Lever Posterior Tilt Plank
Here's a video I made a while back that shoes you how to perform a challenging plank variation that also helps develop well-rounded core endurance.
With these three core movements, you should be well on your way to developing rock solid anti-lumbar-extension/anti-anterior-pelvic-tilt core stability and endurance.