My fiance Diana has an incredible body. She's currently studying like crazy for nurse anesthetist school and doesn't have much time to train. Her goal is to keep her booty while training as little as possible.
Just over six weeks ago, I posted a video of Diana squatting 135 lbs for 20 reps, deadlifting 135 lbs for 20 reps, and barbell glute bridging 135 lbs for 25 reps. Here it is in case you didn't see it.
At that time, I measured her waist, hips, and thighs. Here were her measurements.
Measurements 8/9/13
weight 118.8

thighs 22″

hips 37.5″

waist 27″
For the past six weeks, I decided to augment her training. Prior to the time the video above was taken, she was performing one set of squats, one set of deadlifts, and one set of barbell glute bridges to failure every 5 days or so. I wanted to see what would happen if I had her stop squatting and deadlifting and just had her hip thrust.
So for the past six weeks, she's been doing 2-3 sets of hip thrusts and 1-2 sets of band side lying clams or band seated hip abductions twice per week. Here's her workout from tonight below.
Below are the measurements that I took today.
Measurements 9/24/13
weight 120.0

thighs 22″

hips 37.5″

waist 26.5″
As you can see, her thighs and hips have remained the same size, but her waist has shrunk a half an inch. I can visibly see that her lower erector spinae aren't as large as they were 6 weeks ago when she was squatting and pulling consistently. She's happy about this as her back can become too muscular for her liking, as can her thighs.
I would have predicted that she would have gained a half of an inch or so on her glutes during this time, but this wasn't the case. Of course, it would be interesting to see how quickly her glutes shrunk if she stopped training altogether. She feels that she loses glute size quickly if she quits training, to which I'd agree with her. It would also be interesting to see how her squat and deadlift strength was affected. At any rate, this short case study indicates that lifters can maintain their glute size from just doing hip thrusts and omitting squats and deadlifts.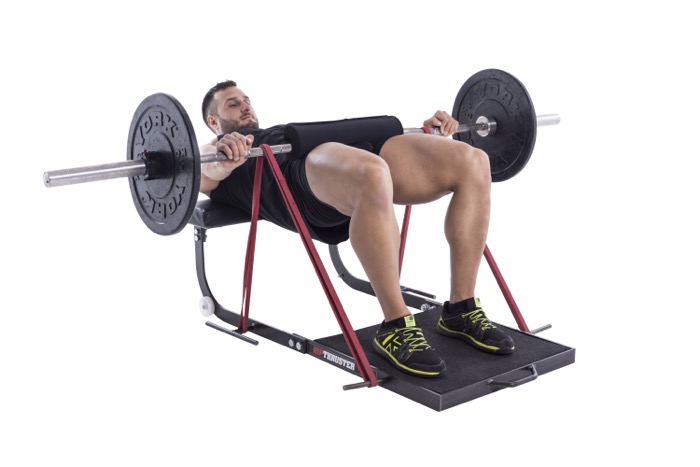 The Hip Thruster is the best way to do the hip thrust – stable and versatile!
To provide another "Hip Thrust Only" anecdote, I just started training my client Sammie again. She stopped training for a while and has recently only been doing hip thrusts. Today was her first session back and her squat and deadlift strength is through the roof. To be honest, today's session with Sammie was one of the most impressive displays of strength I've ever seen, and it's crazy that her strength in squats and deadlifts have risen from just performing hip thrusts. Go figure! I'm excited to see how strong she can get now that we're employing squats and deadlifts again. I'll post the video of Sammie and my other client Erin training with me soon.
Hopefully some of you find this interesting!