The Hands-Free Hip Thrust: A Simple (Yet Very Effective) Hip Thrust Teaching Tool
By: Ben Bruno
I use hip thrusts extensively with virtually all of my clients.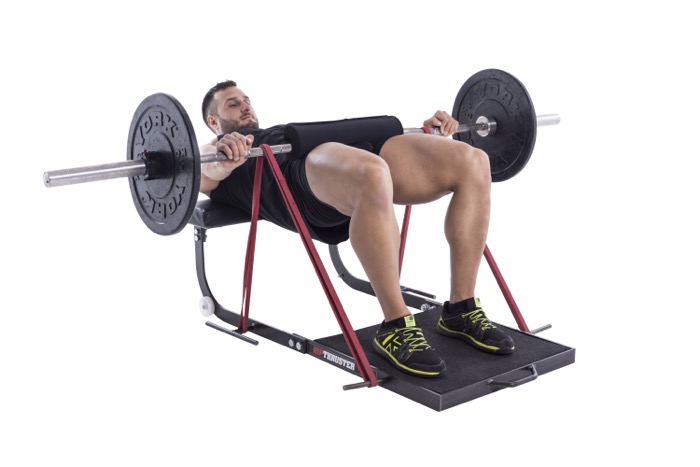 The Hip Thruster is the best way to do the hip thrust – stable and versatile!
One of the things I like most about them is that they're relatively easy to learn and there's a fast learning curve so most clients can get the hang out if quickly.
Still, there are a few issues that I tend to see arise repeatedly.
It takes people a little while to figure out the proper bar position on the hips, and until you find that sweet spot it can be awkward and uncomfortable.
The name "hip thrust" could imply a fast explosive movement, but I actually prefer that they be done in a controlled fashion with a brief pause at the top of each rep. Sometimes stronger clients start to let their form slip as the weight on the bar increases and they start to try to thrust up violently, often failing to achieve full hip extension at the top. I tell my clients that if they can't pause at the top, the weight is too heavy.
I notice that a lot of clients tend to go into anterior pelvic tilt and overarch the lower back, especially as the weight gets heavier. This not only takes the stress off the glutes, but it's also potentially injurious for the lower back. In all fairness, I must say I've never seen or heard of anyone getting hurt from hip thrusts (another reason I like them), but it's still a concern. For both effectiveness and safety it's important to keep a neutral spine, or if anything even a slight posterior pelvic tilt as you thrust up.
Some clients tend to push harder through one foot than the other, which is easy to spot just by looking at the bar.
As a trainer, I can queue clients ad naueseum when I see form flaws, but whenever possible, I prefer to give drills or exercises that teach them to do the exercise correctly without me giving them too many things to think about.
Enter the hands-free hip thrust.
I've found that for clients who struggle with the aforementioned hip thrust issues, doing them hands-free can clear them all up very quickly.
Here's a video of what it looks like in action.
When you don't have your hands to hold the bar in place it forces you to find the right positioning on your hips. Just be sure to keep your hands close to the bar in case you need to grab it quickly for whatever reason.
Furthermore, if you thrust up too fast and don't control the weight, or if you push more through one foot than the other, there's no way you'll be able to balance the bar on your hips. Likewise, if you overarch the lower back, the bar will slide down your hips, giving you immediate feedback. In order to keep the bar positioned correctly, it requires you to keep a neutral spine with a very slight posterior pelvic tilt at the top.
In this sense, the hands-free hip thrust is a lot like the hands-free front squat, which I also love and use as a teaching tool.
Form issues with front squats tend to be similar to those with hip thrusts; people struggle to support the bar, and they also tend to rush the reps and lose proper body positioning and fold forward. By going hands-free, it teaches you to support the bar on the shoulders instead of relying on the hands, and it allows forces you to stay upright and do the reps in a controlled fashion.
It's the same idea for hands-free hip thrusts.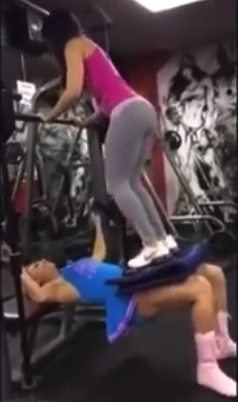 As a teaching tool, I recommend doing sets of 8-10 reps. I actually like doing something similar to what I do with front squats which is going hands-free for a few warm-up sets and then switching to regular hip thrusts as the weight gets heavier. Interestingly, I've noticed that my clients are often stronger with their normal hip thrusts after warming up with the hands-free version.
Now it's important to note that while this may be a good teaching tool, it's not a beginner exercise. I wouldn't start off teaching hip thrusts hands-free. But for clients who have some experience with hip thrusts but either complain about feeling them in the lower back, or for clients who've gotten stronger but done so at the expense of good form, this method is a great way to take a step back and reset the form before continuing to add more weight.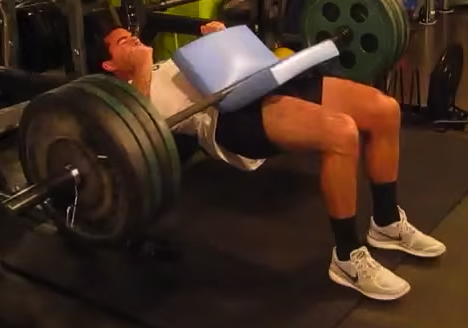 For stronger lifters, hands-free hip thrusts can also function as a great standalone exercise that allows you to get an awesome training effect with lighter loads. In this case, I like doing 1-2 higher rep sets of 15-20 reps after you've done your heavier sets. You won't be able to handle as much weight, but a 20-rep set of these with pauses at the top has my glutes begging for mercy more than almost any hip thrust variation I've ever tried.
If you're the type who enjoys watching others suffer, here's me doing a 20 rep finisher.
Give these a try and see if it doesn't clean up the technique and allow you to feel the exercise even more in your glutes and less in the lower back.
About the Author:
Ben Bruno is a personal trainer in Los Angeles, California. He also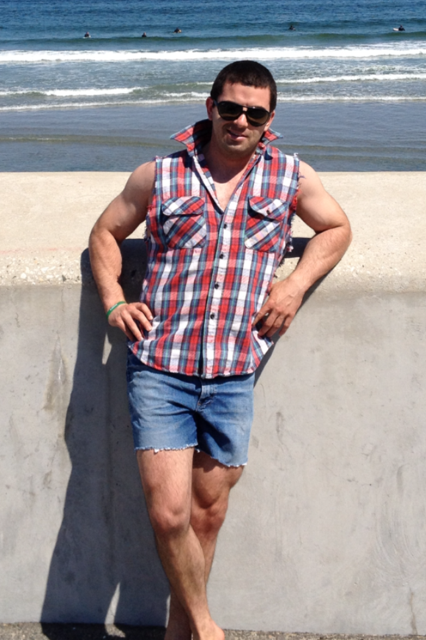 publishes a blog and free newsletter at www.benbruno.com. You can connect with him on social media at the following places:
Instagram: https://instagram.com/benbrunotraining/
Twitter: https://twitter.com/benbruno1
Facebook: https://www.facebook.com/pages/Ben-Bruno/282118145176459
Youtube: https://www.youtube.com/bruno082985