Today's article is a guest post by Derrick Blanton. I like the way Derrick thinks. Those of you who have delved into my glute stuff have undoubtedly noticed a sensation in the glutes that persists for a couple of months when you first embark on the training methods. You feel your glutes twitching and wanting to activate more, and you're constantly aware of them throughout the day. My clients have told me this hundreds of times over, and I've personally noticed it as well. I don't think Sports Science of Physical Therapy has a term for this phenomenon, but nevertheless it's real. 
I recently started wearing a chain around my neck throughout my entire back extension workout (3 sets, separated by around 2 minutes of rest in between sets, for a total of around 7 minutes) and I noticed the exact same phenomenon in my t-spine. In addition, I found myself standing taller. This is what Derrick describes below, and I think it's a valuable strategy for helping folks learn proper thoracic extensor activation during various movements. Here's a video of me doing the heavy back extensions (I keep the 22lbs of chains on for 7 min), and below that is Derrick's article. Give it a try for a few weeks if your t-spine is a weak link.
T-Spine Rx
by Derrick Blanton
This conversation will never happen:
"Hey dude, meet me at Gold's, we're gonna knock out some YTWL's!  And get ready to bring the diesel this time!"
"Nah, broseph, I'm still trashed from those band pull aparts we did yesterday!  My rhomboids are screaming!"
(By the way, I don't talk like this. Ahem.)
Let's be honest.  Corrective exercises can be tedious and boring.  They are akin to "eat your brussel sprouts before you get to enjoy some ice cream".
Does anyone really get amped to go crank out some "wall slides"?  I sure as shit don't, and I'm guessing you don't either.  Frankly, just watching the video demos alone make me want to put my head down and drool all over my computer.  This is why as much as possible, I try to build my correctives into my "regular" training protocol.
My thought process is, "You trained your way into the problem, now train your way out of the problem."  Translation:  Stop benching so much, and start rowing every day with scapular control!
The reality is though, that often these odd little corrective exercises are necessary to get the ball rolling.  They are very useful, up to a fairly specific point.  Once you have activated the muscle group in question, it must be progressively loaded.  Consider strength the goal, and activation a prerequisite to reaching that goal.
As I see it, once identified, correcting weak links amounts to a three step general progression, with some obvious overlap:
Step 1.  Activate. Form a mind-muscle connection (MMC).
Step 2.  Progressively load the activation.
Step 3.  Incorporate the newly activated muscle group into a compound movement so it can pull its weight (literally) in more global type situations.
Let's don't make this unnecessarily complicated. You have a weak link.  You must identify and strengthen this weak link.
Thank you, and I'm accepting donations via PayPal.
Now, there are many different ways to get to Main Street, so I say travel them all, if necessary. One of the sneaky back routes that goes through the alley, and then cuts across a parking lot, is neuromuscular reactive training (NRT).  Essentially, this is loading the weak muscle into it's dysfunctional position, while performing the desired compound movement, and forcing the weak link to battle out of it.  Probably the most popular example of this technique is wearing bands around the knees to correct valgus collapse during a SQ.
NRT is pretty cool because it helps you activate and strengthen your weak link while you perform the big rock moves, and is generally a lot more fun than doing isolated moves with low resistance.  This is not an either/or process.  It is a do both, prioritize what works process.
I have been playing around with a variation of this technique that focuses on the thoracic spine, a postural muscle group that we paradoxically also need to get crazy strong.  My experiment involves loading the kyphotic flaw for a meaningful length of time (say, 20-30-minutes), while simultaneously hitting selected basic training movements.
This is a bang for your buck corrective approach!  It grooves a stronger, more organized position on your basic lifts, and along the way does remarkable things for your T-spine strength and endurance.
Why the Thoracic Spine?
I've given this maybe too much thought.  But I think the T-spine may be the one, real deal area of the body that CANNOT be too strong.  You could make a decent case for the glutes too, and I probably wouldn't argue too much.
But boy, the T-spine extensors, buttressed by the rhomboids and middle/lower traps, are critical to loaded torso alignment, during upper and lower body moves.  And when the T-extensors start really holding down their end of the bargain, the scapular controllers magically start functioning way more effectively.  Links in a chain.
Desk jockeys, and weight trainers alike can run into the relatively weak T-spine problem.  I say "relatively" because all muscles operate as links in a movement chain.  So the muscles' strength and activation exist in relation to each other.
The office guys spend hours kyphotically slumped over a computer, and you just can't lazily round over and protract the scaps all day and not have consequences.  Meanwhile, the strength trainer and athlete may have such powerful shortened lats and pecs pulling their scapulae and humeri forwards that their upper back is in a constant losing battle.  Just check out the gymnasts next time during the Olympics.  These guys are ridiculously strong, and their upper backs are invariably coiled forwards like a cobra, thanks to their enormous, inhumanly powerful lats.
So poor T-spine alignment and function can afflict pros and Joes alike.  Consider what a building a bulletproof T-spine can help you do:
DL more weight with less risk to your anterior shoulder, bicep tendon, and lumbar spine.

FSQ more weight, for more reps without dumping the bar

BSQ more weight, for more reps, and spare the lumbar spine

OHPR more weight, with better alignment, and less risk to your anterior shoulder…and lumbar spine.

Bench Press more weight, with a stronger, more stable platform to fire up from.

Curl more weight, because of a more stable "wall" to pull from.

Do pull ups without caving forwards and impinging your bicep tendon.

Row more without caving forwards and impinging your bicep tendon.
I could keep going, but I think you smell what I'm cooking here! And, unless your reading comprehension is seriously challenged, you are seeing a pattern:
When the T-spine is not strong enough, other muscle groups get put into awkward loaded positions.
First Things First: Improve Your Pelvic Positioning Using Your Glutes and Abs
In my view, there is not much point in even addressing the T-Spine until you have solid posture and bracing techniques from the hips and pelvis.  You are only building strength on a house of cards that will collapse under load.
If you are sagging into anterior pelvic tilt, with no abdominal strength, and no glutes, then you MUST correct this first to set the T-Spine up for success.  That's a whole other article, so I'm going to assume that you already have gone through the plank and bridge phase in your training life, and are appropriately ready to focus on the T-spine.
I'm proposing that we need a multi-pronged attack on the upper back. The various twisting torso mobility type drills will certainly be helpful.  Seated good mornings are pure gold. And I like this banded GHR variation for additional T-spine work: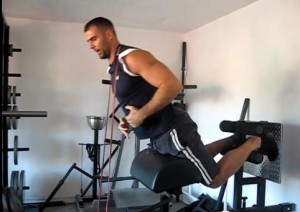 Throw in a prone trap raise (Y), and it's an upper back activation festival!
These are all effective exercises to launch the battle.  But let's open up another front, and work in some extended time under tension (TUT) that persistently challenges the postural 'normal' of the T-spine.
Postural Time Under Tension
Implicit in the theory that kyphosis takes root due to desk time, or just generally lazy positioning, is that our body adopts a law of averages position.  To what extent this holds true makes for a fascinating, if difficult, variable to study.  But if it is basically true, then does it follow that 7-10 hours camped out at a desk or hunched over a steering wheel, can be corrected with a few sets of upper back good mornings, and some wall slides?  Even if you did these every day, your total time spent activating and strengthening would amount to an hour a week!  Versus 40-50 hours at the desk?
Perhaps for such a key postural area, more time spent in better posture, and more time spent grooving an extended position is necessary to hit the reset button.  I often look at older folk whose spine has curved into severe kyphosis, and wonder, "At what point could this have been prevented or stopped?" Sure some vertebral degeneration must occur which contributes heavily to kyphosis in the elderly, but I can't help wonder if much of it could be prevented with sound training methods.
Likewise, I often ponder the little ways that our body is constantly adapting to stimuli.  More external rotation of the right foot due to driving.  Larger bicep on the non-dominant arm due to carrying stuff to free up the dominant hand to perform more dexterous tasks, and so forth.
When my son was a youngster, and we would go the amusement park, I would carry him around on my shoulders all day like a lot of parents do.  Unlike a front squat, "dumping the bar" is not an option with your child riding on your neck!
(Off the grid T-spine coaching cue: "Don't let the child fall!"…Anyone?)
At the end of the day, my upper back into my neck was unbelievably tired and sore.  Perhaps you recall how exhausted your upper back was after engaging in swimming pool chicken fights with your tag team partner lodged on top of your shoulders (unstable training!).  What a challenge for your thoracic extensors to keep you from falling forwards!
Suppose that type of activity were the new normal?  The body is incredibly adaptable if you think about it!  Consider the 300-lb. bodybuilder, and the 100-lb. marathoner, the anorexic, and the morbidly obese person.  And it's not just fitness adaptations.  I know a woman who started to develop a hump above her pelvis from perpetually carrying her young kids off to one side.  The adaptations are endless.
So it occurred to me that what we need is a supplemental form of "high volume, high TUT postural training".  And there's no reason why this can't go on simultaneously with some good old fashioned, traditional strength training.  In other words, the fun stuff!
Be Like Mr. T!
So here's the plan. Go to your local home improvement store, and buy a 2-3-ft long segment of heavy chain.  You are about to become a modern day Mr. T, wearing your chain like a necklace, and pitying the poor fool with the weak upper back.  The chain should weigh five pounds or so; get a carabiner so you can add weight plates as needed, and lock it up.
Now simply wear the chain for large chunks of your training time.  Add weight to it wherever necessary, and get used to (dare I say, adapt?) resisting a load pulling your neck and upper back forwards.  This can be done throughout your session, loading and unloading plates, and importantly while performing your regular strength training moves.  For example:
RDLs

Rows

Pull Ups – Just another form of adding load to movement.

Push Ups – Just another form of adding load, elevate the feet.

BSSs- Added load.

OHSQs – Very light, form practice to groove moving through the hips and spinal planking.

OHPRs- Advanced technique, don't go there unless your OHPR is already solid.  (If it is, it will groove powerful T-spine extension; when you remove the chain, you will feel like you are pressing on a machine, due to increased stability.)

Back Extensions – Added load.
Here's a full 30-minute video demonstrating the process in great detail…
Kidding!  It's 40-seconds!
https://www.youtube.com/watch?v=DDV7t5xTeyg
Feeling salty?  Add a loaded hip belt to further ramp up the postural alignment challenge, and curb anterior pelvic tilt, as you learn to posteriorly rotate the pelvis to neutral while battling the load at the pelvis.  Wear a hip belt, and load the upper back, and you will experience a "planked spine" directly!
If you load this right, it should be challenging, but not overwhelming.  We are not going for 1RM T-spine iso hold records here!  The idea is simply to add a postural and stability challenge to a muscle group that needs to be active, durable, and strong.  You will find that you can still elicit a quality training effect with the main moves.  Use immaculate form, keep your chin tucked, and focus your attention on the agonists of the main movement.  Approach this session with a "movement practice, extra work" mindset.  And enjoy the stealth fringe benefits of activating and strengthening your T-spine along the way.  Armor building!
The rewards and adaptations commence immediately.  Once you remove the chain, you may feel "taller" as you walk around in a strangely proud and upright fashion as your upper back extensors remain switched on for a while.  You may find that your shoulders are not "clicking" anymore (the test/retest might be shoulder dislocates), as a realignment starts to take hold.
A caveat on the rows and RDL's.  If you are a lumbar dominant type who has not learned to use your hips to anchor the torso, then this one might be contraindicated for you, (although supported one arm DB rows are still in play). Loading the T-spine the end of the spinal lever will also increase the torque at the lumbar spine and hip.  So tread carefully, and also learn to posteriorly shift your center of gravity, and screw your hips into the socket, which will give you a better anchor to "hang from".
After a few sessions, you get accustomed to the new load, and you may have to start conservatively adding weight. This is a good thing!  When I first started trying out BC's glute exercises, I started experiencing a weird gluteal twitching sensation, an urge to "push against" some force.  I now feel a very similar twitch in my T-spine, to the point that I don't like to train back without the added T-spine load.  It grows on you!
This twitching sensation is the hallmark of enhanced activation of a muscle.  And the best part is that the correction just "came along for the ride" of your normal training.