Here is the standing band hip thrust. It's sort of like a cable pull-through, with more stability but less constant tension (with bands, the tension is mostly at end-range).
I don't feel that the standing band hip thrust is as effective as a supine band hip thrust for the glutes due to the knee position (bent legs will involve more glutes and less hammy, whereas straight legs will involve more hammy and less glutes) and the lesser stability (with the supine version, your upper back is resting on a bench). However, it's certainly more convenient and easier to set up. In addition, the standing pattern might help better groove barbell hip thrust improvements into squat and deadlift variation mechanics.
I performed 3 sets of 8 reps with a 3-second pause and found them to be an effective movement. For glute building, I wouldn't put them in the same category as hip thrusts, but we're all unique, and some folks might feel the standing variation thoroughly working their glutes. Give it a try and see what you think.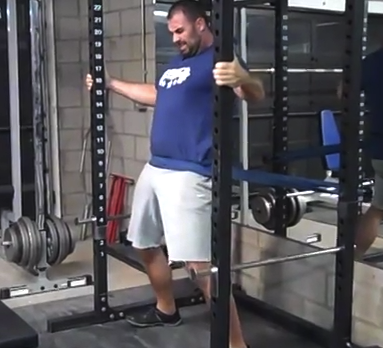 ***Update: My buddies Jim Laird and Chris Duffin just sent me two badass videos. The first is of Jim doing band standing hip thrusts a couple of years ago. Apparently, he used these to train around a back injury at the time, and he felt that they helped him retain his strength while he healed up. HERE is that video – Jim looks much better than I do at these! The second is of Chris doing a combo that involves kneeling cambered bar squats and kneeling band hip thrusters. He calls this movement "The Stallion," and it looks badass! HERE is that video – I intend on giving this a try over the next week or two. Just some good examples of strong dudes coming up with creative ways to incorporate extra glute work into their training.