My friend Eric Cressey is offering 50% off of his Show and Go program. In the past it's costed $127 but right now it's only $63.50! This 50% off special lasts until Friday night (10/28). Furthermore, if you order the product before midnight (EST) tonight (10/25), you'll get a free closed-door Q&A Webinar with Eric who will answer all of your Show and Go – related questions. This is a great deal for such a low price.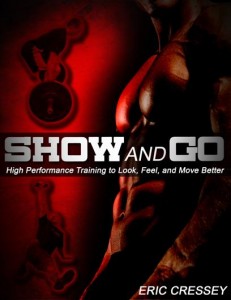 There are many reasons why I like this product so much. Here are five of them:
1. Video Library
Eric filmed over 175 videos showing proper form and created an exercise library for this program. Having filmed tons of videos in my day, I know how daunting of a task this is…filming, editing, uploading, etc. It's so nice to simply be able to watch an exercise being done with proper form as writing or pictures cannot do an exercise justice. A picture is worth a thousand words, so a video might be worth a hundred thousand words. I commend Eric for going to these lengths for the people who purchase this program as it helps a ton.
You also get some nifty templates with this purchase, the same ones Eric uses with his clients.
2. Testimonials
When I first read the testimonials on the sales page, I was pretty impressed. But three of the guys I lift with here in New Zealand purchased Show and Go and saw great results from it. They've made great strength gains, but more importantly they're healthier than ever and are always working on mobility and form improvements. Hence the name…Show AND Go. This program builds good habits that you'll use for years to come which is critical for life-long lifters.
3.  Options
People have different lifestyles, availability, preferences, etc. Eric offers 2 day/week, 3 day/week, and 4 day/week programs to accommodate a wide variety of arrangements. This way you can tweak the program to suit your needs and desires.
4. Bonuses
With this product you get some great bonuses. One of them I wrote which covers my top five favorite glute exercises. Another is from Tony Gentilcore on fantastic finishers. And one is from Chris Howard on soft tissue therapy. These bonuses are very nice!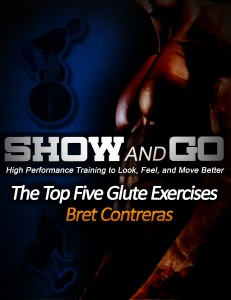 5. Reputation
I've been a student of program design for many years now. I can tell you how just about every expert structures their programs. I'm well-versed in nearly every system out there. I really like the way Eric structures his programs and I feel that his systems are top-notch in terms of mobility/flexibility, strength, hypertrophy, and power. Eric's reputation is well-deserved.
I will always be grateful for Eric as if it weren't for him I don't think I would have ever thought up barbell glute bridging or hip thrusting. When he started preaching about glute activation back in 2004, I viewed these movements as "sissy" exercises and wouldn't have been caught dead performing them had Eric not started stressing them as part of a comprehensive glute activation and dynamic warm-up routine. Because of him I got down on the ground and started thrusting, and I couldn't deny how well a simple bodyweight glute bridge activated the glutes. Many years later I finally figured out why!
To purchase Show and Go, click HERE.
Here are two free webinars that Eric has provided. Great stuff!