Happy New Year, friends and followers! I had an incredible 2016 and I hope you did as well.  I'm starting my monthly Random Thoughts post off with a bang for 2017 so let's get to it.
1. 2016 BC Highlights
Despite a lot of complaints about how awful 2016 was in general, I had a kick ass year. I'm ready to keep up the hustle and am looking forward to an even more fruitful 2017 and hope that my readers do the same.
2. Glute Lab Seminar 2/11/2017
My Glute Lab Seminars have been a huge success and I've enjoyed meeting many of my followers and sharing the latest in cutting edge glute research. The next two seminars are scheduled for January 14, 2017 and February 11, 2017. The January date has been sold out but there are 5 spots remaining for February's event. The cost to reserve a seat is $399.00.
About the seminar:
In the morning, I will lecture on the science of glute training and program design. You will receive a PDF of the slideshow, which I update each month to include all the latest research. All of my past attendees receive a new pdf every time it is updated.
After a catered lunch, we will then have a learn-by-doing practical where I will showcase the mechanics, cueing, variations, and progressions of glute bridges, hip thrusts, squats, deadlifts, back extensions, split squats, hip abduction, and more.
To finish the day, we'll have a Q and A, we'll take some fun pictures, and you'll receive some free gifts (Ares Sports Rub and Squat Sponge stepped up and sent me some merchandise). You will leave much more confident and knowledgeable about your glute training and strength training in general. My attendees are always happy with their decision to attend.
If you'd like to sign up for this event or get a bit more information, please contact Maleah at maleah@bretcontreras.com.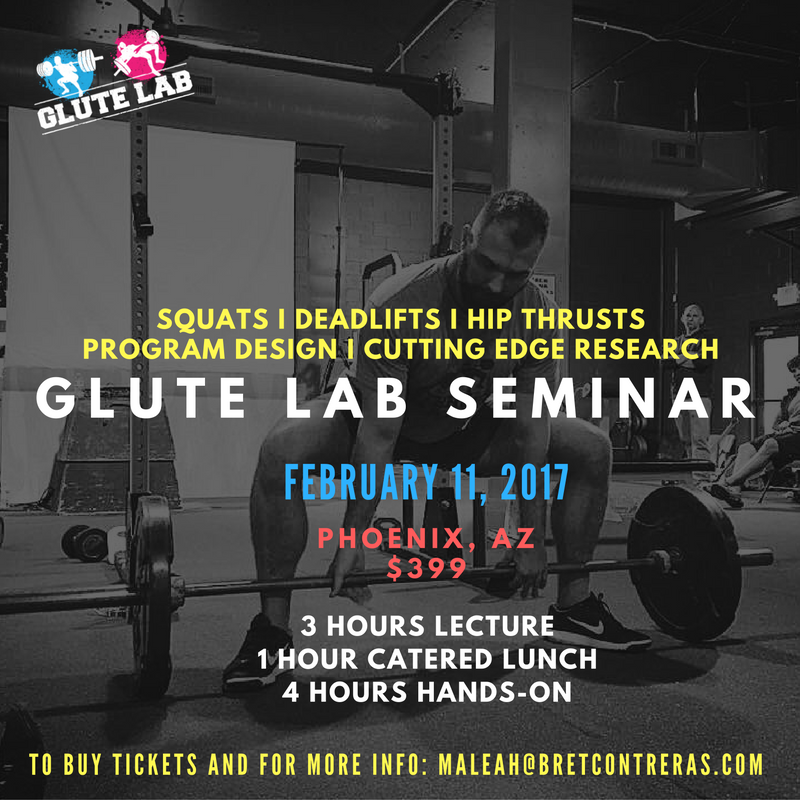 3.
New

 EMG Data Testing

Folks, I am thrilled to announce that I recently have had the opportunity to conduct new EMG experiments at a well-equipped lab at ASU. I've been running these experiments on myself and a colleague and can't wait to share my findings with you. Stay tuned.
4. Do Squats = Massive Legs?
YouTube Fitness God Omar Isuf has an impressive following and his channel hosts an even more impressive array of videos on a variety of training topics. Omar and I teamed up to discuss whether or not a diet of squats alone is optimal for training all the muscles of the lower body or if you should indeed do more than "just squat".
If you're appreciate science and want evidence that supports what I say in the video, see here:
Vastis
Rectus femoris
Hamstrings
Adductors
Gluteus maximus
5. The Men's Health Podcast with BJ Gaddour
Check out THIS podcast I did with BJ Gaddour, the Digital Fitness Director for Men's Health magazine. BJ is a super cool (and super jacked) dude and I think you'll enjoy listening to us chat about glutes, squats, deadlifts, and more.

6. Special Message for AUT Grads
I graduated from AUT with my PhD in Sports Science in 2015. Having this distinction has opened up many doors for me and I created this video message to inspire the current crop of AUT grads to get out there, kick ass, and succeed.
7. Most Liked IG Post of All Time
If you have been following me recently you know that I am a hyooge fan of the frog pump exercise. As this post has received more likes than any other post on my profile, methinks it's safe to say you guys are really into frog glutes.
8. The Guy's Guide To Great Glutes – Bodybuilding.com
Listen up, gents! Glute training is not just for women. The ladies also appreciate a nice set of glutes and if you aren't incorporating glute training in your weekly routine then you are missing a serious opportunity to up your sex appeal. In THIS bodybuilding.com article I elaborate on this topic with Senior Content Editor, Bill Geiger.
9. The Absolute Best Way to Build Quads
In THIS T-Nation round up, a variety of industry pro's share their best tips for building monster quads. My best research-based advice? Stick to moderate loads if building mass is your goal.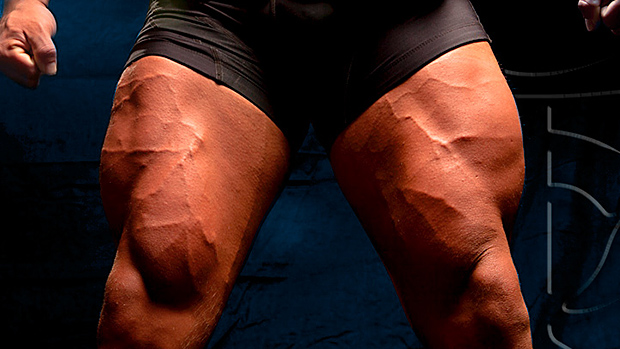 10. Joint Forces: What do joints really feel? – Andrew Vigotsky
My former intern Andrew has recently started blogging. Andrew is one of the smartest guys I know and a biomechanics whiz so you can bet this blog will be a stellar read for us scientific types or anyone interested in biomechanics and sports science. You can read the first movementsci.com blog post HERE and subscribe for updates HERE.

11. Another Incredible Glute Transformation
Take a look at this stunning 8-month glute transformation sent to me by Australian IFBB Bikini Pro, Amelia Dione. Amelia followed the programming in my book, Strong Curves, and still adheres to my training philosophies today and her results are nothing short of show stopping.
12. Chris Beardsley – The SCR Infographic King
I've mentioned this before but if you would like to stay current on the latest in strength and conditioning research then be sure to follow Chris Beardsley on Instagram. Chris creates and shares new infographics daily so this is a terrific opportunity to learn from the best.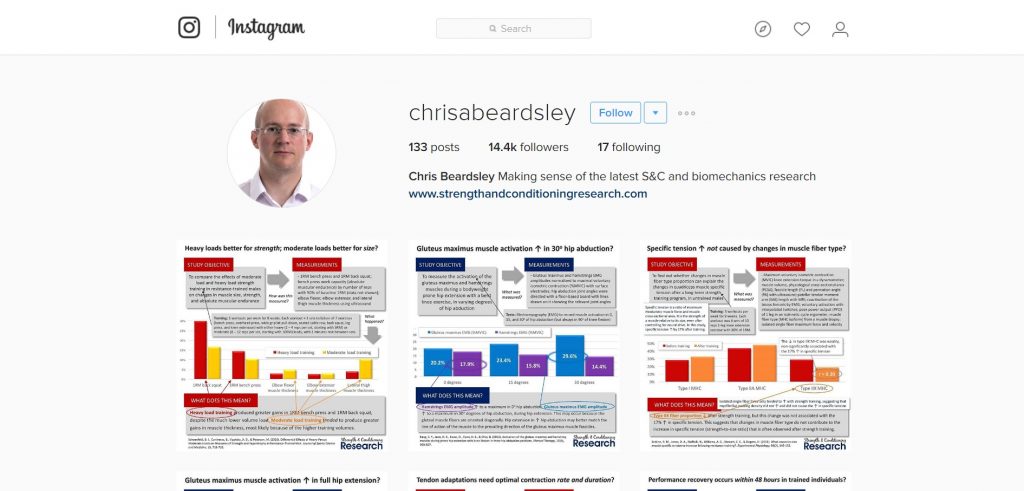 13. Weightology.net – James Krieger
Kudos to my man James Krieger on an excellent revamp of his membership site, Weightology.net. James is a published scientist, author, and speaker with a passion for helping others reach their body transformation goals. He has a lot of great free content on the site so definitely pop over at the link and see what Weightology has to offer.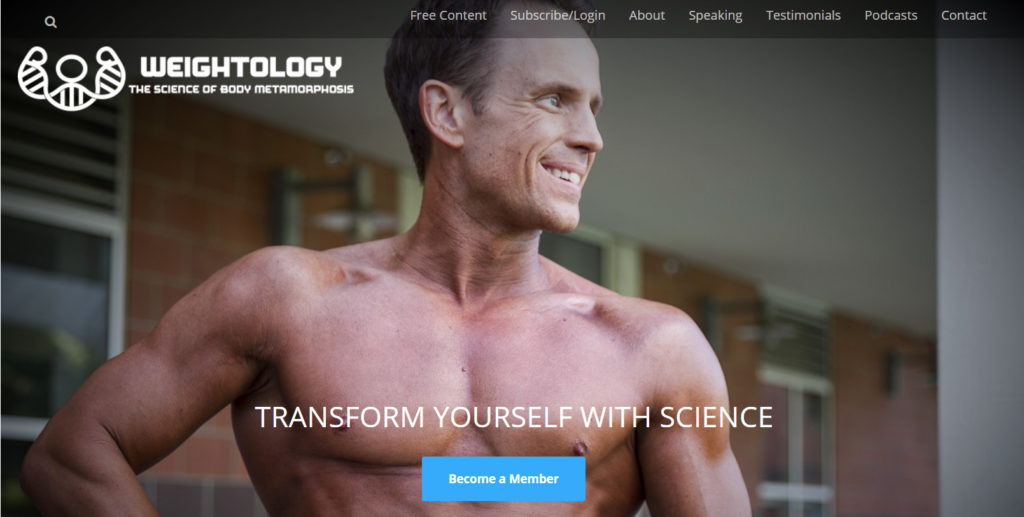 14. Strength Coaches Opinions of Physical Therapists – My Rehab Expert
The relationship between physical therapist and strength coach is at it's best a symbiotic relationship that works together to improve the health and performance of the athlete. Sadly, this is not often the case. Check out THIS blog post to see what a handful of top coaches have to say about what separates the industry's top professionals from the pack.
15. Personal Training Quarterly, 3.4
NSCA members – check out Personal Training Quarterly, 3.4. This volume focuses on successful business strategies for growing your personal training business with an assortment of topics ranging from liability waivers to converting your online followers to long term clients.  You can view the latest issue HERE.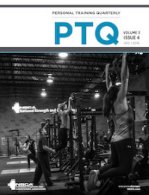 16. Top 100 Articles of 2016
THIS is a year-end Top 100 list that I think many of my readers will find intriguing. Altmetrics tracks and collates the discussion of scholarly articles and data online. Each year they compile a list of the Top 100 pieces that received the most attention and this year's list boasts a vast collection of topics pertinent to the health and fitness industry.

17. Arnold Schwarzenegger – Gym Motivation – Motivational Speech
Friends, check out his incredibly inspiring video. I hope this year you take this message to heart and follow Arnold's advice.
Alright, this wraps up what I have to share with you for now. Be on the lookout for my next newsletter and stay well, fitness peeps!
-BC