How's it going, fitness peeps? I hope you've had a chance to poke around my new and improved website.  I have a few announcements, random articles, a blast from the past, and some infographic goodness to share with you today.  I hope you enjoy the content.
1. September Glute Lab Seminar
Next Glute Lab Seminar is September 24 here in Phoenix, AZ. Cost is $399 to attend.
Here's how it works:  In the morning I will go over my up-to-date slideshow which covers the science of glute training and program design and includes all the latest research pertaining to glutes.
After a catered lunch break,  I will take you through a practical where I'll cover the mechanics, cueing, and progressions and variations of glute bridges, hip thrusts, squats, deadlifts, back extensions, split squats, hip abduction, and more.
We will finish off with a Q and A. You will leave much more confident and knowledgeable about your glute training and strength training in general.
Email my assistant Maleah at maleah@bretcontreras.com if you're interested or for more specific information.  Seating is limited so please reserve your seat now if you would like to attend.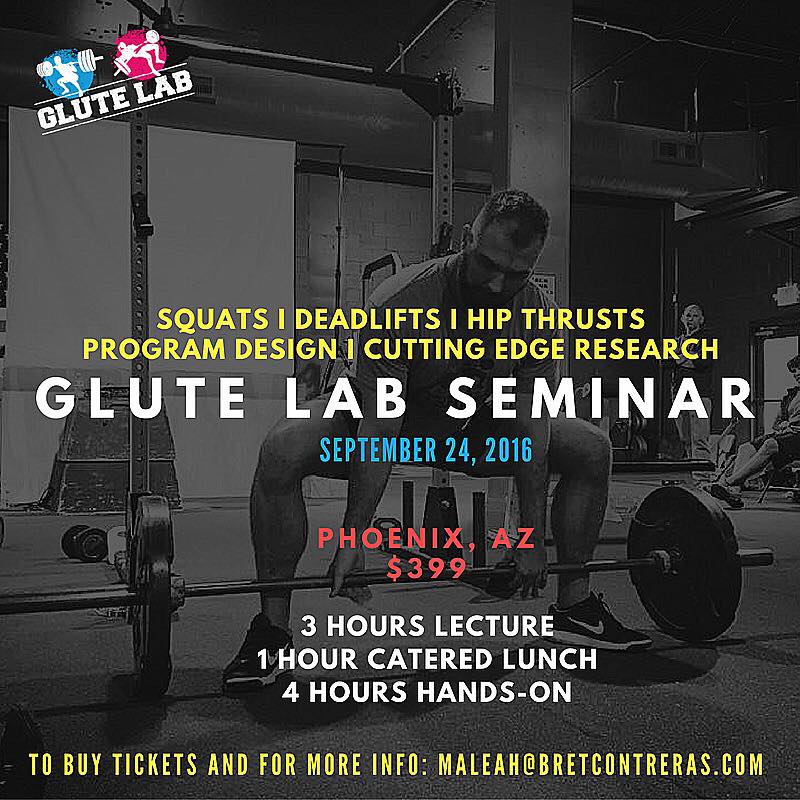 2. NSCA Personal Trainer Conference
I'm excited to be speaking at the 2016 NSCA Personal Trainer Conference in Jacksonville, Florida on October 14-16.
My presentation is on "Comprehensive Glute Training for Clients." I hope to see some of you there.
To learn more or register, click HERE.

3. Interview on The Impact Show
I recently sat down and chatted with Jim Kielbaso on the Impact Show to discuss the hip thrust, glute training research, obtaining my PhD, and more. You can check out the interview HERE.
4. Blast from the Past: Top 50 JC Band Exercises
Vintage Contreras in the house! Check out THIS blast-from-the past video from March of 2010 showcasing the versatility of resistance band training.  My Glute Lab and physique has come a long way since those days but it's always fun to take a look back.
5. My Sprint App
Coaches, athletes, researchers, data nerds, and the scientifically curious should definitely check out THIS incredible iPhone app, which is coined as "a sprint acceleration mechanics lab in your pocket".  Accurately calculate your complete F-V profile, time splits, and more with this handy little technological gem.
6. Interview with JB Morin: Just Fly Performance Podcast
Got a need for speed?  If you are interested in speed, acceleration, and vertical jump training then methinks you will much enjoy the Just Fly Performance Podcast featuring fellow PhD and researcher, JB Morin.  You can check out the podcast HERE.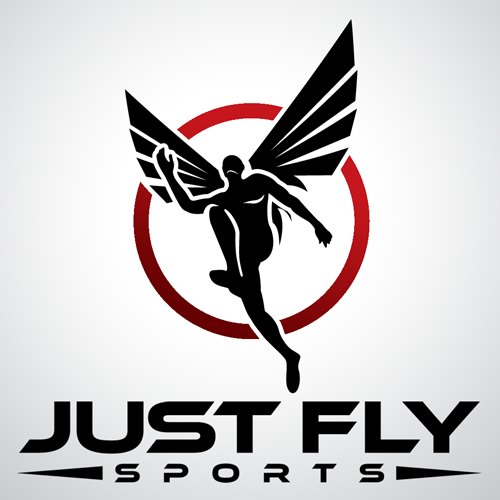 7. Why Most People Are Wrong About Pain: Lars Avemarie
Pain science is an endlessly fascinating topic to me and I think everyone would benefit from educating themselves on the concepts of pain and how we experience pain as individuals.  There is a lot of important current research on the matter and you can delve into this topic a bit more HERE.
8. Stepping Up My Wardrobe Game at the AFPT Conference in Norway
Those that follow me have probably noticed my affinity for Ben Bruno and Glute Guy t-shirts and shorts but I would like to report that I saved those for the hotel gym and opted for a major wardrobe upgrade for the recent AFPT Conference.  I usually wear a button down and jeans but I think this look is a definite keeper, don't you?
9. Glute Guy Nicknames
You don't specialize in the science of glute training without earning a few silly monikers along the way.  Check out this list of some of the more creative titles given to me throughout the years:
The Glute Guy
The Derrière Extraordinaire
The High Priest of Heiny
The Bishop of Buttocks
The Chancellor of Cheeks
The Purveyor of Peaches
The Architect of Ass
The Duke of Donk
The Bootius Maximizer
The Count of Cake
The Rounder of Rump
The Tradesman of Toosh
The Twerkinator
The Builder of Booty
The Creator of Culo
The Man of Can
The Developer of Duff
The Crafter of Caboose
Sir Haunch De Leon
The Sheik of Cheek
The Mad Monk of Badonkadunk
10. Strength & Conditioning Research Infographics
Check out this incredible collection of SCR infographics, courtesy of Chris Beardsley.
Well, friends, this wraps up this edition of Random Thoughts from yours truly.  Hope to see you at my next Glute Lab Seminar on September 24, 2016.
-BC